Rye Old Scholars' Association – Bedford Reunion Dinner, 12th May 1984
The following was kindly sent in by Rob Kemsley.
Rob says:
I'm an RGS and TPS old scholar, who left in 1970. I was subsequently a ROSA chairman for a while and may possibly be remembered by Sue Moore. Sue, Will (Dunlop) and I enjoyed many social-come-ROSA informal evenings in various hostelries in Pett, some years back!
I organised a RGS Bedford Reunion, on the 24th May 1984, for which I still have press cuttings and the original press photos (see below). The Reunion was attended by Ray and Majorie Fooks, Will Dunlop, Miss Elizabeth Turner and Fred Breeze (my co-organiser – whose help and knowledge of the times was invaluable.), among many others.
I was indebted to Fred Breeze for considerable help and advice, to say nothing of his network, for this function. The generosity of the Swan Hotel in Bedford should be acknowledged, too: providing the dinner at £10 per head, and for offering overnight accommodation at £15 per person, which was very reasonable even at 1984 prices. Will Dunlop and I made ourselves available to greet guests from 2 pm at the hotel. And thanks must go to two others: George Roberts, who handled all the original payments from old scholars, in advance of the reunion; and Gordon Sexton, who kindly put himself (and his car) at attendees' disposal, from 3pm on the day, for tours of Bedford to view changes to the town.
Attendees
RGS "Bedford" scholars and guests:
Mr R Adams, Mr L N Allen, Miss W Allen, Mr B Apps, Mrs A Arnold, Mr P Boyce and guests (2), Mr F Breeze, Mr and Mrs R V Brissenden, Mr and Mrs J O Bull, Mr R G Burnett, Mr and Mrs P D G Caister, Mr R H Catt, Mr and Mrs K W Cook, Dr B Dawson, Mr and Mrs J Eldrid, Mr E Fellows, Mrs M Gage, Mrs F Gentry, Mr and Mrs B Jones, Mr J Jury, Mrs R Knight, Mrs B E Law, Mr and Mrs R E Marshall, Mr and Mrs E G S Paige, Mr and Mrs Reed, Mr and Mrs G Roberts, Mr and Mrs L V Samaden, Mrs M J Seiffert, Mr G Sexton, Mr A A Shearer, Mr P G Shearer, Mr T J Shearer, Mr and Mrs P Skinner, Mr and Mrs J D T Smith, Mr and Mrs E E Sutton, Mr H J Tait, Mr K C Thompson, Mr S Vincett, Mr C J Webb
Honoured guests:
Coun. Barry Wake and Sylvia Wake (former North Beds Mayor and Mayoress), Mr and Mrs Woods (Usher of Bedford School), Mr and Mrs R V Fooks, Headmaster of Thomas Peacocke School, Rye, Miss E A Turner, former senior mistress at Rye Grammar School
ROSA committee members:
Mrs Y Barnes, Mr W R Dunlop, Mr R J Kemsley and guest, Mrs S Moore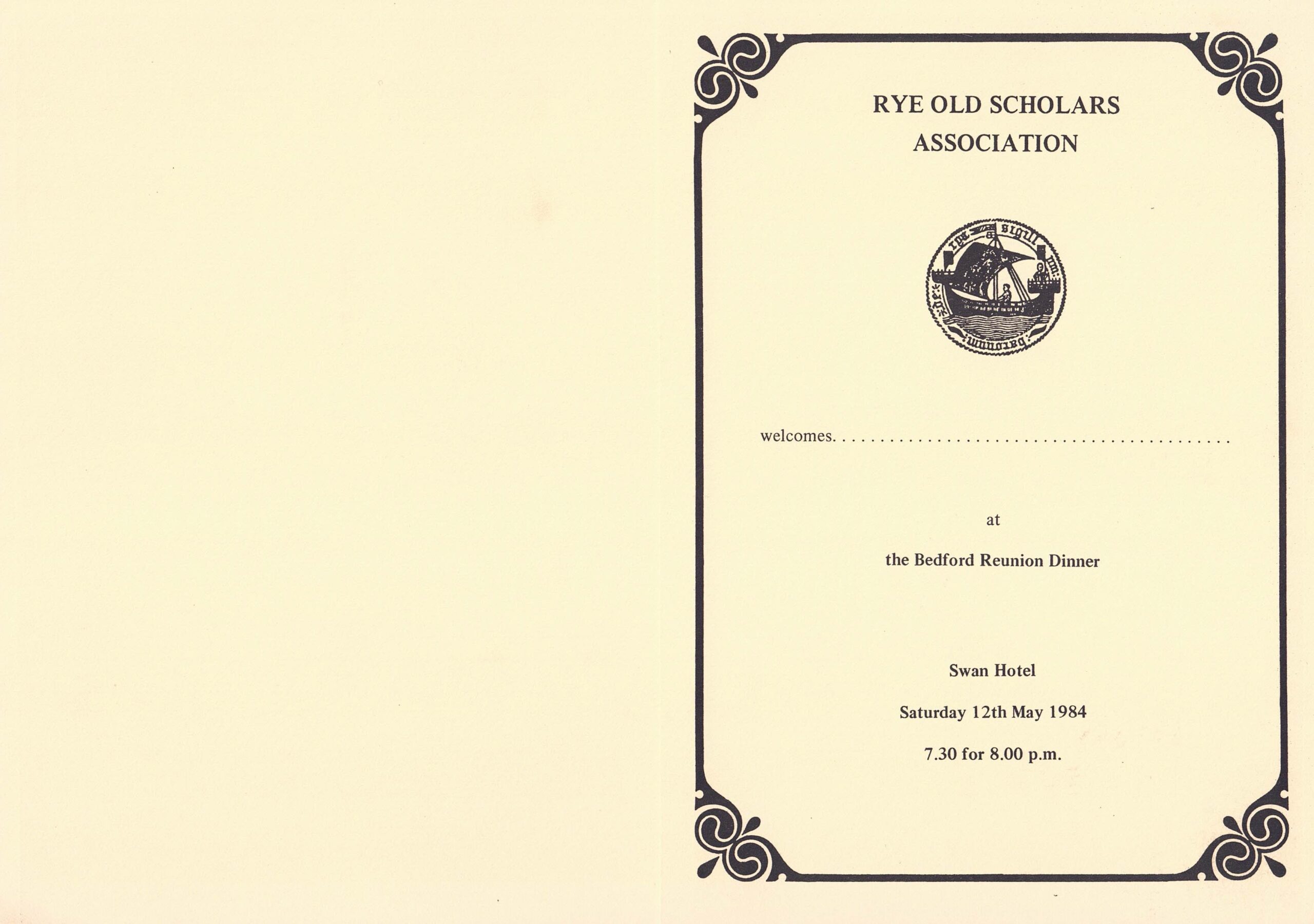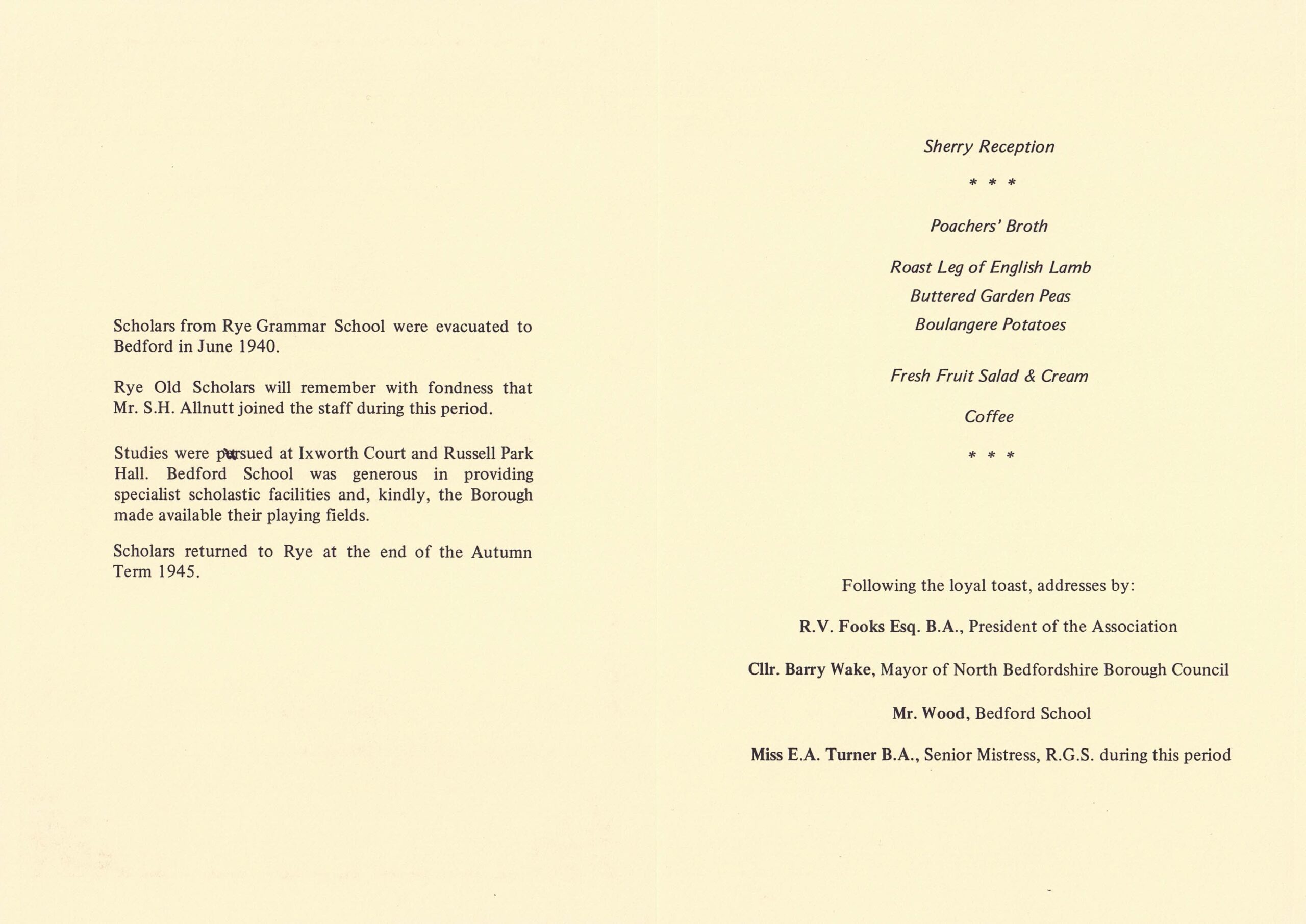 The evening's Programme.
Note: the programme says that the school returned from Rye at the end of Autumn term 1945. It was in fact the end of Autumn term 1944 – see RYA for Spring 1945 here RYA-Spring-1945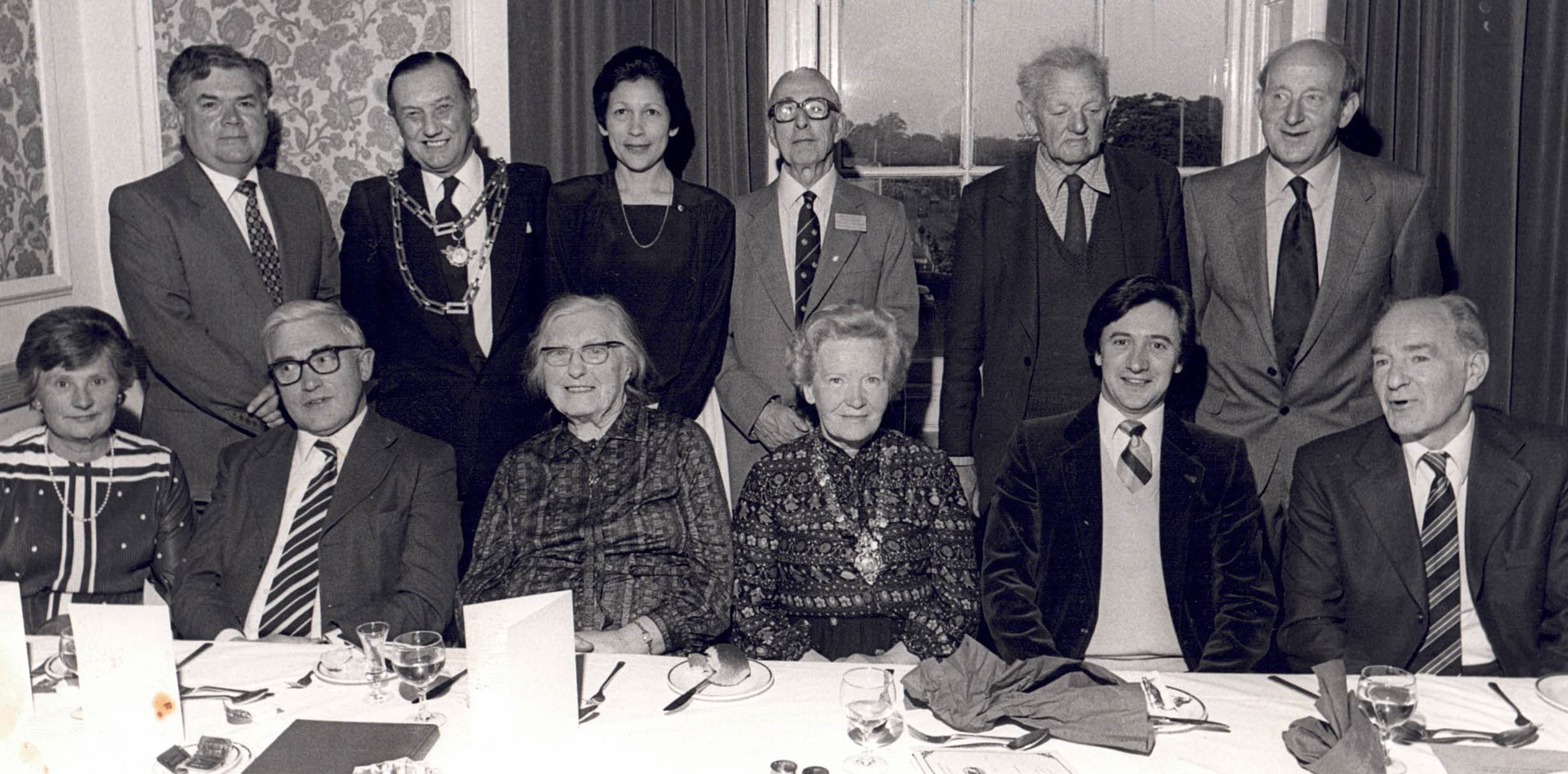 Back Row from Left to Right:
Ray Fooks headteacher, TPS; Councillor Wake; Mrs Fooks; John Smith; Will Dunlop; George Roberts
Font Row from Left to Right:
Mr and Mrs Woods (Bedford School); Miss Turner; Mayoress Mrs Wake; Rob Kemsley; Fred Breeze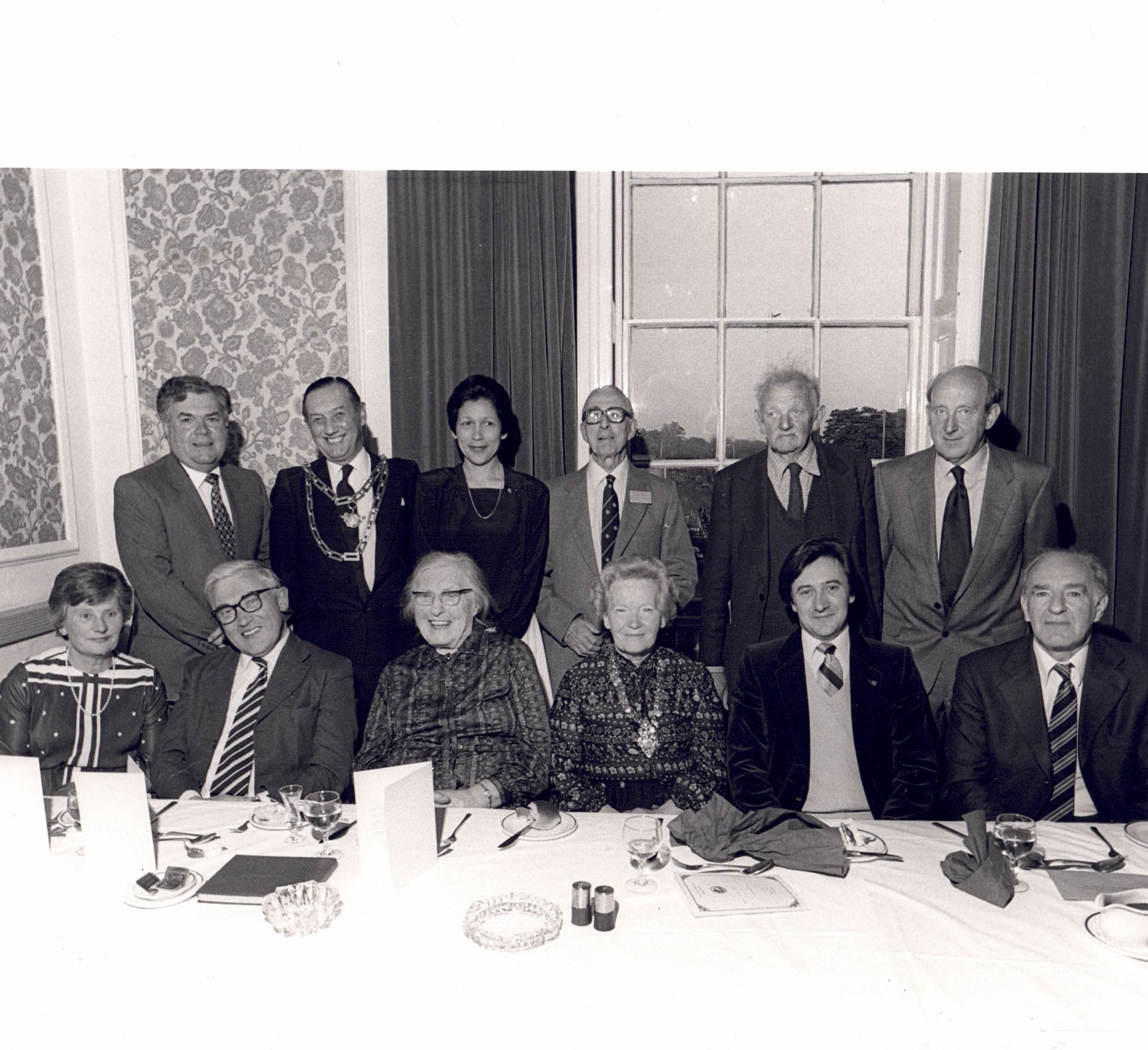 Back Row from Left to Right:
Ray Fooks headteacher, TPS; Councillor Wake; Mrs Fooks; John Smith; Will Dunlop; George Roberts
Font Row from Left to Right:
Mr and Mrs Woods (Bedford School); Miss Turner; Mayoress Mrs Wake; Rob Kemsley; Fred Breeze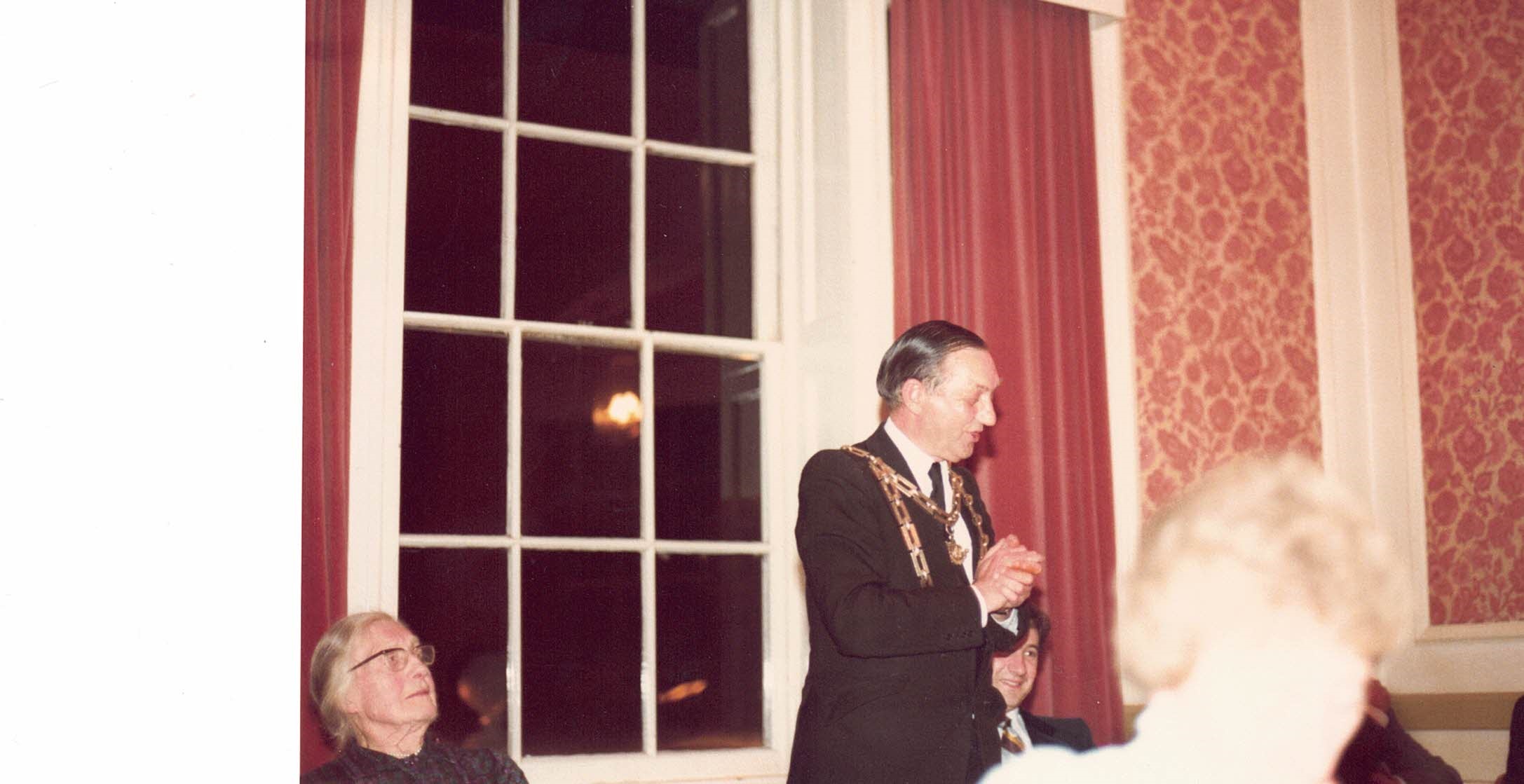 Councillor Wake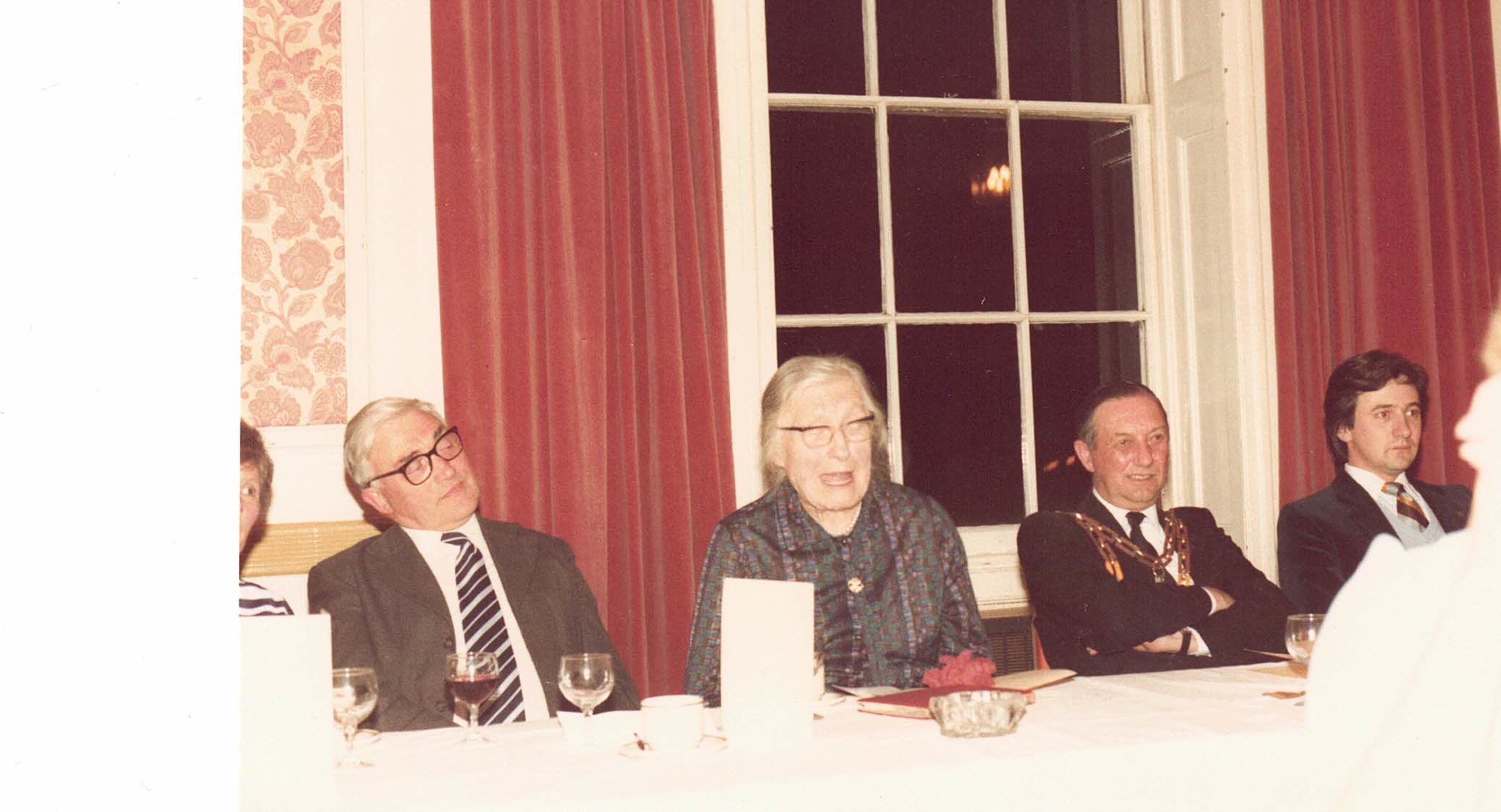 Miss Turner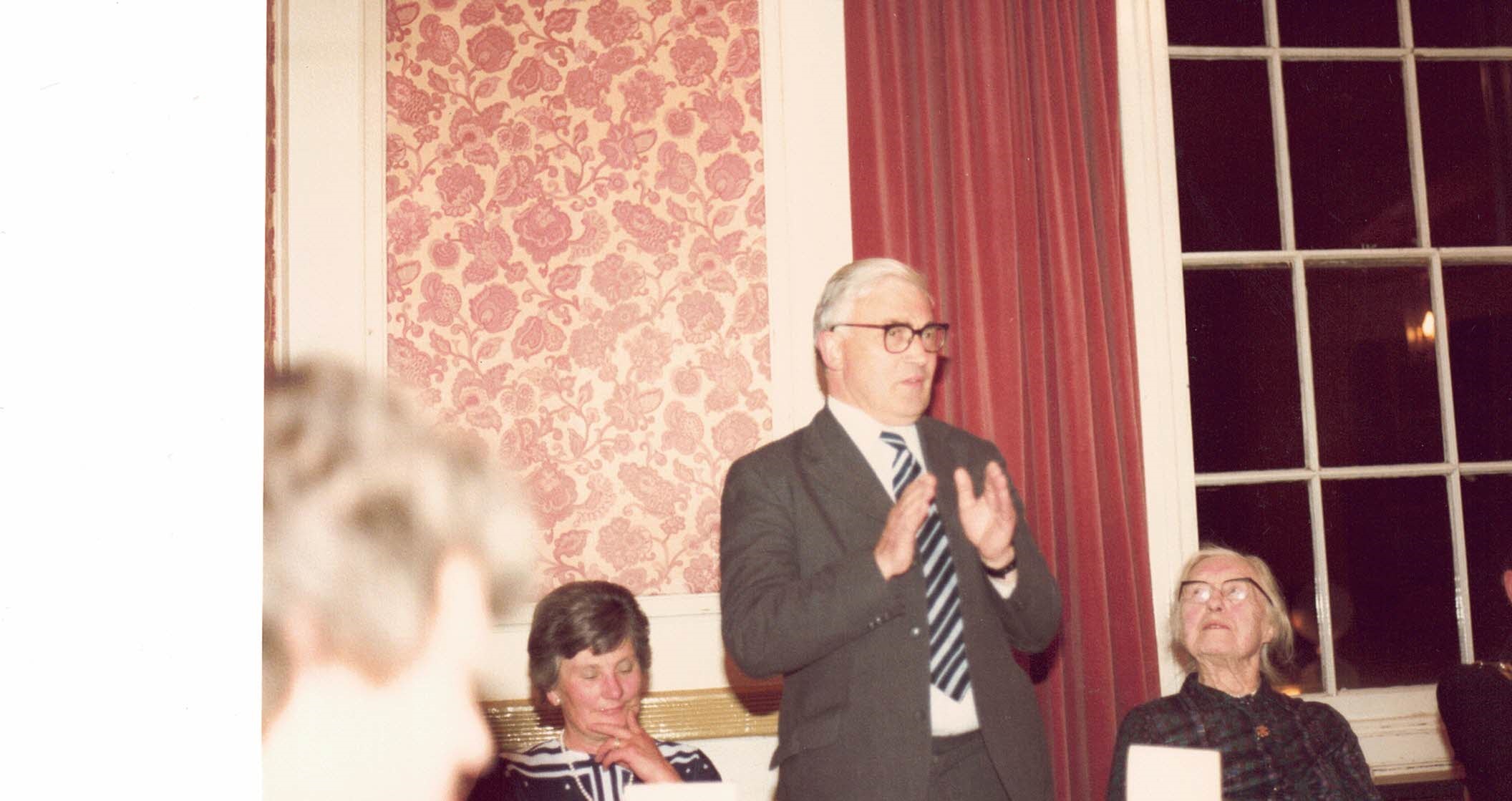 Mr Woods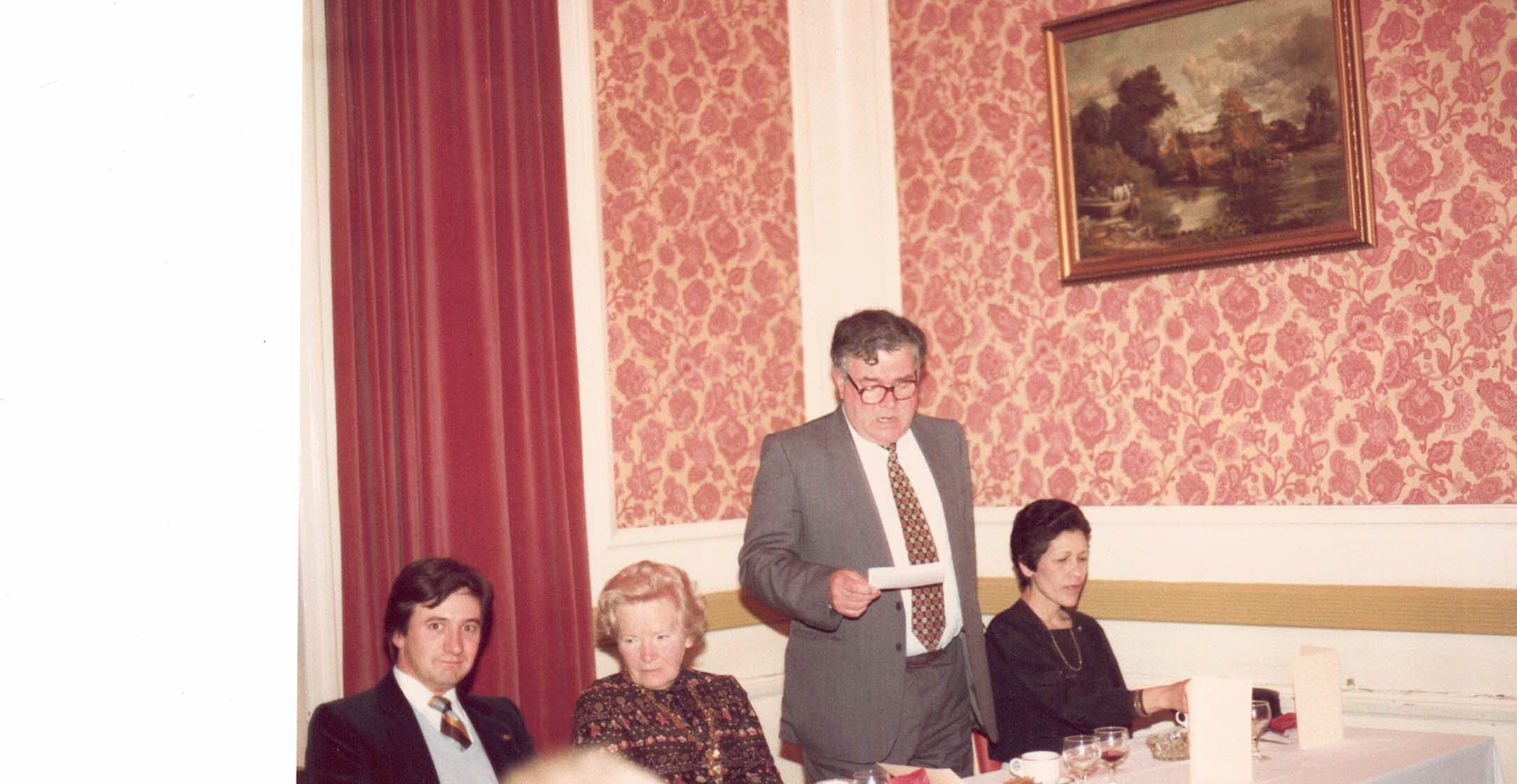 Ray Fooks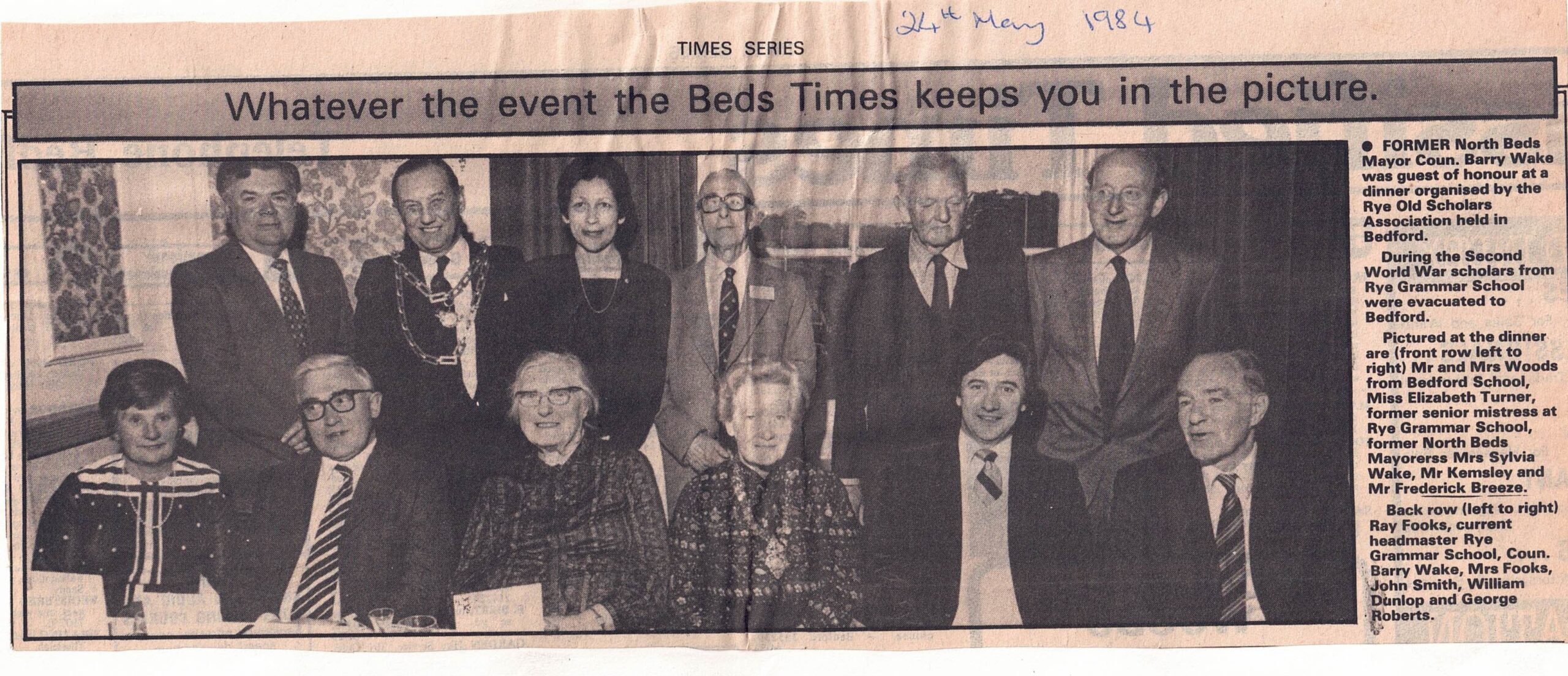 Press cutting from the Bedford Times
RGS Bedford – 1942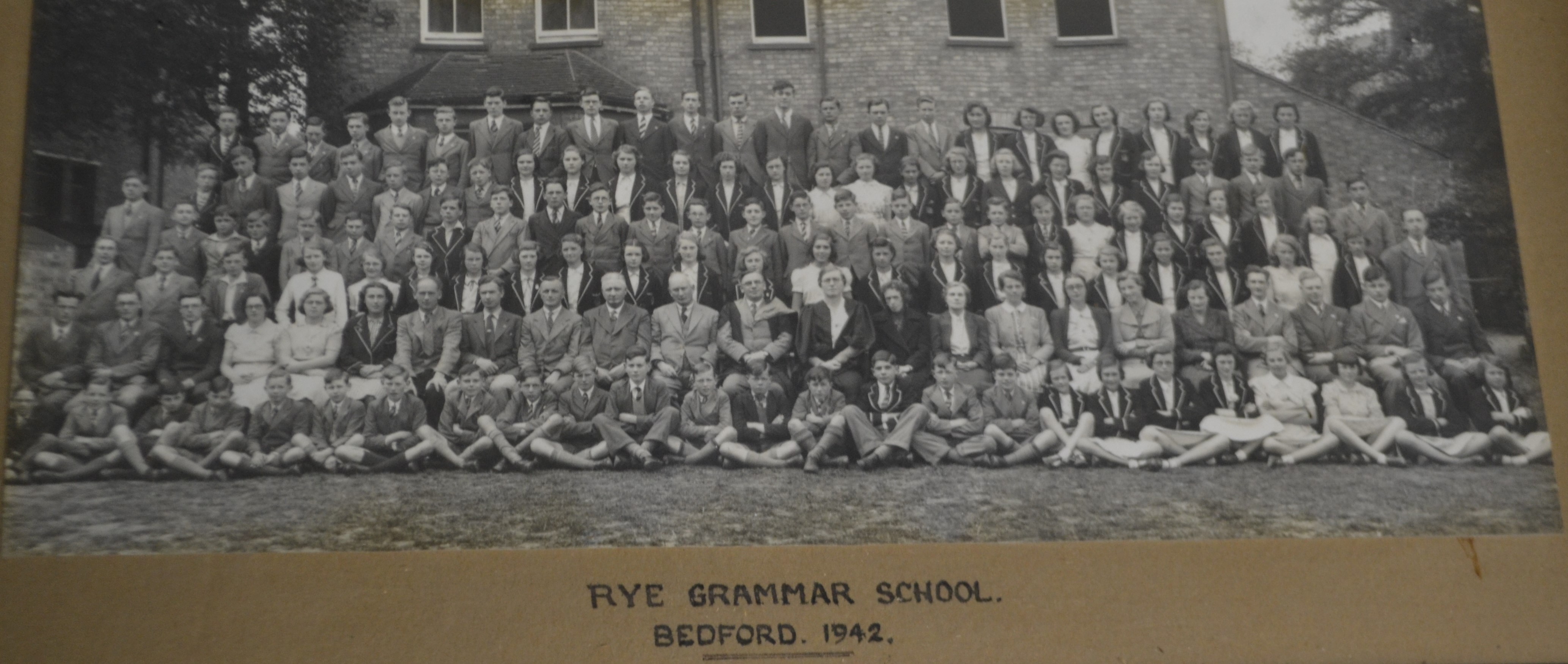 Rye Grammar School at Bedford – 1942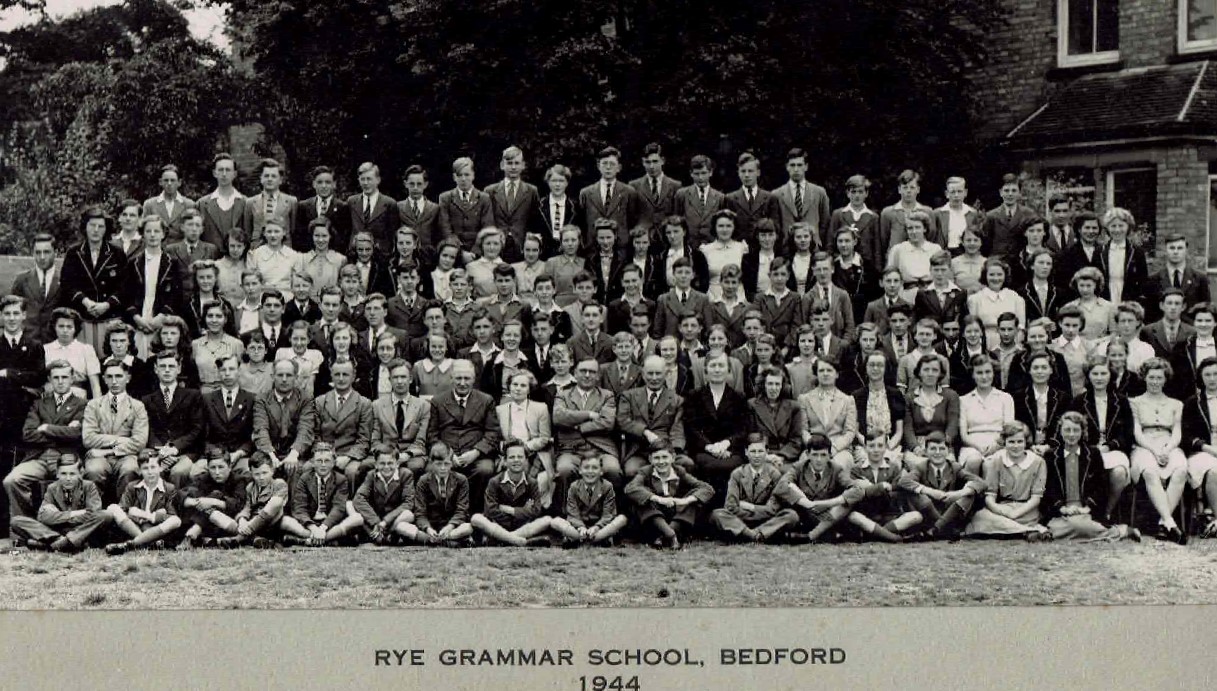 RGS at Bedford – 1944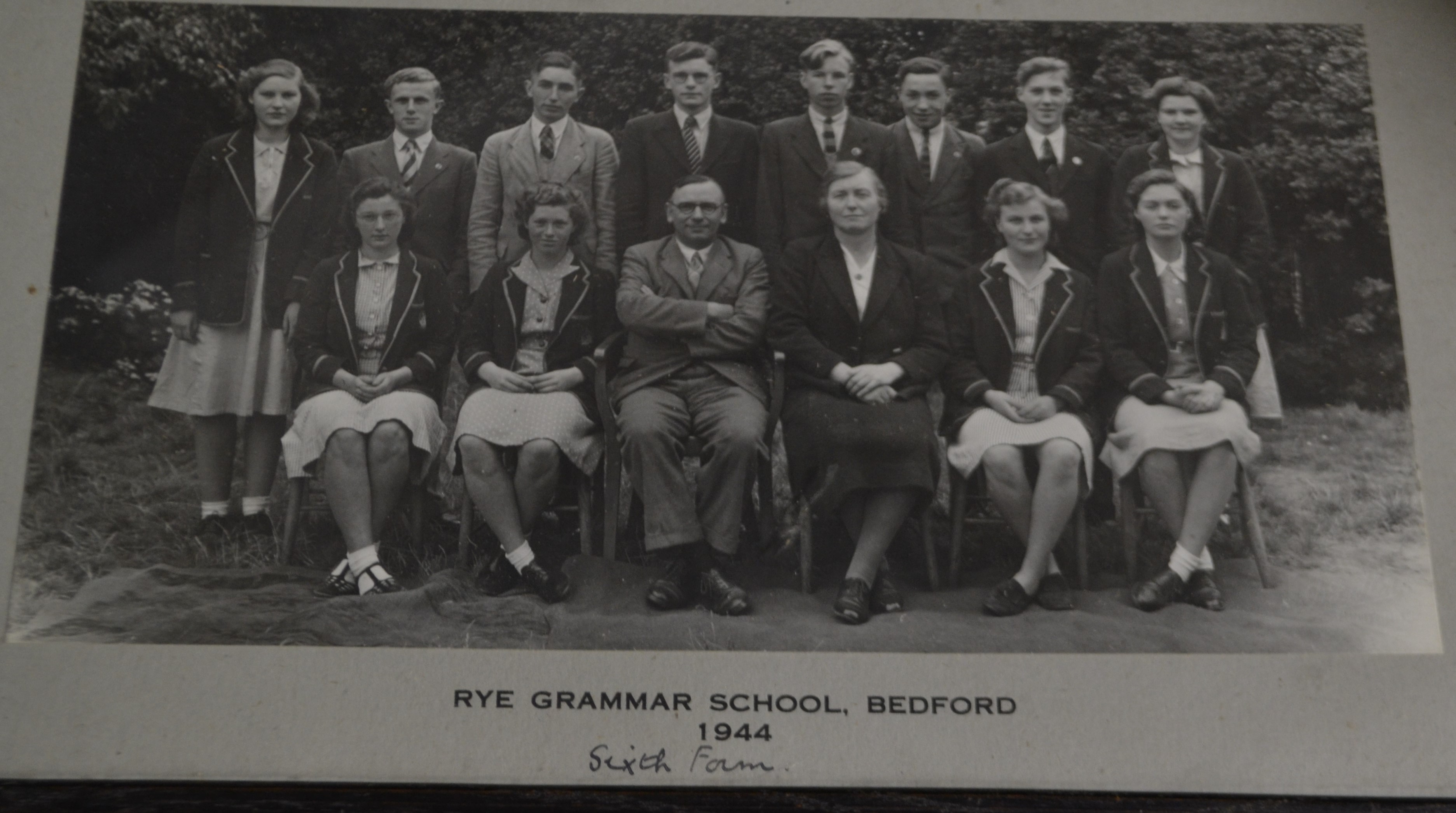 RGS 6th form at Bedford – 1944
 RGS cricket team, Bedford, 1944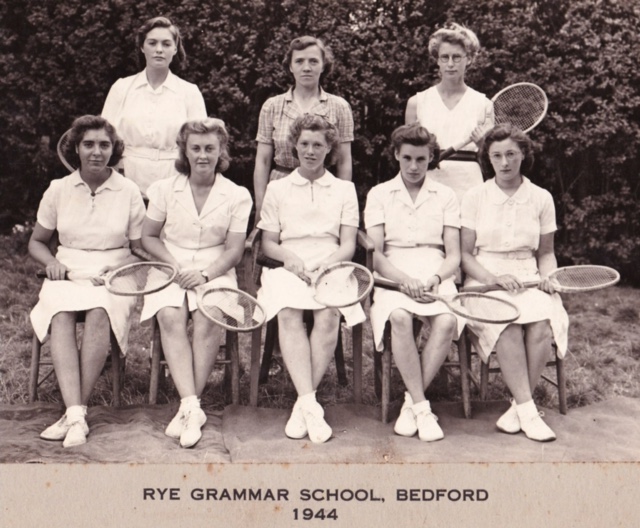 RGS tennis team, Bedford, 1944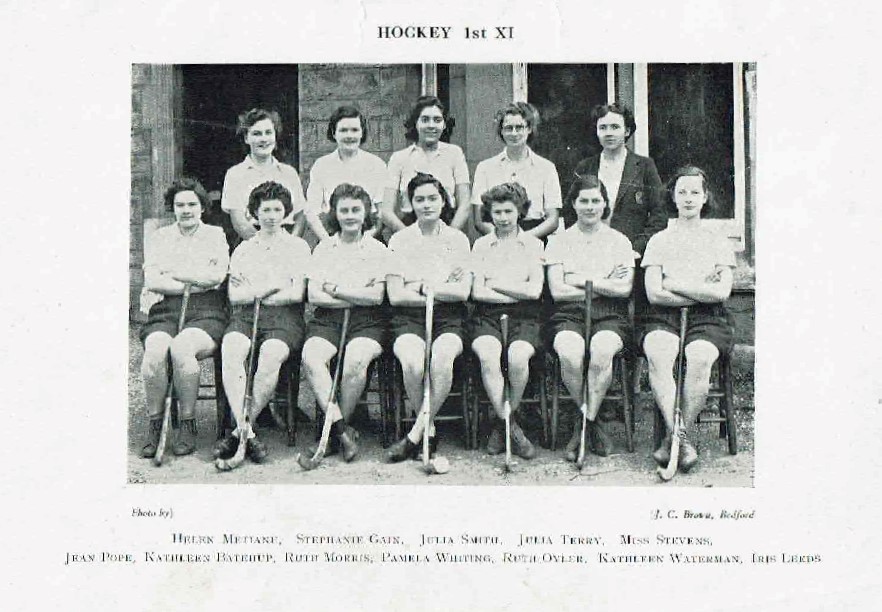 RGS Hockey Team, Bedford