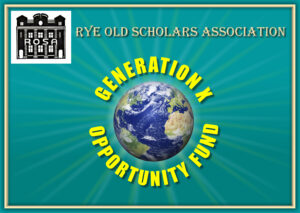 The Rye Old Scholars' Association
ROSA was formed sometime in the late 1920s or early 1930s to enable pupils of Rye Grammar School to keep in touch after they had left. In 1938, Will Dunlop became Secretary and remained involved for the rest of his life.
ROSA has since evolved with time and has seen many changes. In 1968 Rye Grammar School and Rye Secondary Modern School merged to become Thomas Peacocke School . In more recent years it became known as a Community College and was then renamed Rye College in 2008.
With the wonderful support and sheer determination to raise funds through a wide array of events by our previous Mayor Cllr Rebekah Gilbert in her second year of office, we are pleased to announce the new arrival of the GENERATION X OPPORTUNITY FUND.
This consists of a forward thinking fund giving opportunities to Rye Old Scholars who have attended Rye Community College, Rye Studio School and Rye College and are aged between 18 and 30 years. This fund is intended to provide assistance for further study and courses or to help towards the purchase of equipment and tools. All applications will be considered where funding is required to support a new opportunity, or a new venture.
Grants for support of up to £300 are available. The fund is open all year round and the ROSA Committee welcome all applications from those individuals who meet the criteria.
An application form can be obtained by emailing Richard Moore, Chairman r.fm@btopenworld.com or by downloading the document below:
RYE OLD SCHOLARS' ASSOCIATION
GENERATION X OPPORTUNITY FUND
Introduction
The ROSA Generation X fund was created in 2022 in conjunction with the then Mayor of Rye to help those under 30 and who have studied at Rye College to set up their own enterprise. Its aim is to help entrepreneurial young people make a start in life by giving them a grant to fund a piece of equipment or similar in order to kick-start their new business. There are no deadlines for submission, applications will be considered on a regular basis.
If you feel you are eligible for this grant, please complete this form and return it to:
If you would like to discuss the application before submitting a form, please contact:
PLEASE KEEP A COPY OF YOUR APPLICATION
Contact Details
Name
Address:
Post Code:
Mobile number:                                                             Email:
Website:
Date of Birth:                                                    Age on application:
When did you study at Rye College?
What are you aiming to achieve? Describe your product or service, why you feel it is needed, how you realistically aim to achieve it. When do you expect the project to be fully up and running? Please expand the boxes as needed.
What is your three-year business plan? Include start-up costs, ongoing costs, resource needs etc. Please expand the boxes as needed.
Who will benefit? Please expand the boxes as needed.
What are your objectives, how will you measure if your project has been a success? Please expand the boxes as needed.
How will you continue to fund your project after this starter grant?
Why should the Gen X fund you? (max 200 words)
If you are applying to other sources for funding this project, please fill out the table below.
| | | |
| --- | --- | --- |
| Source | Tick here if already secured | Amount (£) |
|   | |   |
|   | |   |
|   | |   |
| | |   |
|   | |   |
| | |   |
|   | |   |
Reporting back: If you are successful in receiving a grant, you will be expected to report back on your experience, your successes, learning, reflection and how you will take this project forward. We would like a six-month written report (which need only be one typed page) and a presentation at the end of your first year.
 I am happy to provide this information yes/no (delete as appropriate)
Mentoring: We will aim to match you and your project with an old scholar who is willing to act as a mentor to you, meeting periodically over your first year.
 I am happy to receive this help yes/no (delete as appropriate)
Grant payments are made by BACS payment.
DECLARATION:
I certify that the information contained in this application is correct
If the information in this application changes in any way I will inform the Rye Old Scholars Association
I give permission for Rye Old Scholars Generation X Opportunity Fund to record the details of me electronically and to contact me by phone, mail or email with information.
I am in agreement for the Rye Old Scholars to publicise their support to me via their Website and the Annual Bulletin once my project is completed.
I would be happy to be assigned a mentor to work with me on this project
Referee
Please give the name and contact details of two people to confirm your proposal
Name:
Address:

Postcode

Telephone:
Email:
What is your relationship with this referee?
Name:
Address:

Postcode

Telephone:
Email:
What is your relationship with this referee?