Since we launched the website, a number of ROSA members have been able to make contact with long-lost friends who have sent us material. If you would like to rekindle a friendship, just send your email address and a message timrothwell9@gmail.com and we'll publish them on this page. We also give details of reunions of school friends we're told about, other than the ones organised by ROSA which have their own page.
Mark Little
I was at Leasam/RGS from 1966 to 1969. I would love to hear from any of my contemporaries.
Mark Little   mark.little2020@googlemail.com
Jenny Layton (nee Bell)
I would like to contact Liz Firmin  (Saltcote). We were in lower and upper 6 together.   Also Paul Oliver who was a boyfriend (day boy). Friends with Kit McLean.  Or anyone else that remembers me!  Carol Springford (tennis partner).  Thanks
Jenny Layton (nee Bell)
Leasam Lads – 2018
Geoff Wickenden has sent in this photo of seven 'Leasam Lads' who got together at Winchester recently.
The get-together was organised by David Brown, with contact details being provided by Roy Forward.
From the left (clockwise) Roy Forward, David Fountain, Adrian Gumbley, Kenny Stunt, Graham Swanton, David Brown with Geoff sitting at the front.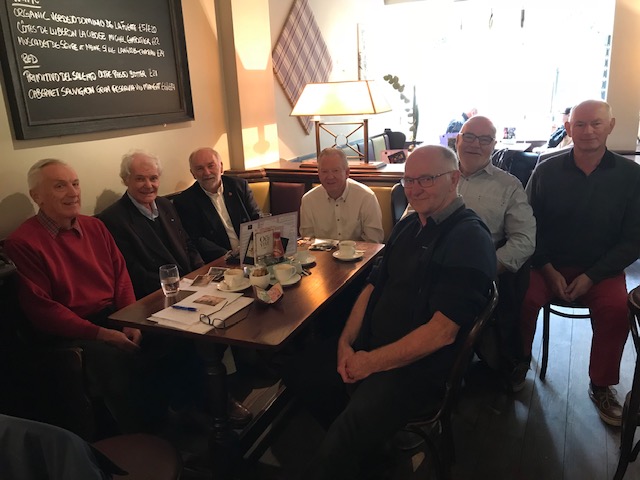 Hilary Hamilton
I would love to get back in touch with Maggie Cantell, Euan Thompson, John Breeds, Joyce Carr and others from our 6th form – 1963 – 1965. Please let Tim Rothwell know at timrothwell9@gmail.com if you can help.
Keith 'Moggy' Matthews
I am now living in retirement in Beckley with Belle, my wife of 40 years, enjoying walking, bread-making, and doing a bit of amateur magic for the grandchildren. If anyone remembers me and wants to say hello, my email address is keithandbelle@btinternet.com
Sch0ol cruise – 1966
Adrian Gumbley, at Leasam from 1962-1966, would like to know if anyone has memories of the 'educational' (Adrian's quotation marks!) cruise in the Mediterranean on the S.S. Nevasa in the autumn of 1966. If anyone does have such memories (good or bad!), please send them to timrothwell9@gmail.com
Tim Burgess
My name is Tim Burgess. I was in the first year of Leasam House, at Rye Grammar School (1955/6). Is anyone still around from that year? I would like to make contact. My email address is kagelfolk3@earthlink.net
Ted Blundell
Ted Blundell, who started at RGS in 1956/57, would like to make contact again with Derek Padgham, Colin Newstead, John Stonestreet, and Jeanette Grout, with whom he had exchanges on the now defunct Friends Reunited site.  He would also like to get in touch again with any others who knew him, particularly Peter Holmes who lived in The Grove adjacent to the school and whose father Les was a teacher at RCSMS (and who produced the video of the school farm referred to in the General and History section of this site). If you would like to make contact with Ted, please email  timrothwell9@gmail.com with your details.