A selection of school magazines
We are pleased to have available some editions of RX, the magazine of Rye County Secondary Modern School and RYA, the magazine of Rye Grammar School. After the formation of the Thomas Peacocke School (TPS) following the amalgamation of Rye County Secondary School and Rye Grammar School, RYA became the magazine of TPS.
If anyone has any editions that they are prepared to lend us to upload, please email Tim Rothwell at timrothwell9@gmail.com
We are very grateful to Sandra Delemare for lending us a number of copies of RYA so we could scan them, including the last ever RYA of Summer 1968, complete with messages to Sandra on the back!
And we are also grateful to Paula Barnard for lending us the Summer 1966 edition of RX – the last one  before the schools went comprehensive.
Thanks go to Colin Hills for providing RYAs for Autumn 1958, Autumn 1959, Spring 1960 and the programme for Speech Day, March 1963.
Click on the link to read the relevant edition.
RX
RX Summer 1966 – with thanks to Paula Barnard (nee Cruttenden)

RYA
John Breeds has commented on the August 1939 RYA:
I was very interested to see my father's name in the Old Scholars report. Also – in the Library report – Miss Turner mentions books donated by Mrs Breeds in the name of her nine sons who were educated at the school! One of those was Ken Breeds, Roger's father, and one would have been Alfred, the father of Gay and Judith Breeds.
After the evacuation of Rye Grammar School to Bedford, the school magazine was renamed NOVA RYA. Sadly, we don't have copies of editions 1, 2, 8 and 10. If anyone has these, and would be prepared to lend them to us for scanning, that would be wonderful. We promise we would take great care of them – our book and document scanner does not require the documents to be taken apart for scanning. If you can help us, please contact Tim Rothwell at timrothwell9@gmail.com
This wartime edition contains the sad news of the deaths in action of old scholars. The report of the Air Training Corps details visits, but the identity of the venues has been blacked out for security reasons. 
John Pulford has now kindly supplied the pages of NOVA RYA No.4 with the blacked out venues identified.
Page 6: RYA NOVA 4 Page 6
Page 22: RYA NOVA 4 page 22
Page 23: RYA NOVA 4 page 23
Page 24: RYA NOVA 4 Page 24
NOVA RYA N0.6 – September 1942
In this  edition, the appointment of Sidney 'Gus' Allnutt to the staff of RGS from the Secondary School is announced. Amongst his other duties, he has been coaching the students in cricket!  
NOVA RYA No. 8 – Spring Term 1943
NOVA RYA No.9 – Summer Term 1943
NOVA RYA No.10 – Autumn Term 1943
NOVA RYA No.11 – Spring Term 1944
On page 36 of this edition, Will Dunlop, the then Secretary of OSA, as it then was, describes the constitution and operation of the Association.
NOVA RYA No.12 – Summer Term 1944
This edition of RYA marks the return of RGS from Bedford to Rye in December 1944. It also records the appointment of Miss Dann to the staff of the school. 
The Spring 1952 edition of RYA contains contributions relating to the death of King George VI, who had died on 6 February 1952
A few pages seem to be missing from the beginning of the Summer 1956 edition of RYA
RYA 1959 – Girls' Jubilee Edition
RYA Summer 1969 (with thanks to Barry 'Fred' Fuller)
SPEECH DAYS
RGS Speech Day Wednesday 3 November 1937 RGS Speech Day 1937 1.    RGS Speech Day 1937 2
Programme courtesy of John Breeds. John adds: Scans of the programme for the RGS Speech Day 1937. My father and my Aunt Cynthia feature in this. My Aunt Cynthia taught at the Secondary Modern School for a while after she qualified because I remember my gran taking me to meet her from work. This was some time in the early '50s.
RGS Speech Day Thursday 17 November 1949
Programme courtesy of Ron Peacock. Ron adds –
In 1957 , thanks to Will Dunlop who kept us all in touch , I got a call from Michael Doust who was aboard HMS Ark Royal visiting Norfolk Virginia. I drove from Richmond and we spent a great time together visiting the US Navy officers mess nearby . After me being piped aboard the Ark Royal ,what a thrill , l will never forget. https://en.m.wikipedia.org/wiki/HMS_Ark_Royal_(R09)Nothing new going on in sunny Florida – we stay in most of the time . Still in touch with Simpson in New Zealand; he came to see me a couple of years ago. Also the other two buddies ,we travelled to school on the train ,Keith Cook & Ken Howlett. Wishing you Happy Holidays all the best. Ron Peacock (1944:1949)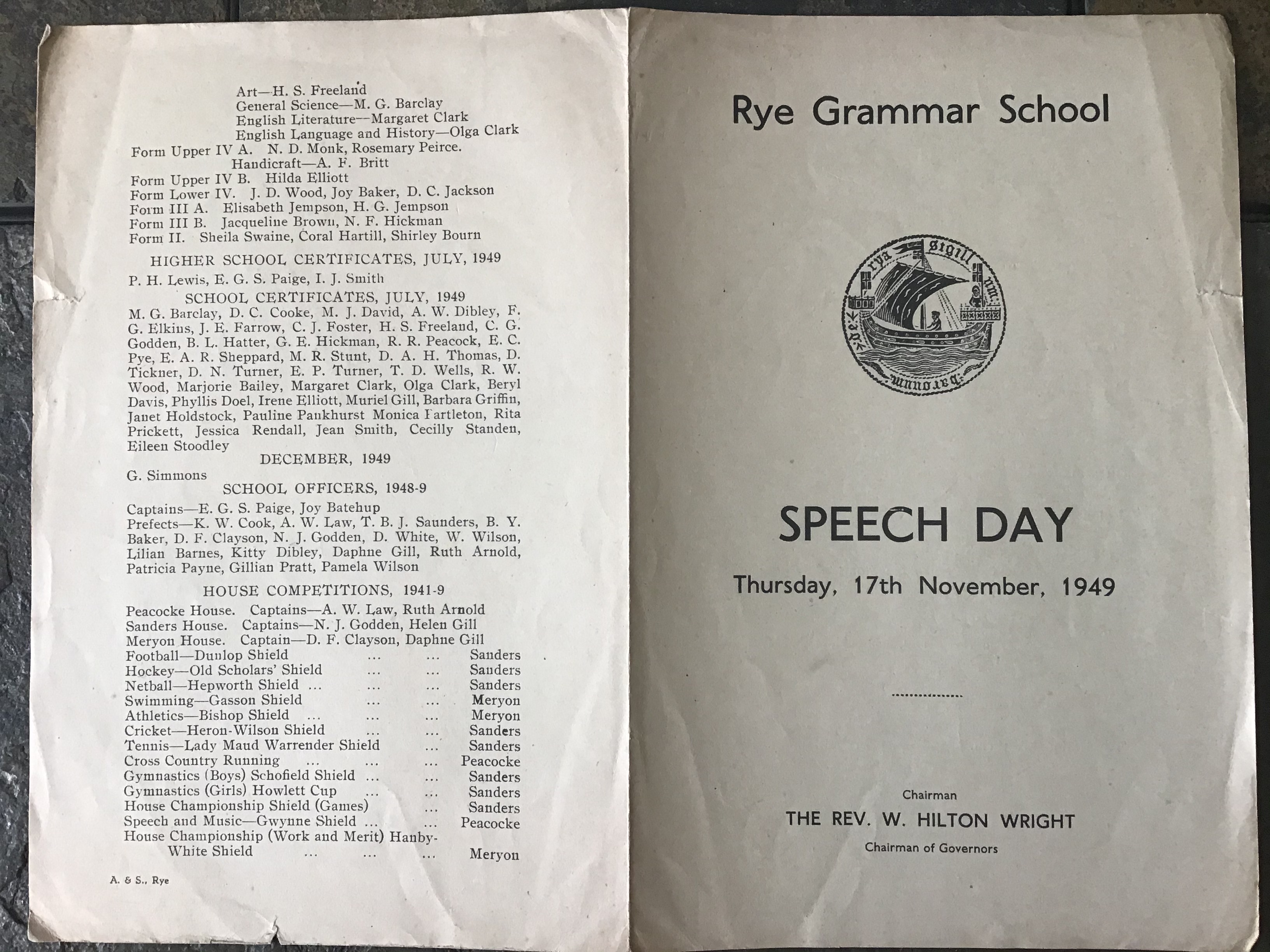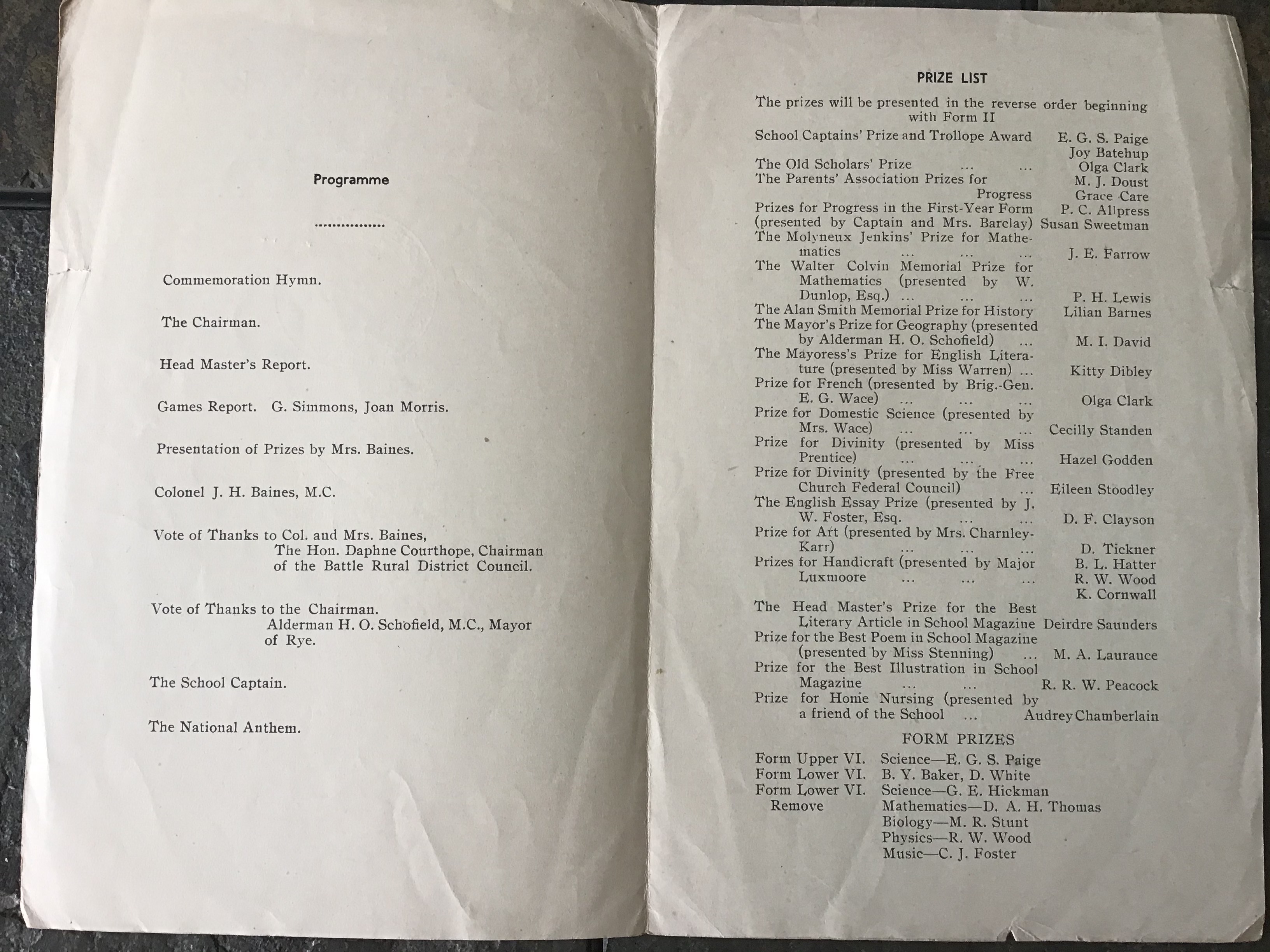 RGS Speech Day  Thursday 7 March 1963 RGS Speech Day 7:03:63
RGS Speech Day 29 January 1965 
Courtesy of Heather Rendall (nee Bather)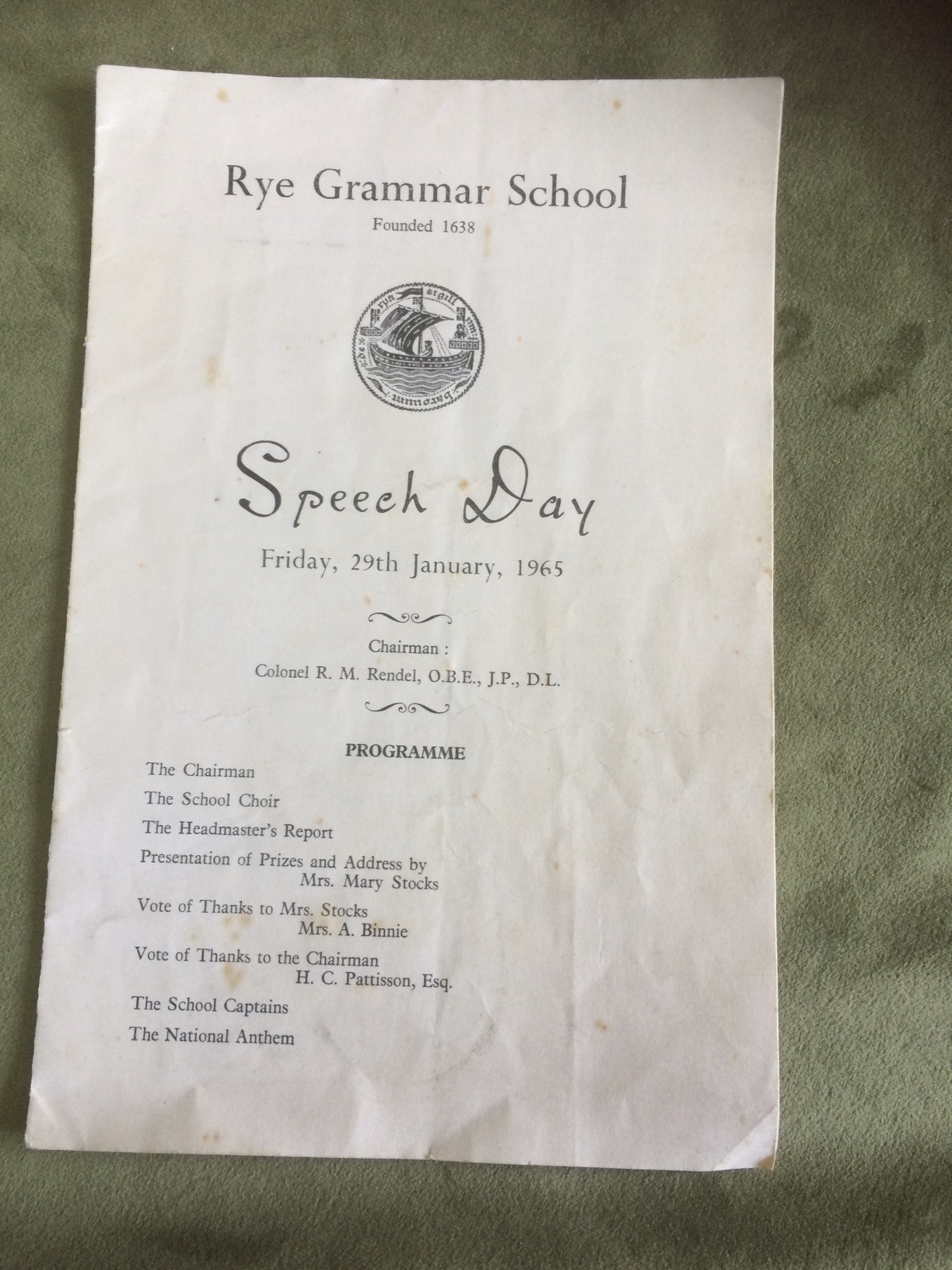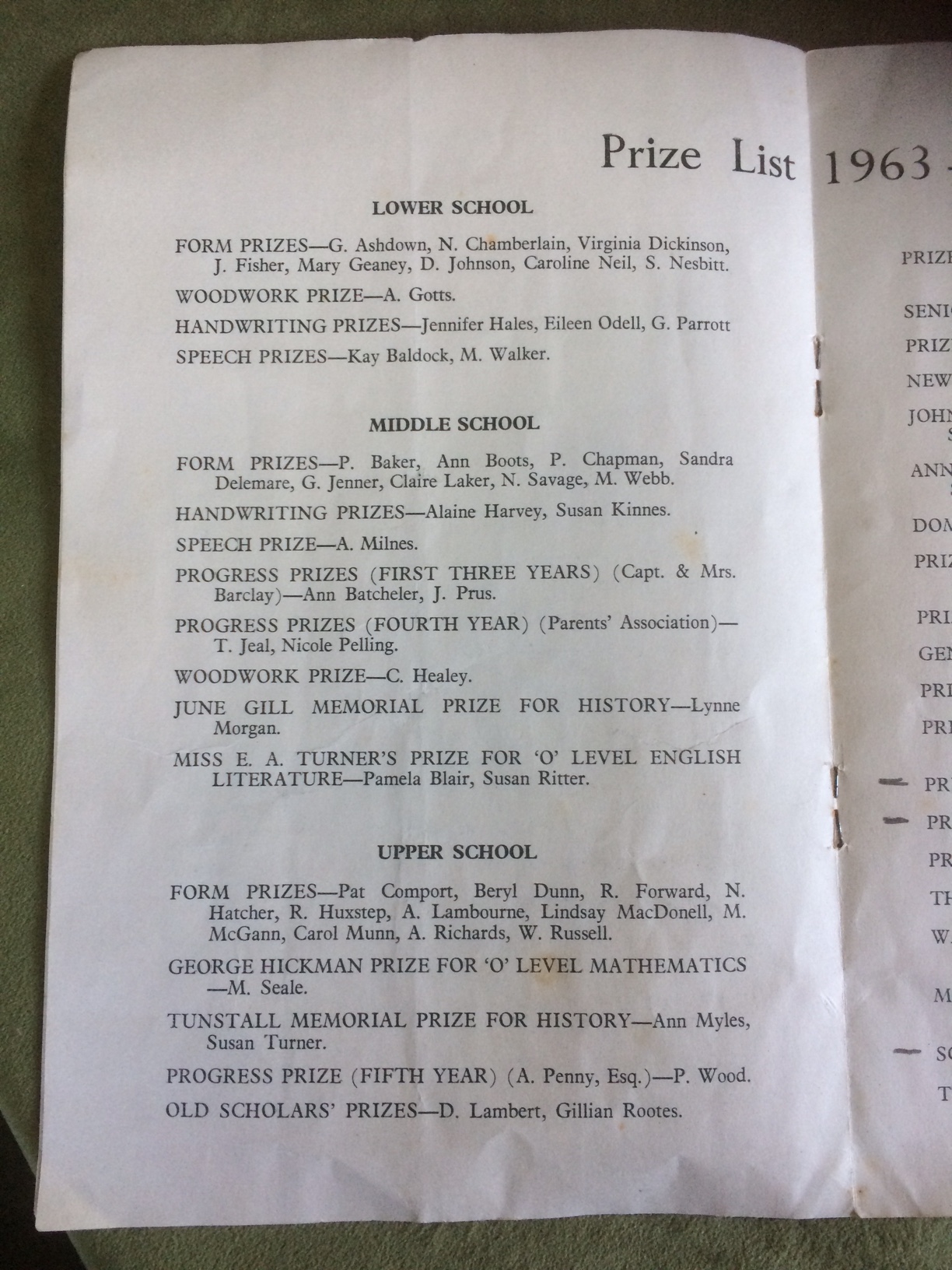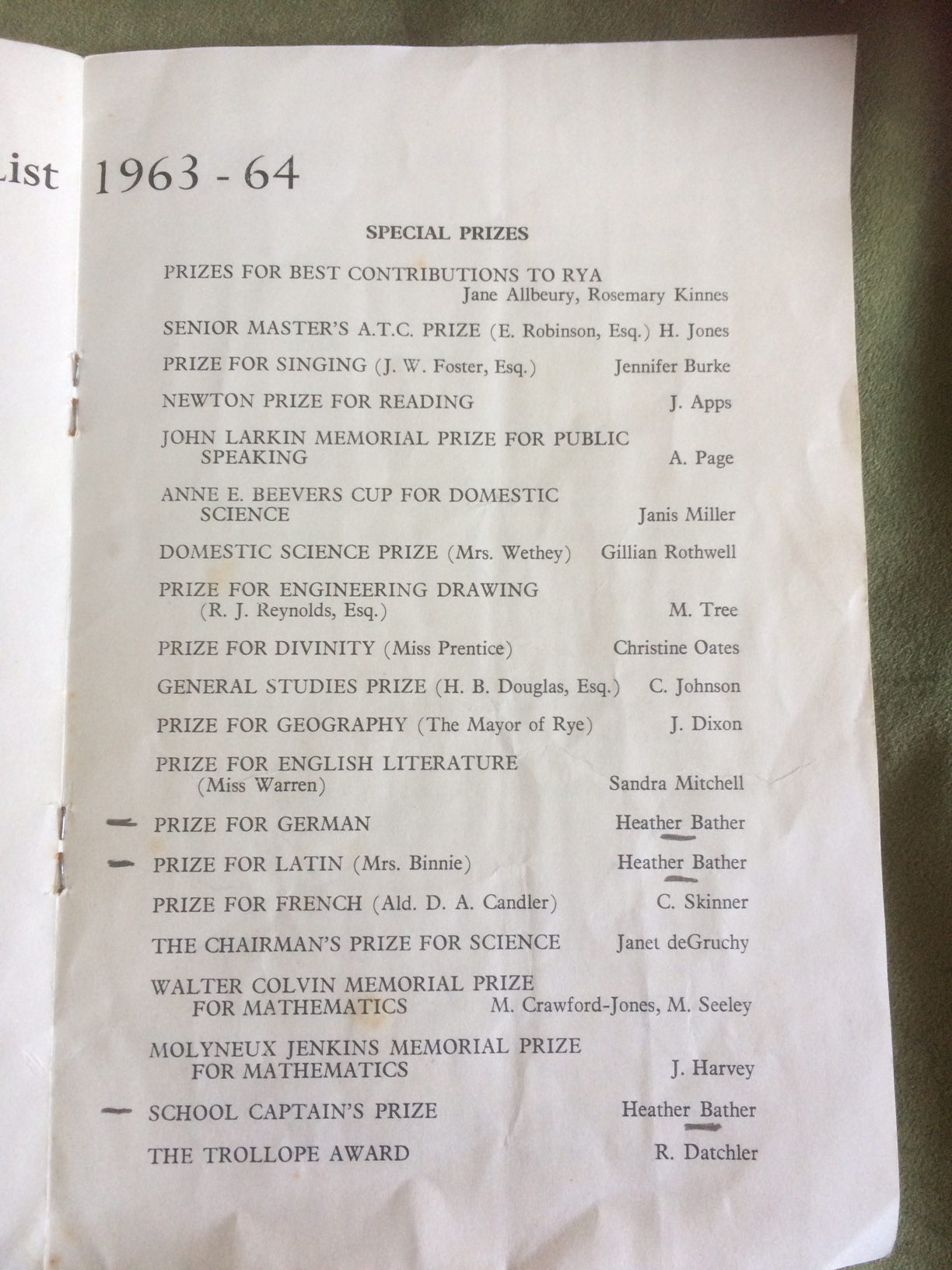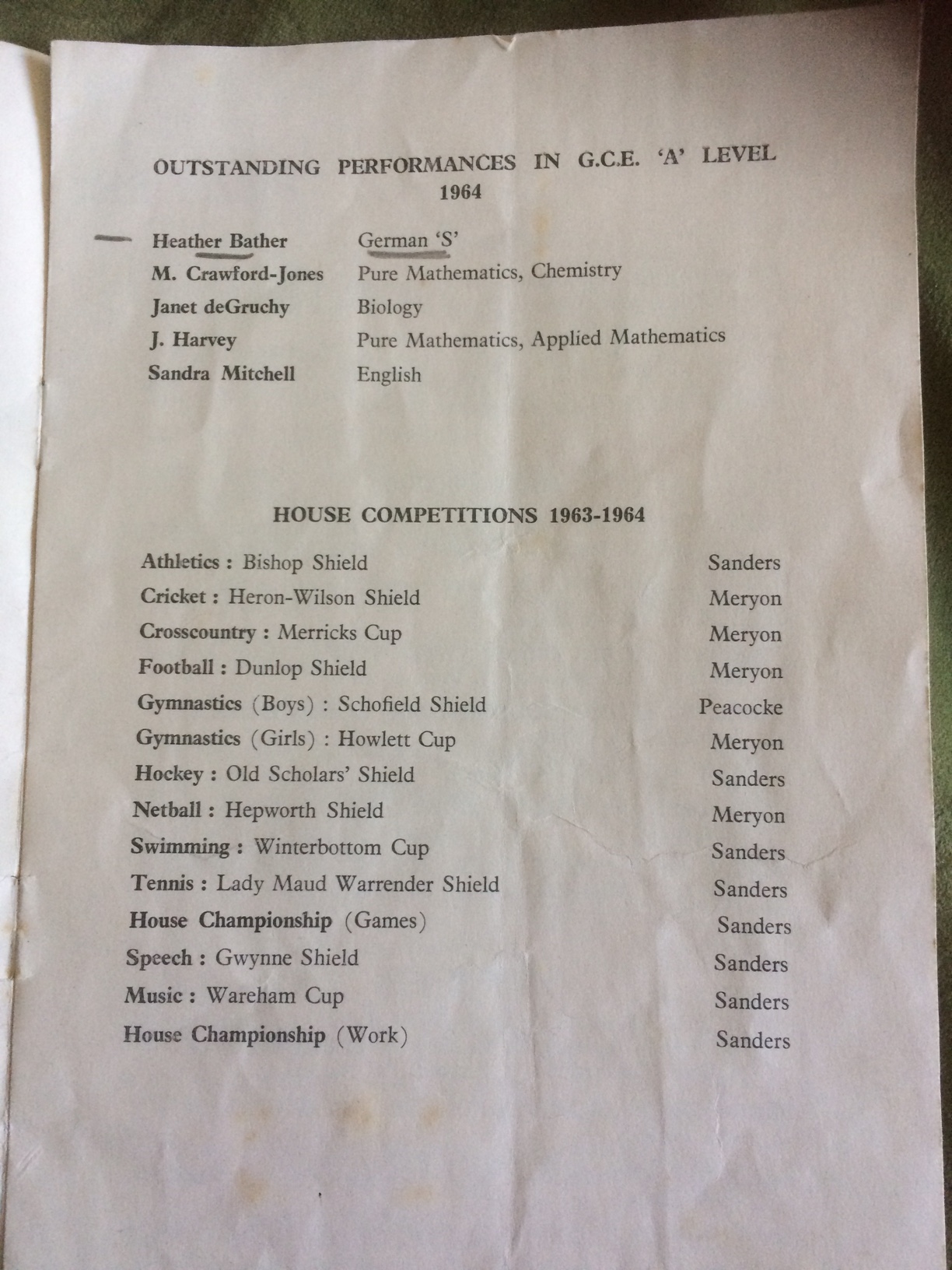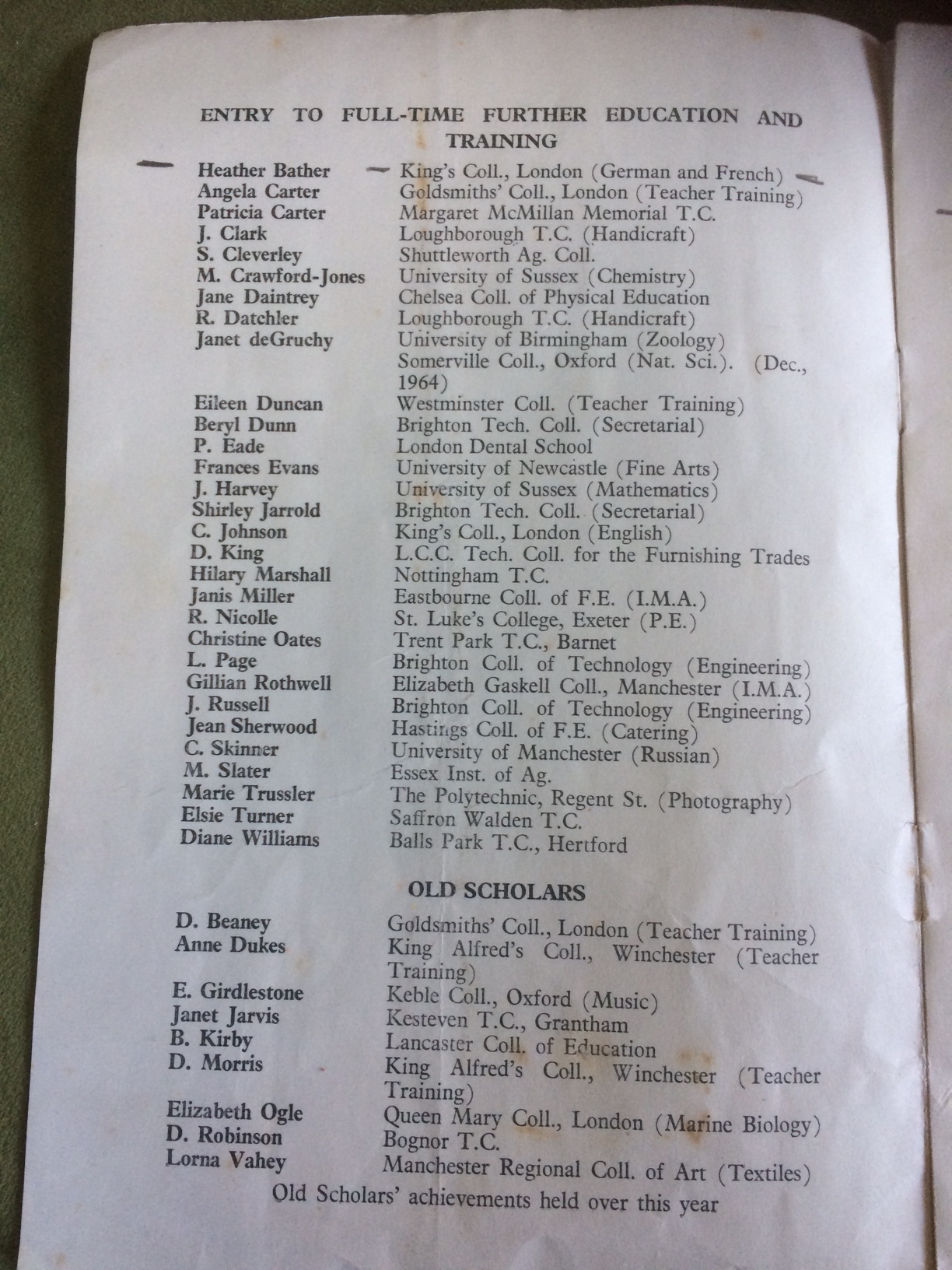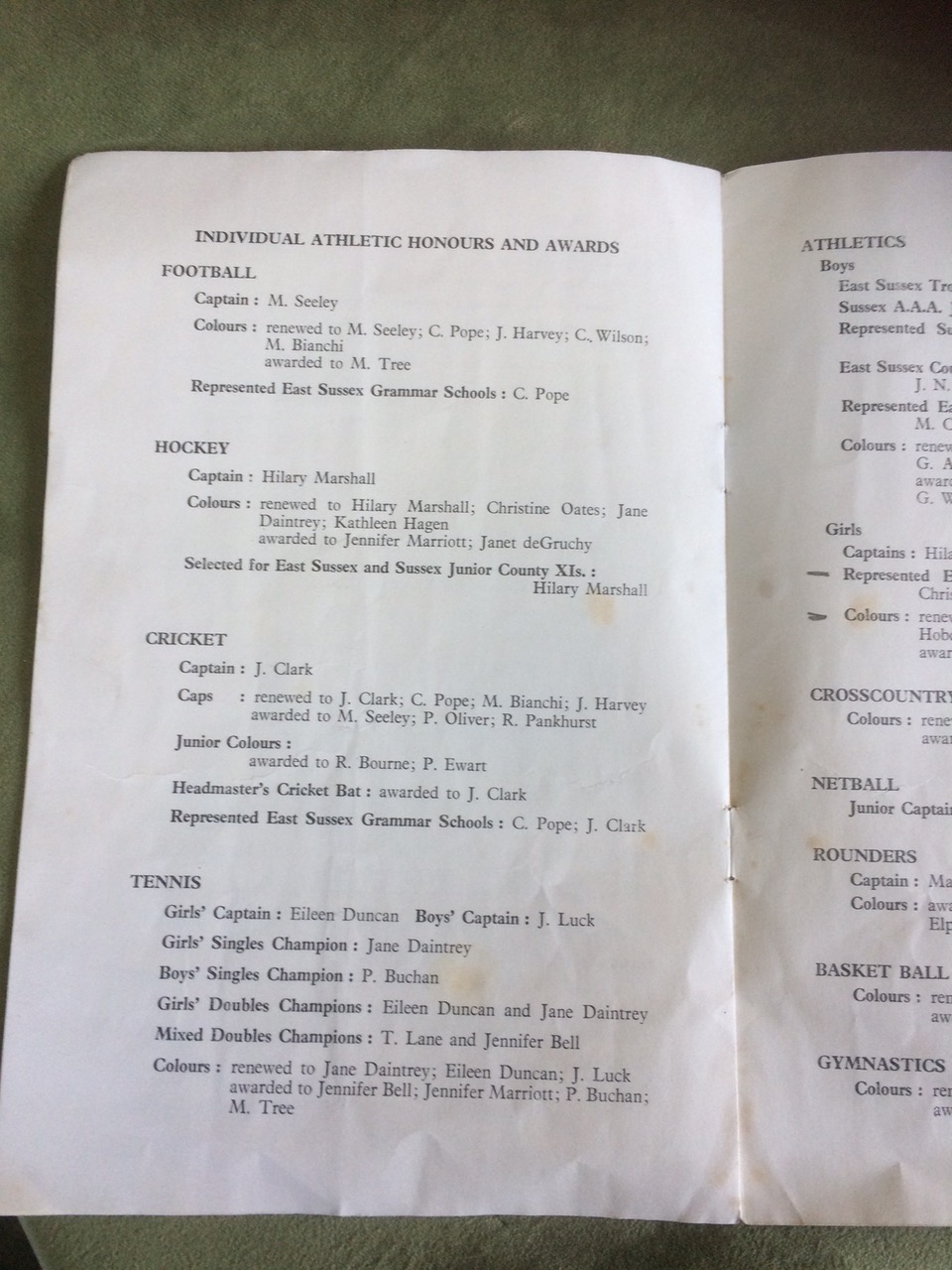 Thomas Peacocke School – Lower School Speech Day – Thursday 18 July, 1969
(Courtesy of Fran Mileman (Née Francesca Hutchinson)


OPEN DAY
Saturday 26 July 1958 Open Day July 1958