1970s Reunion – Saturday 21 October 2023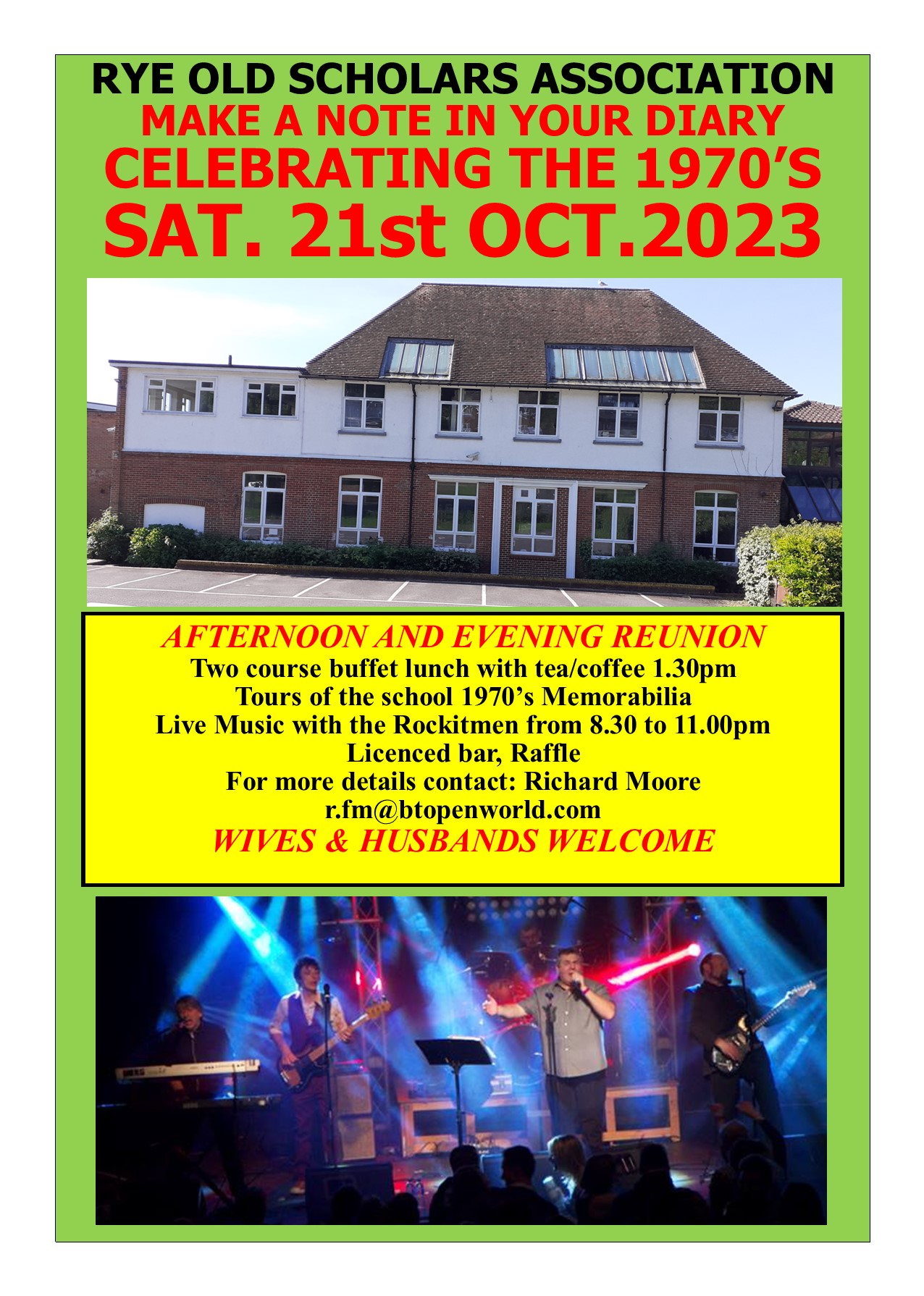 1960s REUNIONS – 15 OCTOBER 2022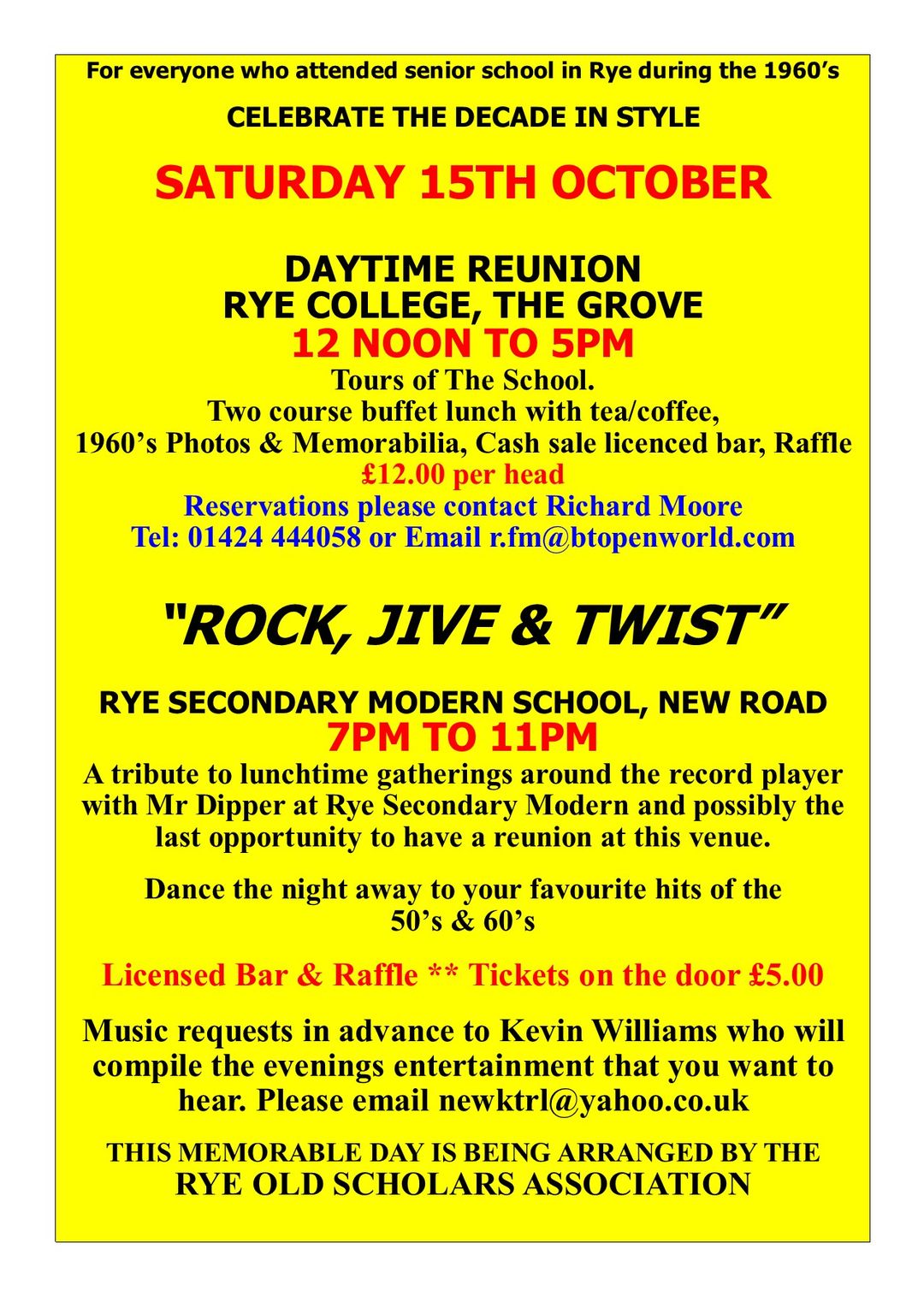 — and in the evening of 15 October 
ROCK, JIVE & TWIST
More details from Kevin Williams
Dear Old Scholars.
I pitched this idea to the ROSA committee and thankfully they went for it.
The aim – A reunion with a difference
To get as many Secondary Modern Old Scholars there as possible by offering them a nostalgic evening they can relate to. However, everyone is welcome. Let's pack the place.
Rock Jive and Twistwas a Thursday lunchtime activity held in the Secondery Modern School Hall. We paid 6d (yes 6 old pennies) entrance to listen to Mr. Ron Dipper play 'Pop music' of the day on his stereograme. Oh the innocence!!! I first experienced this in 1965.
It was always very well attended, and it's this I want to try and recreate by playing the music of the time, and getting as many people in to enjoy a dance. To chat yes, but the main object of the evening is to have a dance. Perhaps something that, because of our age, many of us no longer do as much as we would like to.
To encourage all who buy a ticket to send me the title of one track from the 50s/60s/70s whereby I'll compile Spotify playlists for the evening. No DJ just a continuous stream of YOUR music.
There's only one place really, the old Secondary Modern School in New Road now called the Rye Creative Centre.
Rock Jive and Twist memories from Graham Williams
I was talking to my old school pal Roger (Williams) the other day on the phone and we discussed our memories of the first session we organised back in 1963.  We can't recall who had the initial idea but there was a small number of students involved such as me, Roger, Keith Fitzhugh, Paul Oliver and Duncan Day.  There may have been others but Roger and I were certainly leading the pack as it were and we were "supervised" by Mr Dipper.  I can vividly recall playing records on an old fairly solid record player with an internal amplifier at the side of the stage behind the curtains with varied loudspeakers attached and one thing was certain, we had never heard our records played so loudly.  We were trying to remember what records we played and came up with a few definites, such as:
Let's Dance – Chris Montez.  This could have been the first record we ever played
Little Town Flirt – Del Shannon.  I probably played a few more by DS of course.
Twist and Shout – The Beatles.
Surf City – Jan & Dean.
Surfin' USA & Shut Down – Beach Boys.
Others we probably played were:
Please Please Me
Da Doo Ron Ron
Sweets for My Sweet
Wipe Out
Then He Kissed Me
Be My Baby etc
This session was the first of several we organised so some of the above may well have been not played until the second session. I think I played Surf City at every session funny enough.
I thought perhaps you might be interested in above seeing that it was the first we ever had.
Brother Grahams (Williams)
1960s REUNION 2018
Saturday 22 September 2018 – Sidney Allnutt Cricket Pavilion, Rye