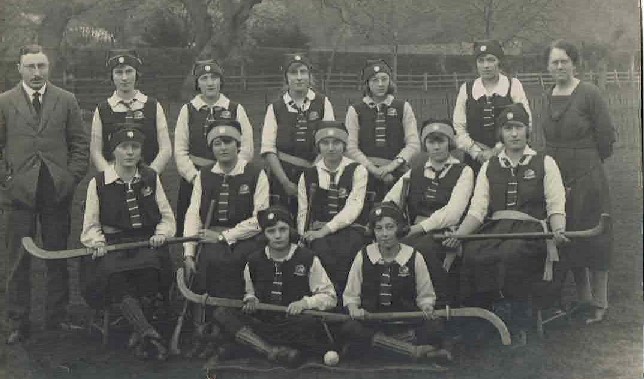 RGS Hockey Team – 1920s?
Sports Day – Wednesday 26 May 1937
Courtesy of John Breeds. John adds: Scans of a heavily foxed programme for RGS Athletic Sports 1937. My father won the Boys' 100 yards, 220 yards and long jump! In fact he was 'Victor Ludorum' in both 1936 and 1937. He still held the long jump record (18'3″) when Mr Holness started at RGS (in about 1958?). This record was, of course, smashed by Richard Seeley not long after.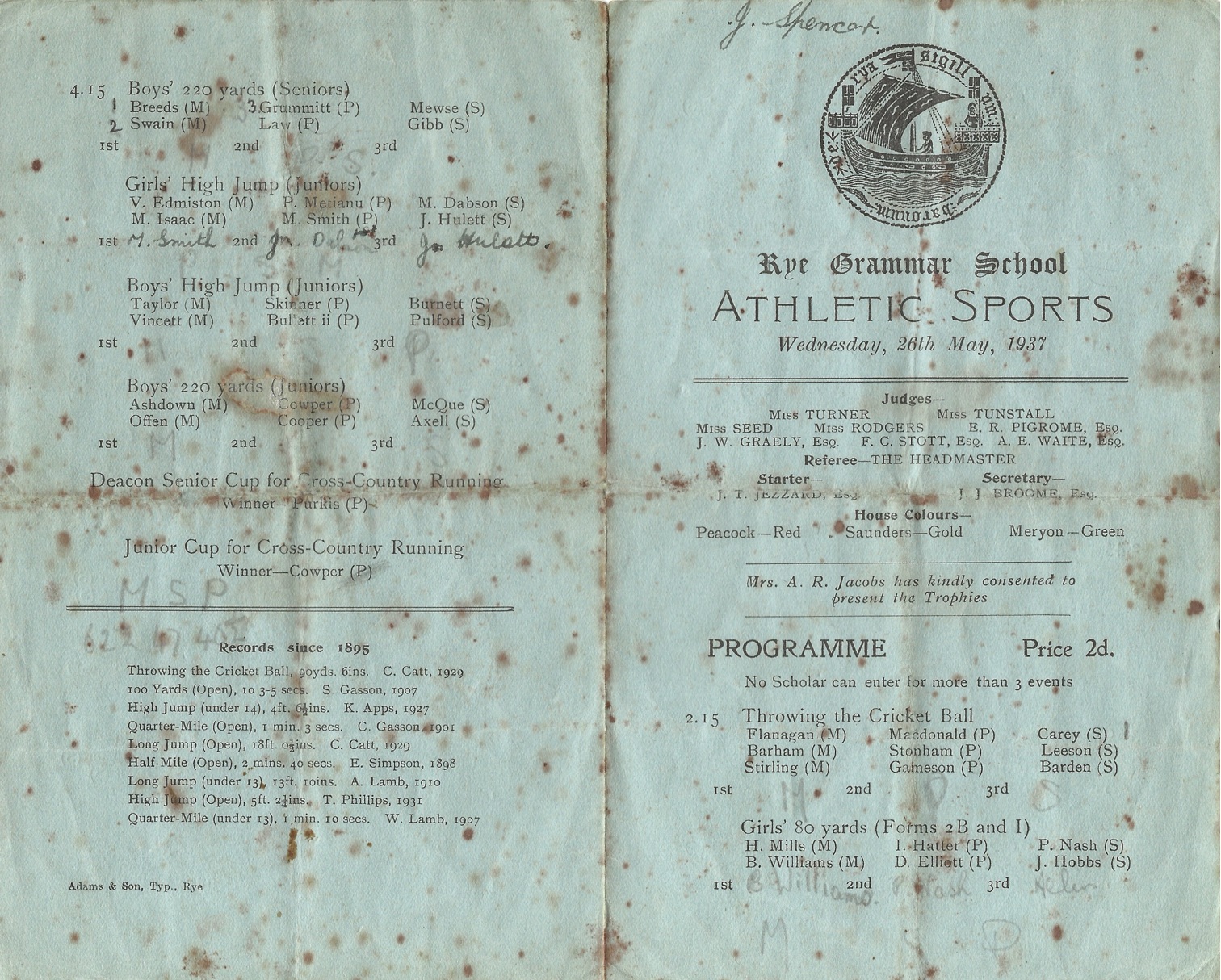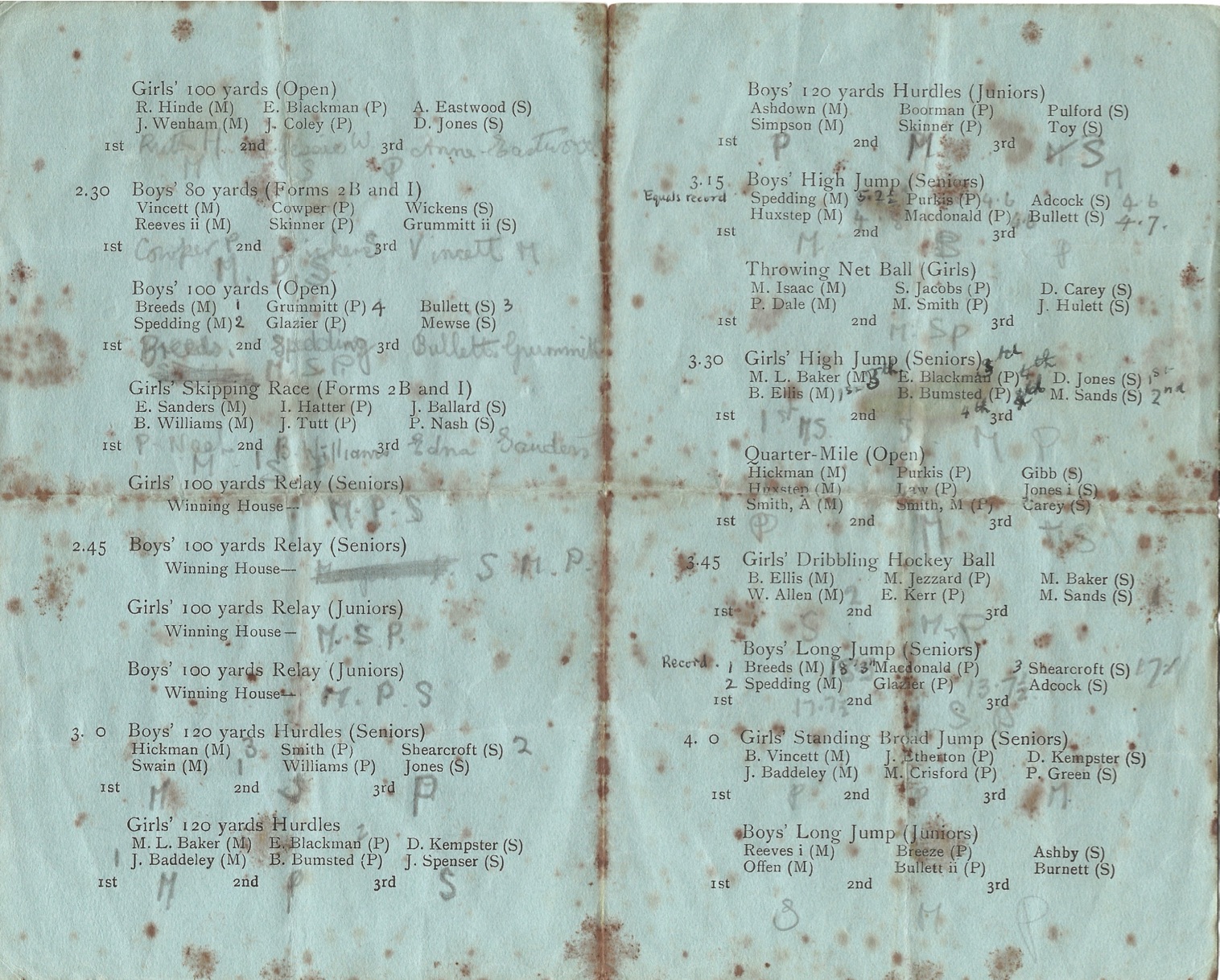 RGS Hockey Team 1938 – on the Salts, Rye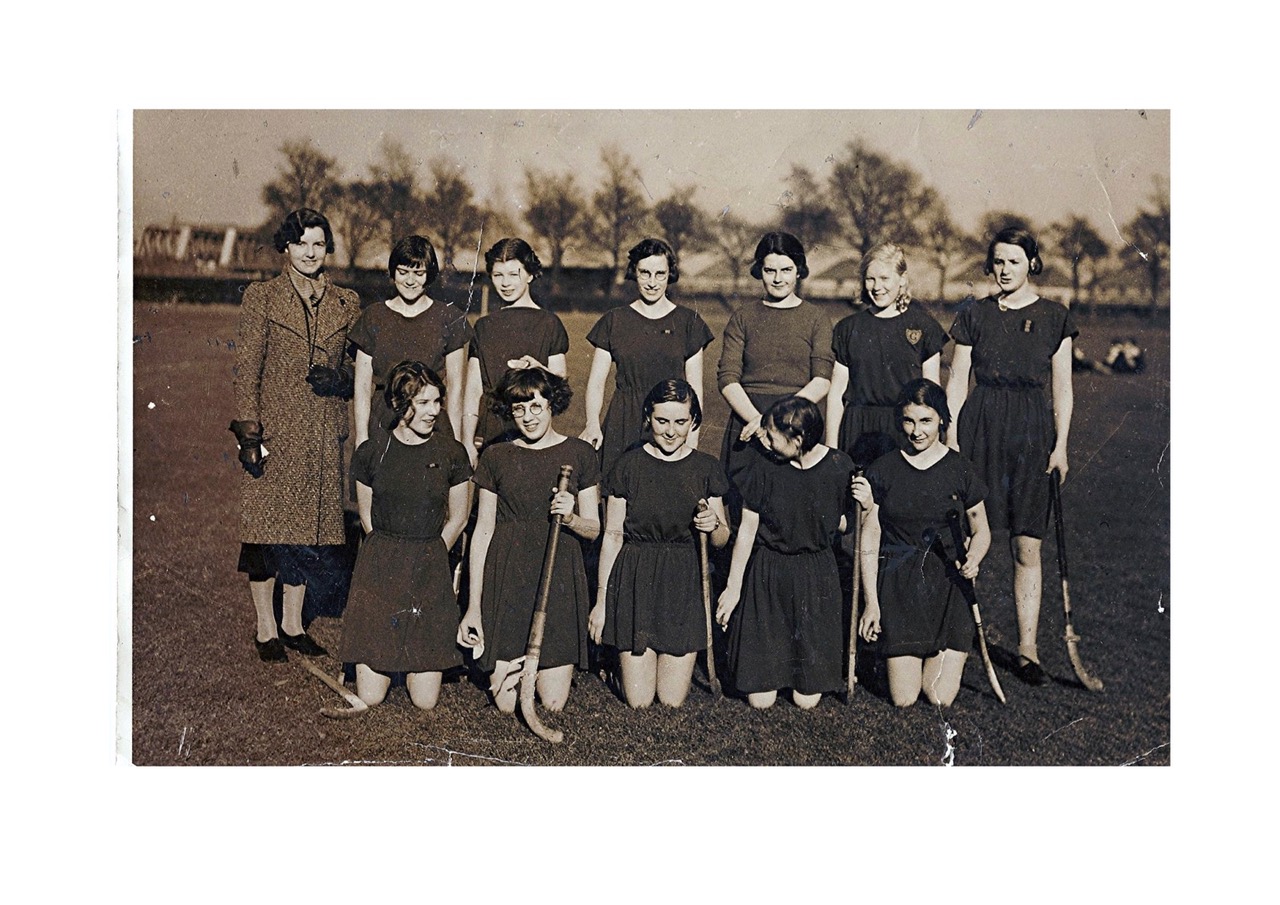 Back Row: Miss Rodgers (Teacher), Vivi Vincent, Eve Blackman (Rogerson), Nancy Wyborn, Jessie Coley, Joan Maqua (?) and Margaret Sands.
Front Row: ?   ?   Anne Sharp (nee Eastwood)  Barbara Ellis  ?    ?
(Photo courtesy of Robin Sharp and his mother, Annie Sharp (nee Eastwood)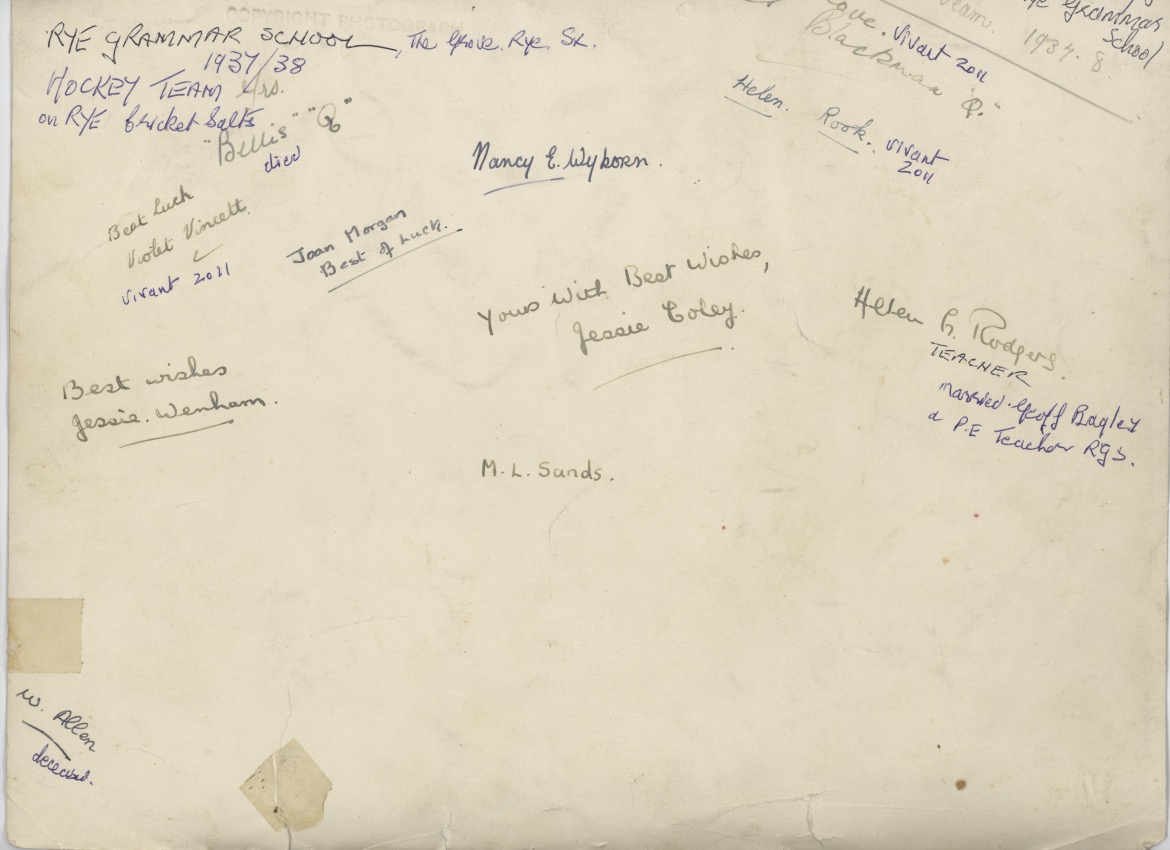 Signatures of those in the photo – courtesy of Robin Sharp (with notes by his late mother Annie Sharp)- added May 2022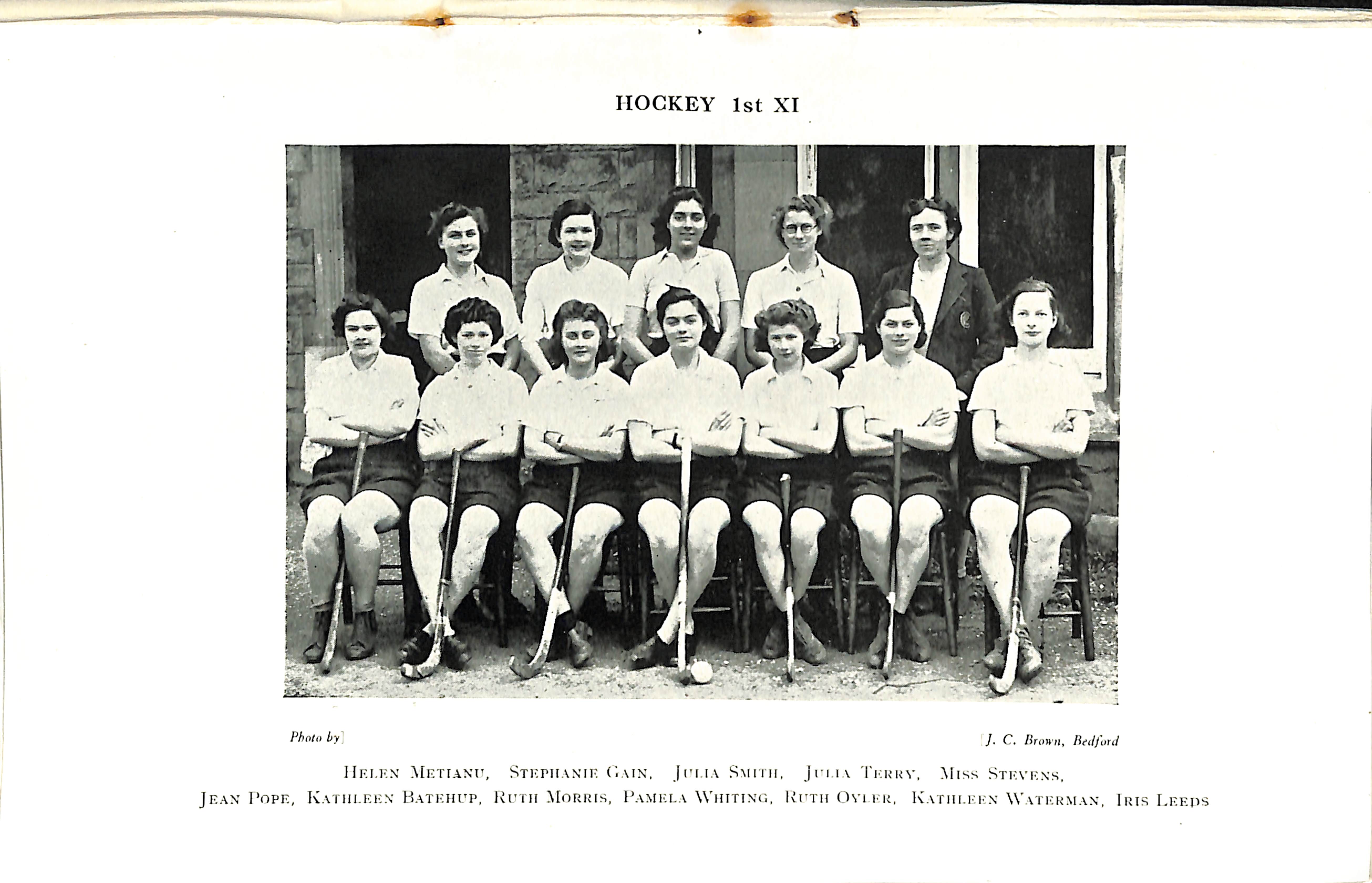 RGS 1st XI Hockey Team – 1944 – when school was evacuated to Bedford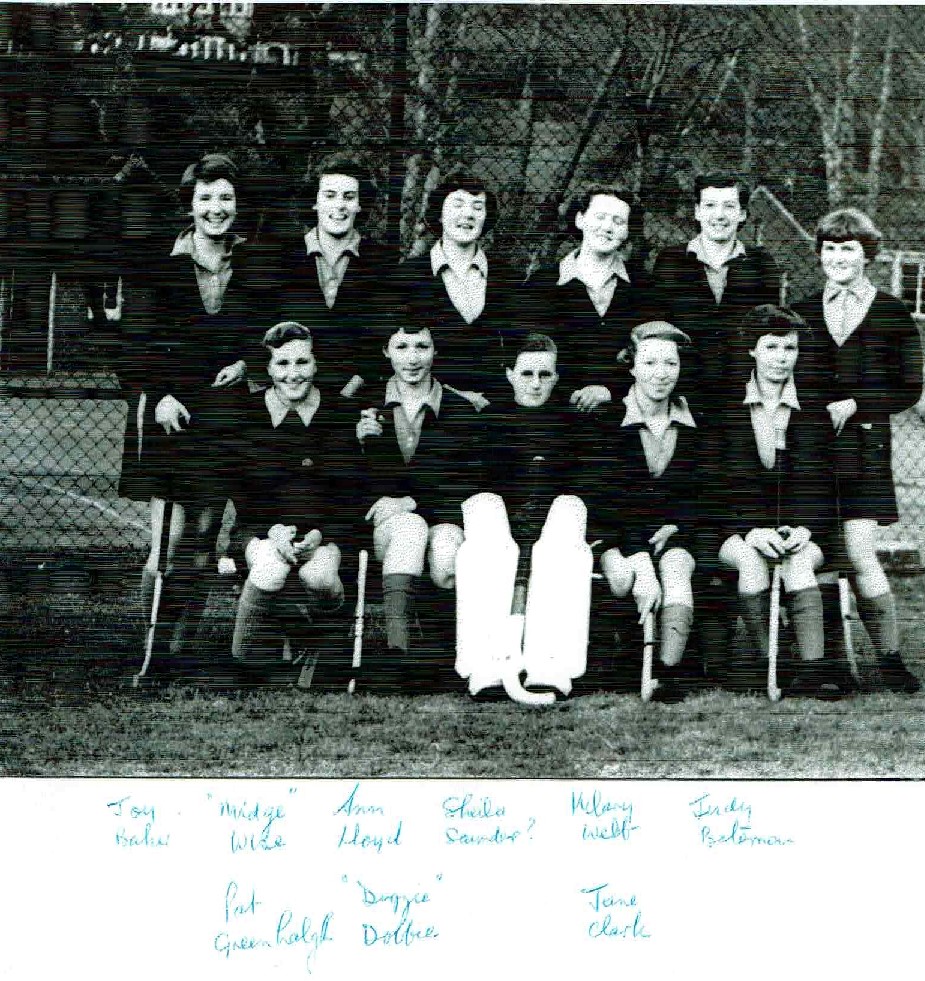 RGS Hockey 1946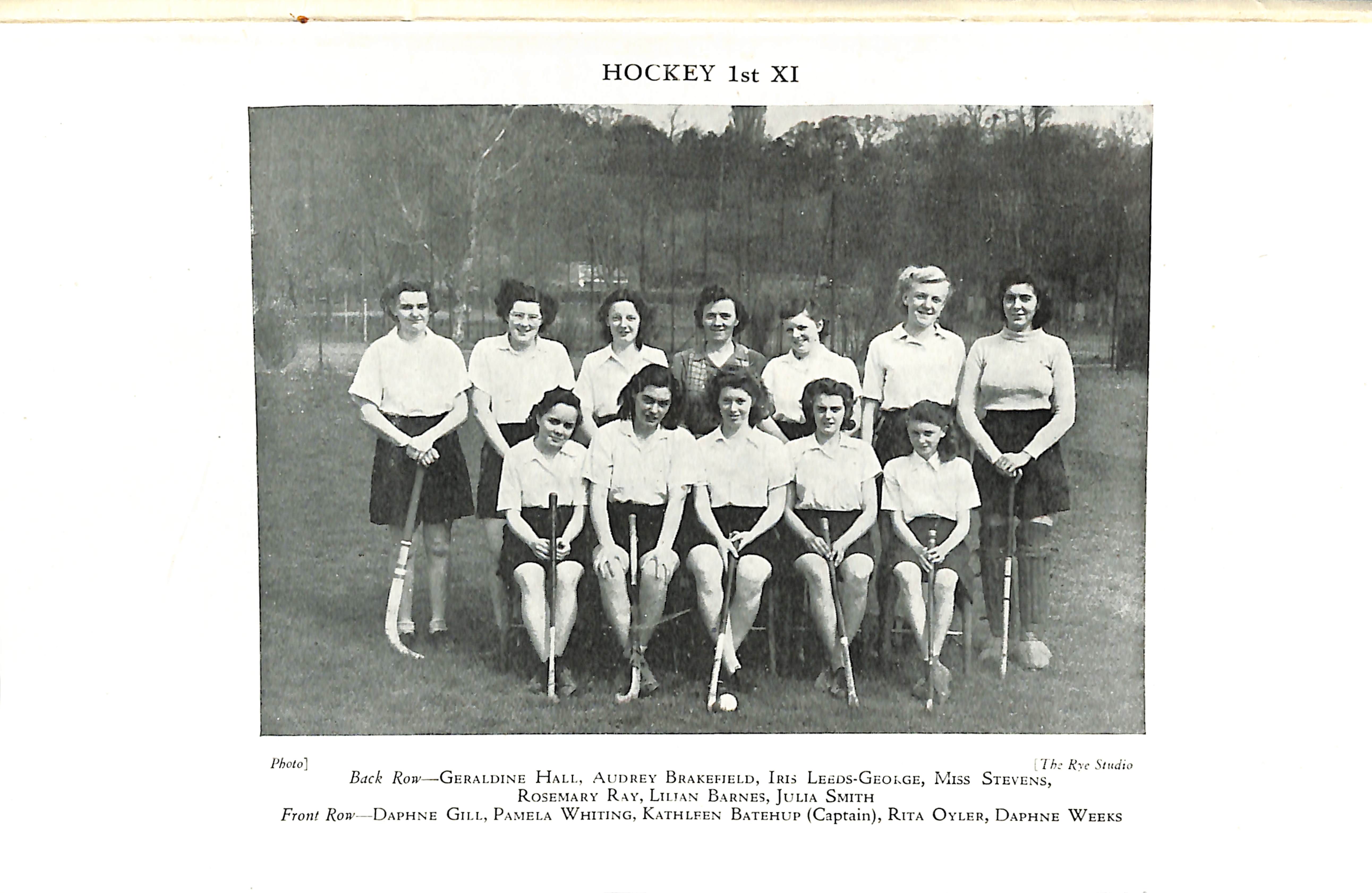 RGS Hockey Team 1950s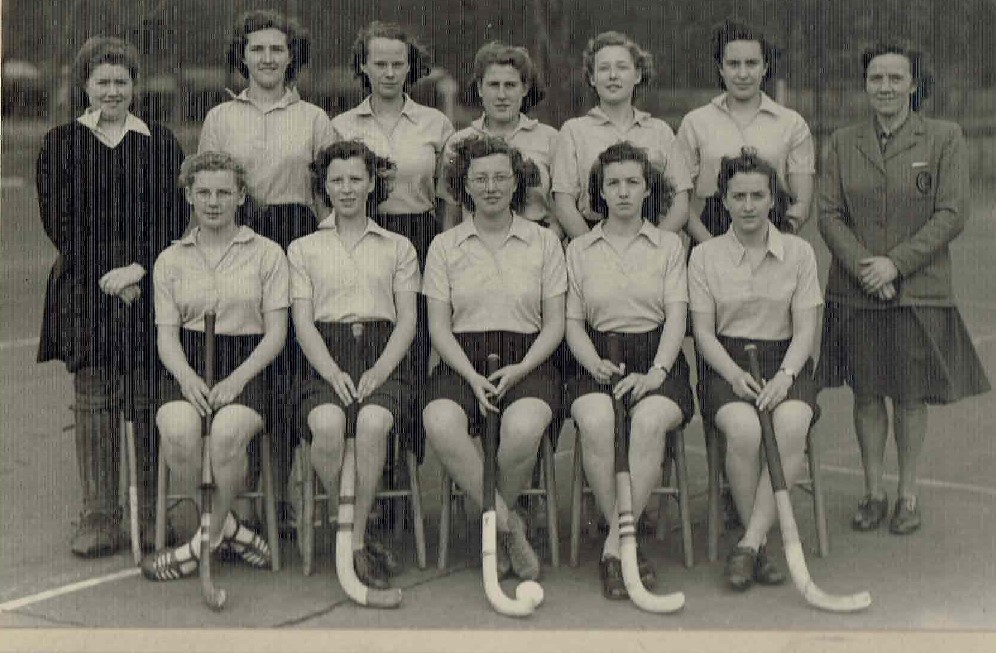 RGS Hockey Team: ? what year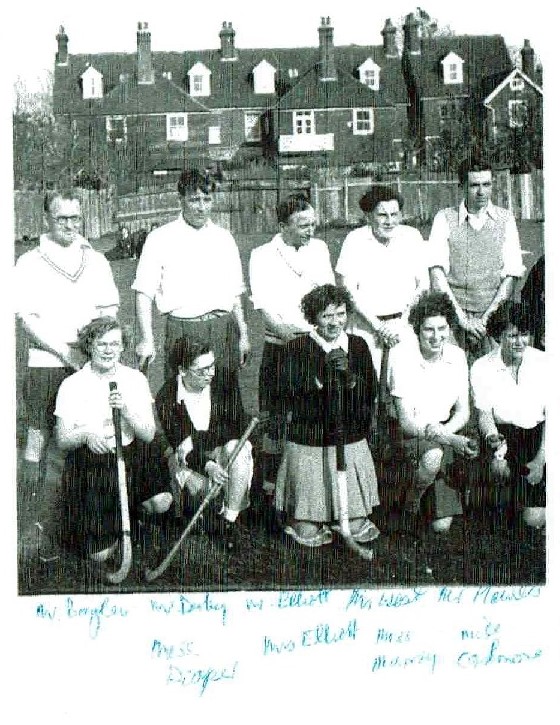 Above: RGS staff hockey team. A young looking Donald Darby in the back row.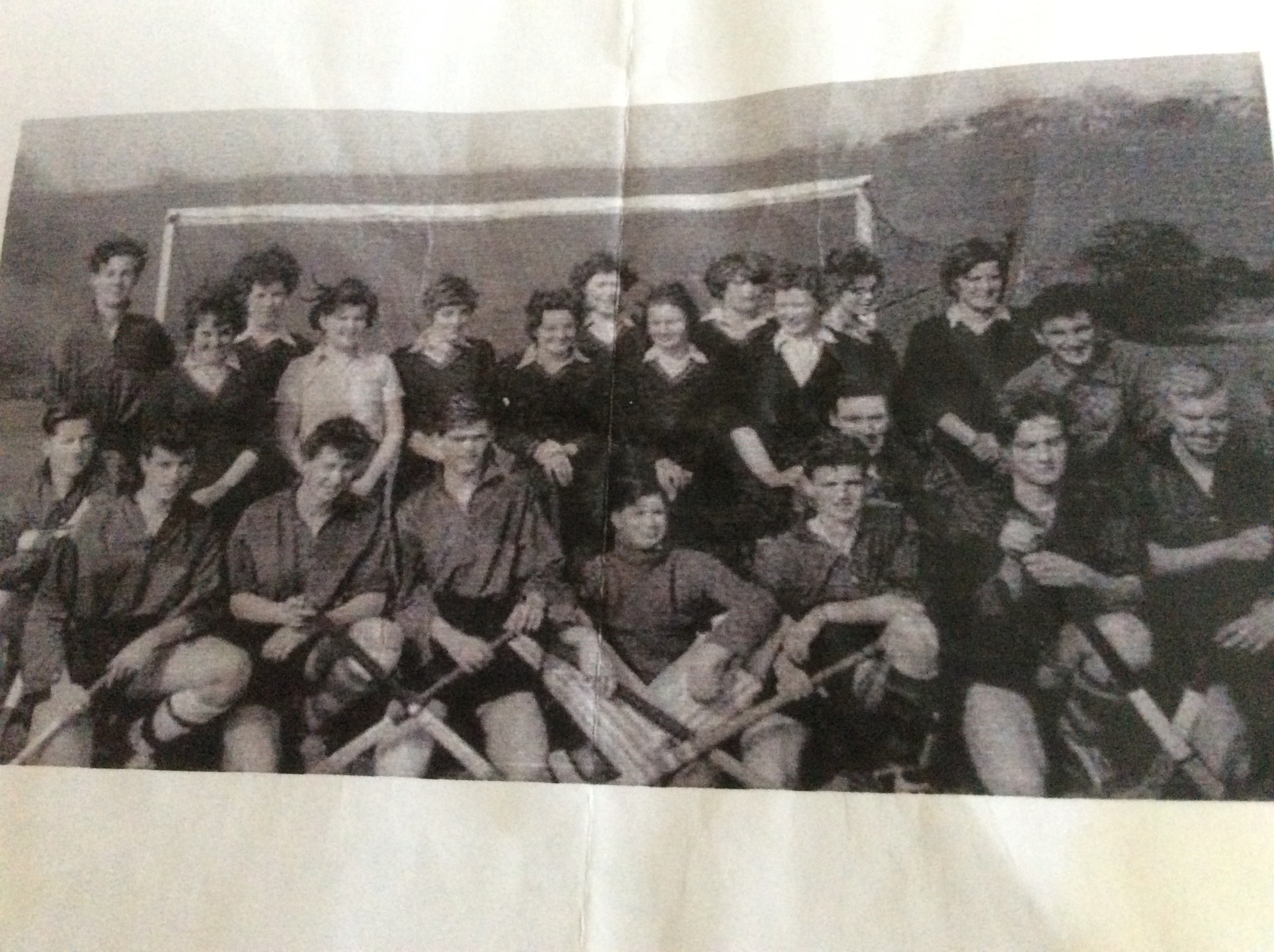 David Swaine has unearthed the above photo, actually a photo of a photo, hence, he says, the poor quality. It is from approximately March 1960 and is of the 2 teams involved in an end of term hockey match between the RGS Boys 1st XI football team and the Girls 1st XI hockey team.
With a bit of help from Graham Bourne he has identified a few of the players.
The individuals are as follows…..
Standing from the left – Richard Waters, Janice Maynard, Gill Lauder, Betty Clarke, Yvonne Tinker, Maisie Saunders, Alison Dobbie, Gill Sewell (we think), ? , ? , Sue Roser and Maggie Cooke.
Crouching from the left – Peter Turner, Bruno Fort, Glen Redman, David Swaine, Graham Bourne, Vic Pennell, Eric Clark, Alan Jarvis, Mark Jarvis and John Goundry.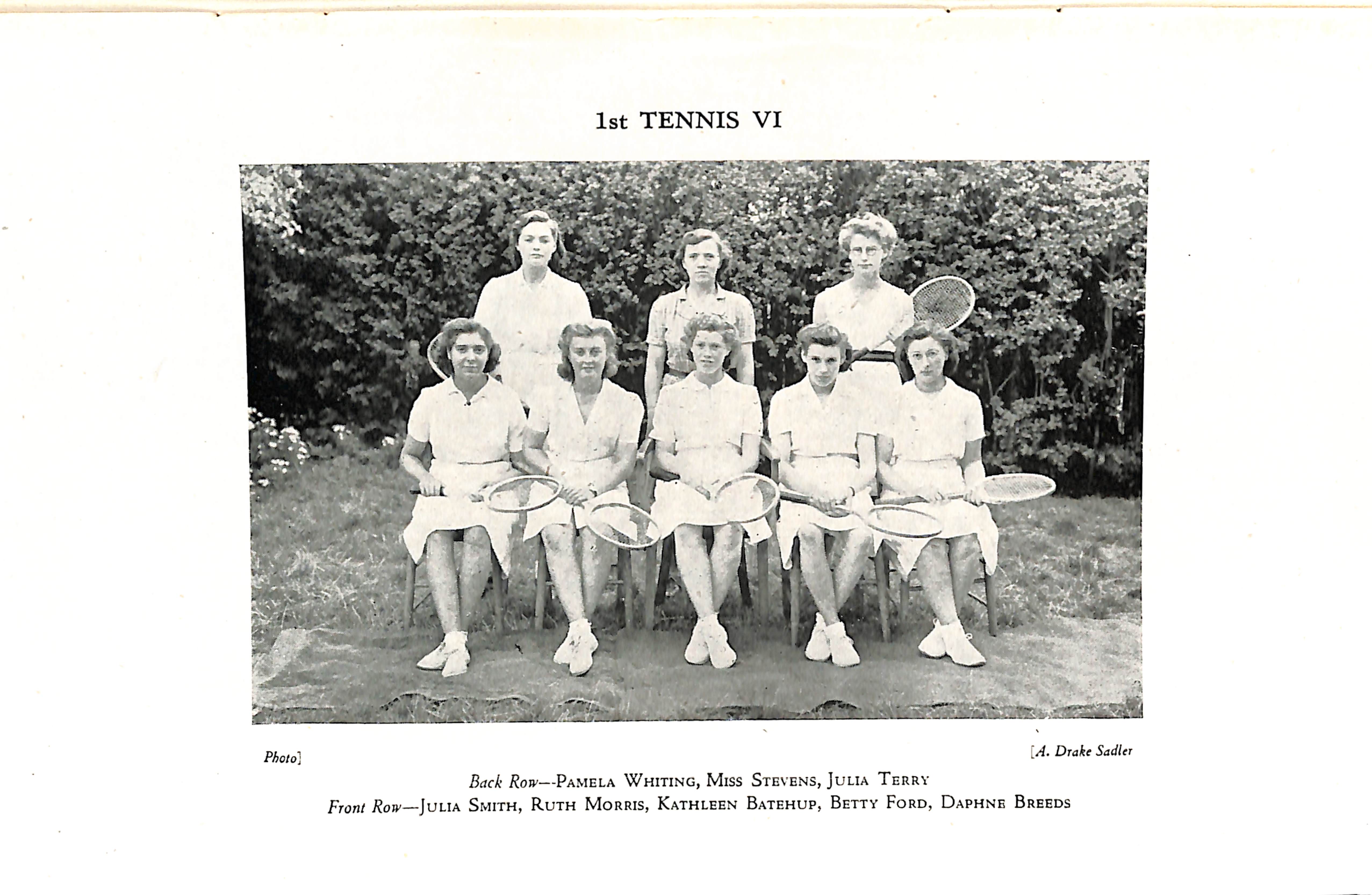 RGS Tennis Team 1944 – when the school was evacuated to Bedford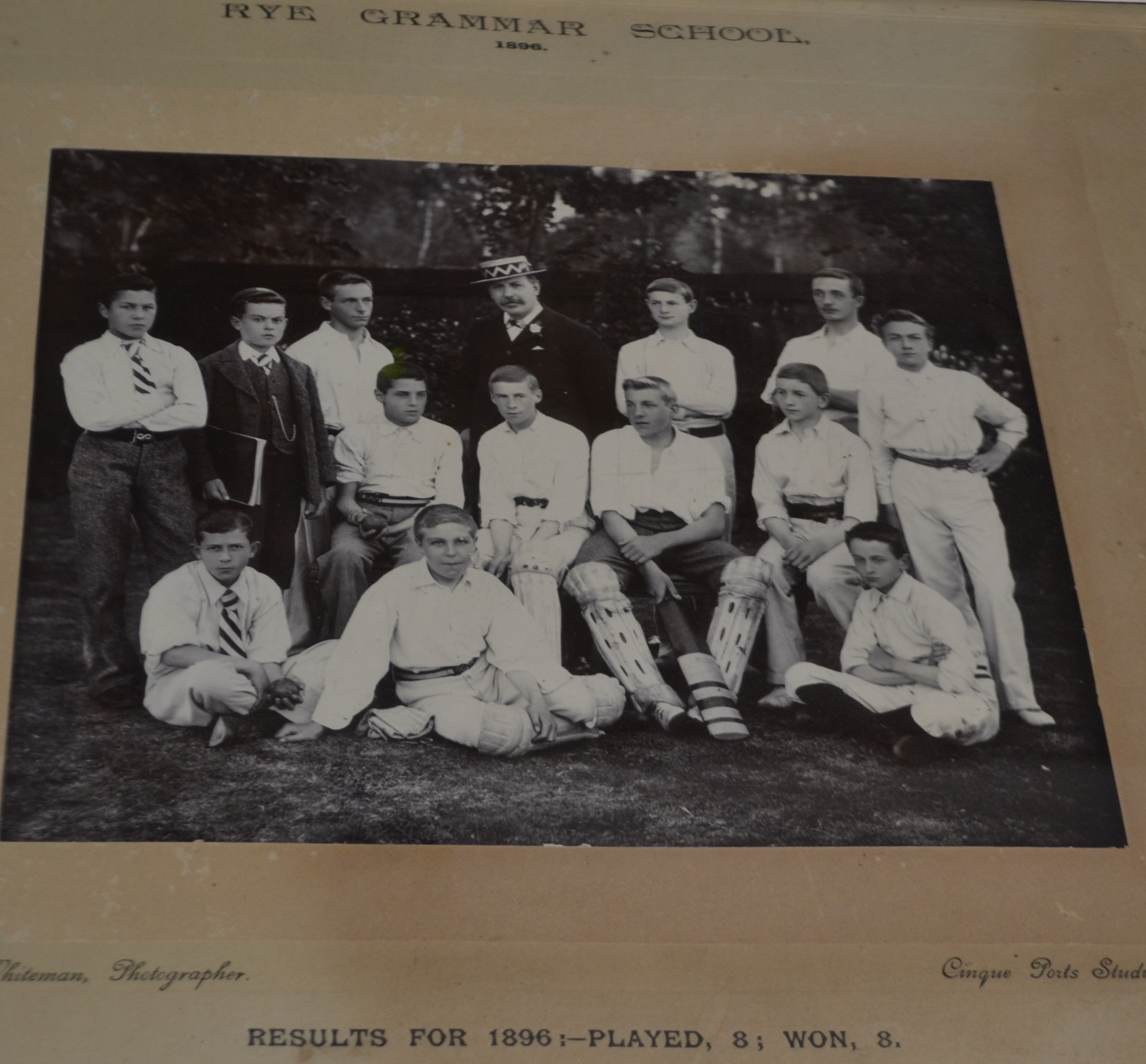 First known picture of RGS cricket team – 1896. 100% winning record!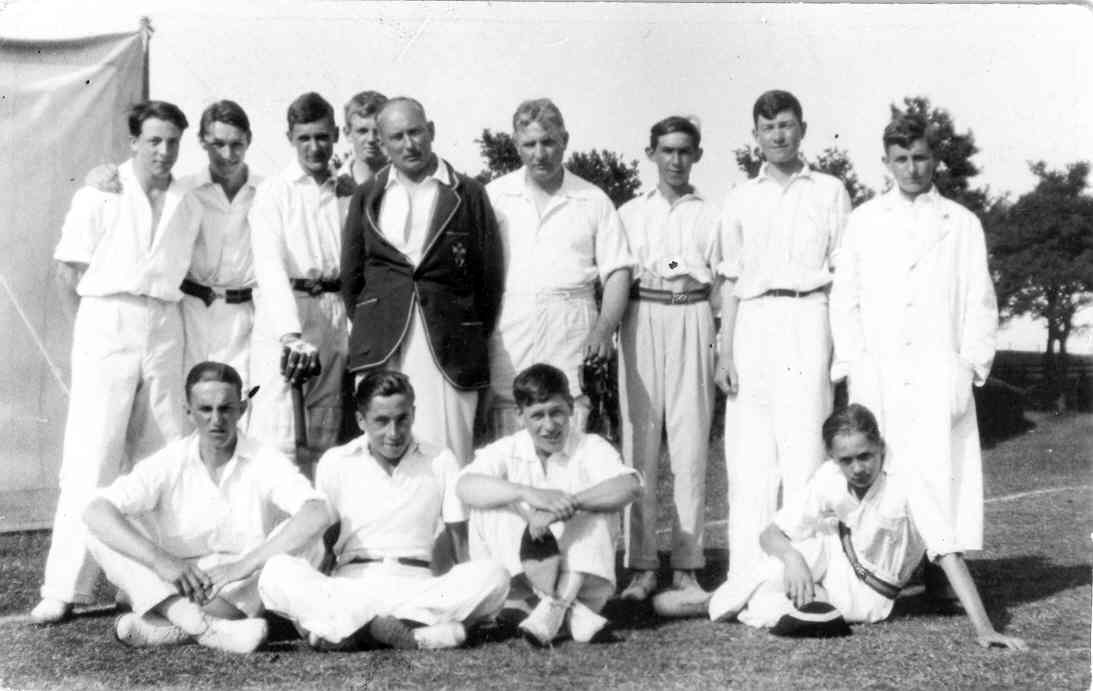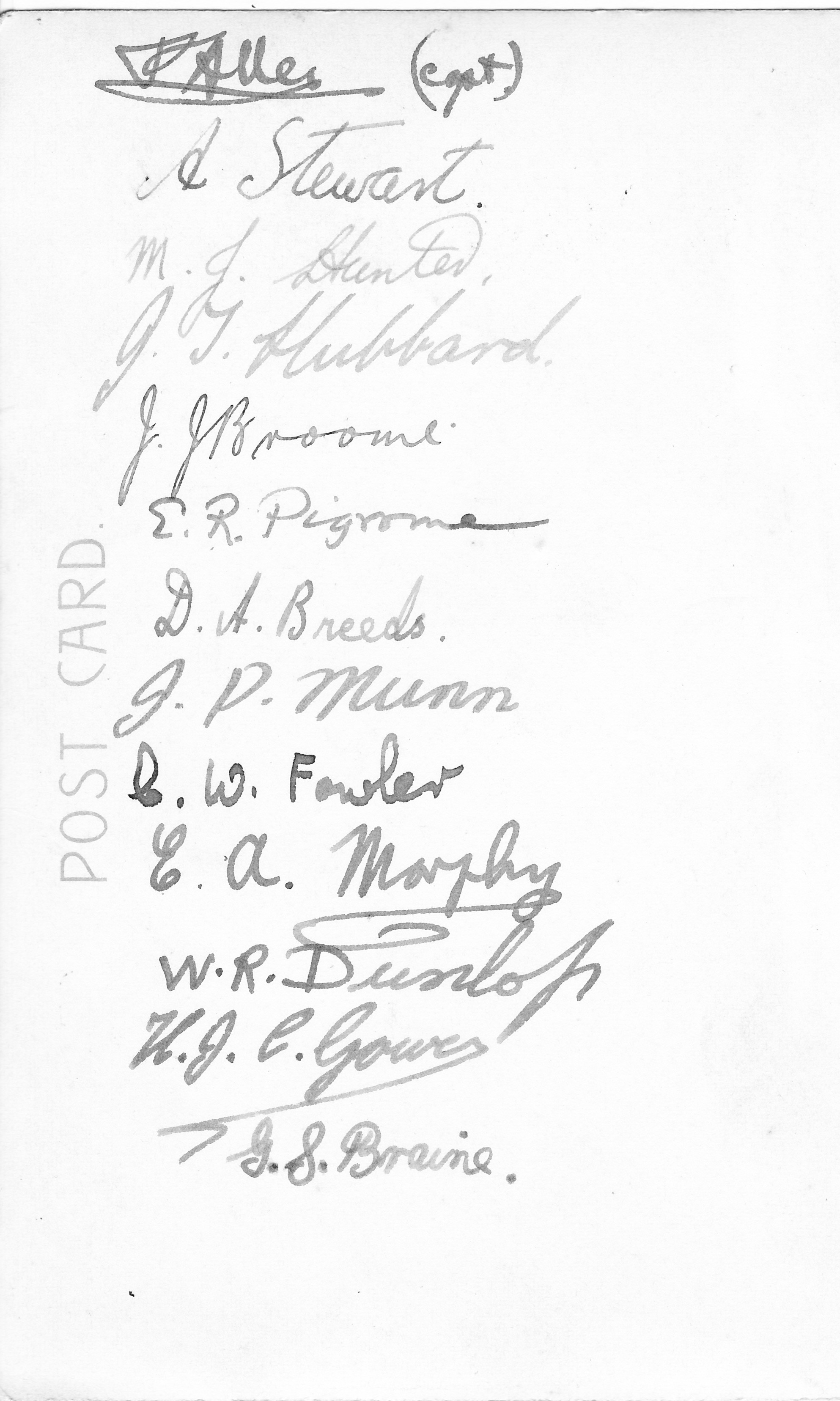 RGS cricket team – 1930s
Deborah Broadley has contributed the following: 'My father attended Rye Grammar School between 1929 and 1935. The above is a photo of the cricket team, including a list of players. My father EA Morphy (Ted) is in the front row, second from the left, and J Hubbard (Jim) is next to him,  first left.'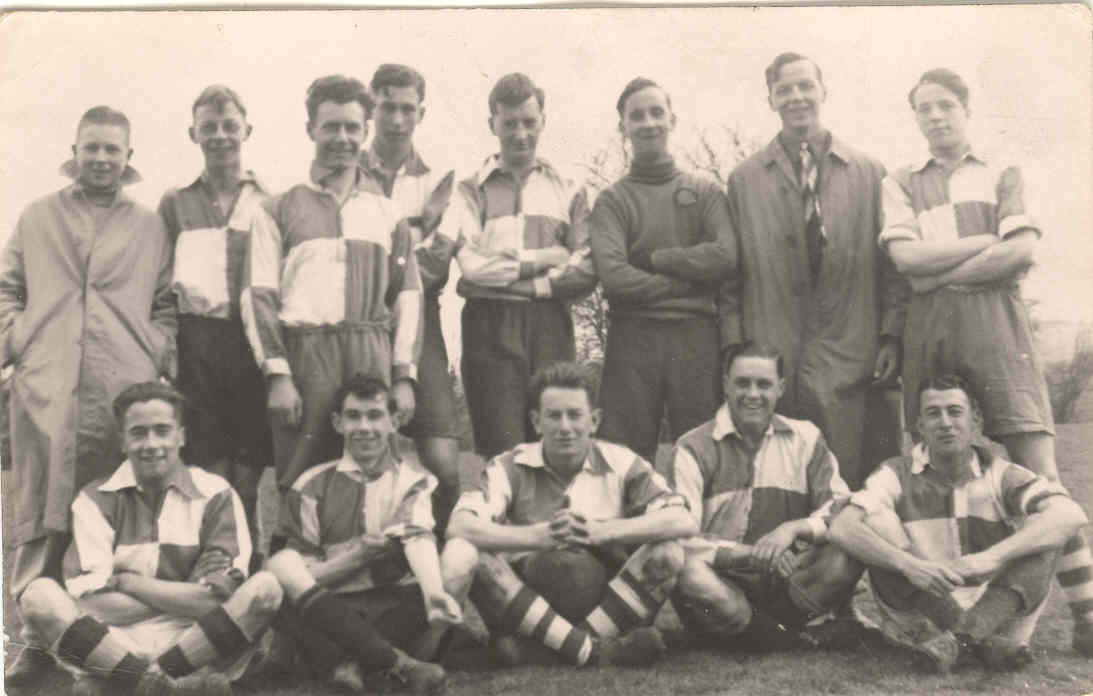 Deborah Broadley has also contributed the above photo. She says 'The football team is most likely Rye Old Grammarians that my father played for after he had left school in 1936/37, but he also played for Rye Old Boys Reserves. I would welcome thoughts on which team it might be.'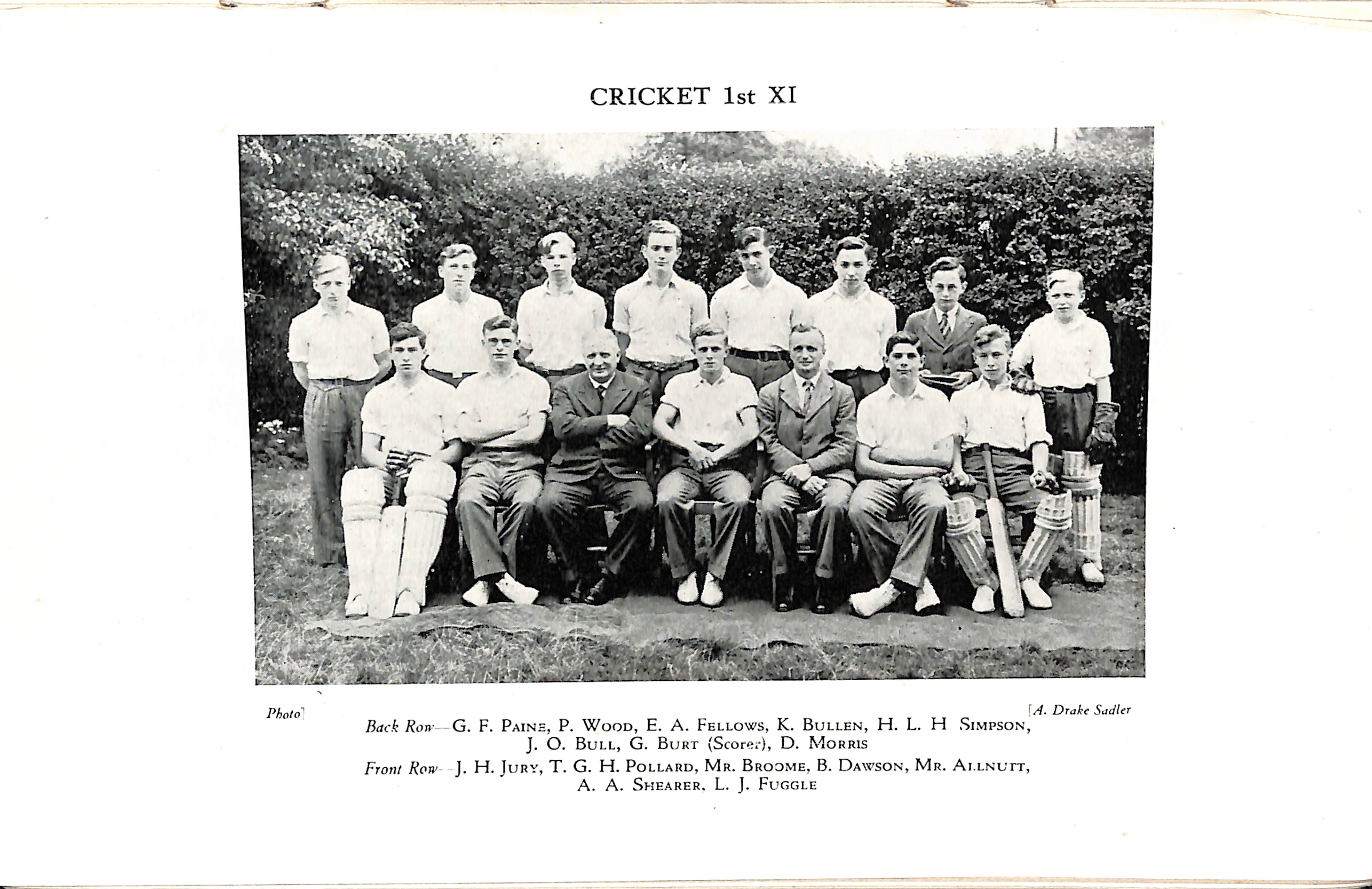 RGS 1st XI cricket team – 1944 when the school was evacuated to Bedford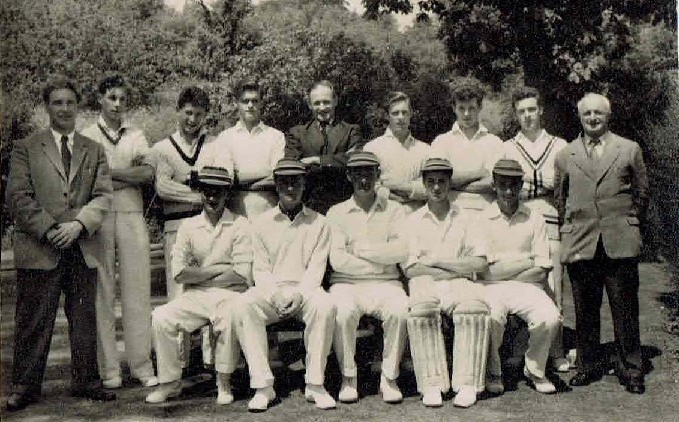 Rye Grammar School 1st XI cricket team – 1960 – with three legendary members of staff.
Far left back row – Stan Jones. Middle back row – Alf Buttery (Headteacher) Far right back row – Sidney 'Gus' Allnutt.
David Swaine has identified the team as follows:
'Standing from the left….. Stan Jones, Richard Waters, Glenn Redman, David Swaine, Alf Buttery, Paul Saville, Bruno Forte, Eric Clark, 'Gus' Allnutt
Sitting from the left…… Vic Pennell, Alan Jarvis, Mark Jarvis, Graham Bourne, James Gatherum.
The year must have been 1960. Had it been 1959 there would have been players older than me in it apart from Mark Jarvis who had stayed on for an extra year I seem to recall and became Head Boy.
Paul Saville was the youngest of the 3 brothers , the eldest of who became Lord Saville who prepared the Northern Ireland Bloody Sunday report.'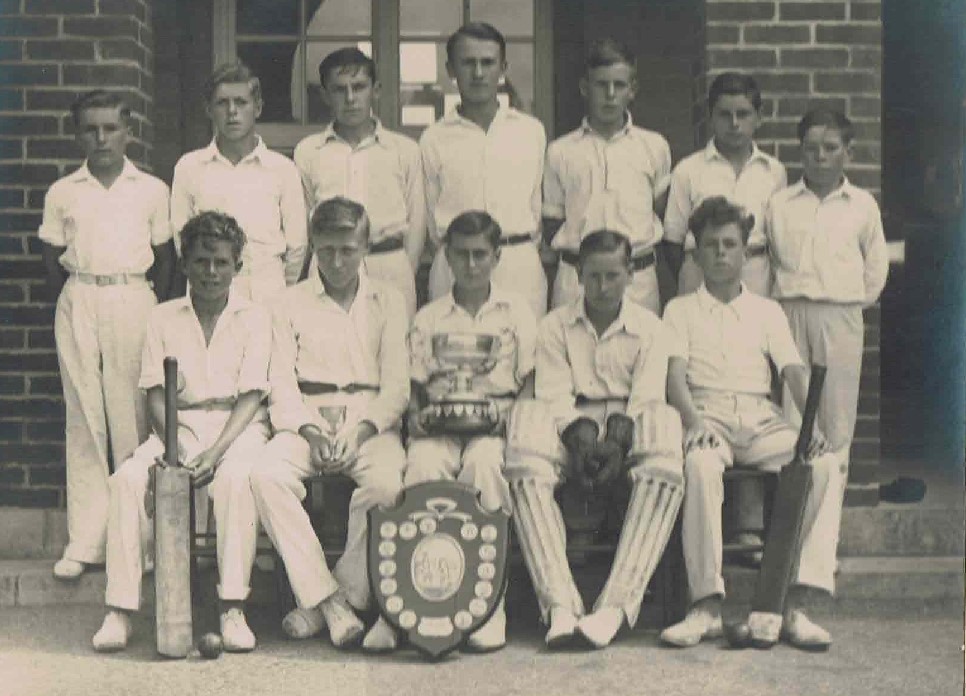 Rye Secondary Modern School Cricket XI – 1939.
Mike Bryant's uncle Ralph Bryant holding the cup with 'Shoey' Bennett on his immediate right. Others unknown. Thanks to Mike Bryant for identifying the picture and the year.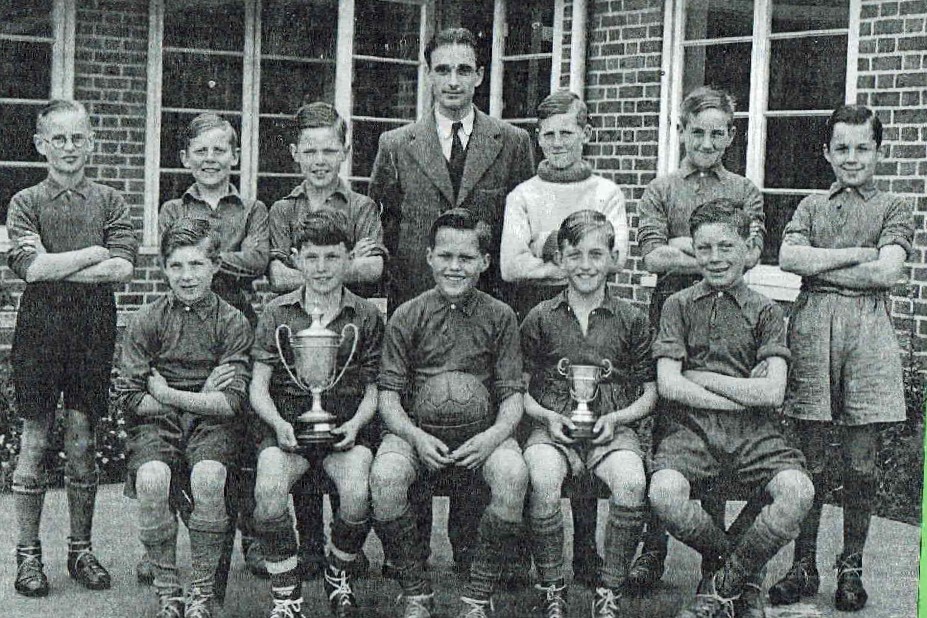 Rye Primary Football Team: 1950 or 1951. The master is Mr Connors. Standing up on the extreme left is Colin Paine, two along from him on Mr Connors' right is Jimmy Igglesden, on Mr Connors' left is the goalkeeper Mick Bourn, then David Fuggle and on the extreme right standing up is Brian Booth. Holding the ball in the front row is Mick Mills. Others unknown. With thanks to David Swaine, Chris Hayes, Graham Bourne and Mike Bryant for identifying the year and naming the team members.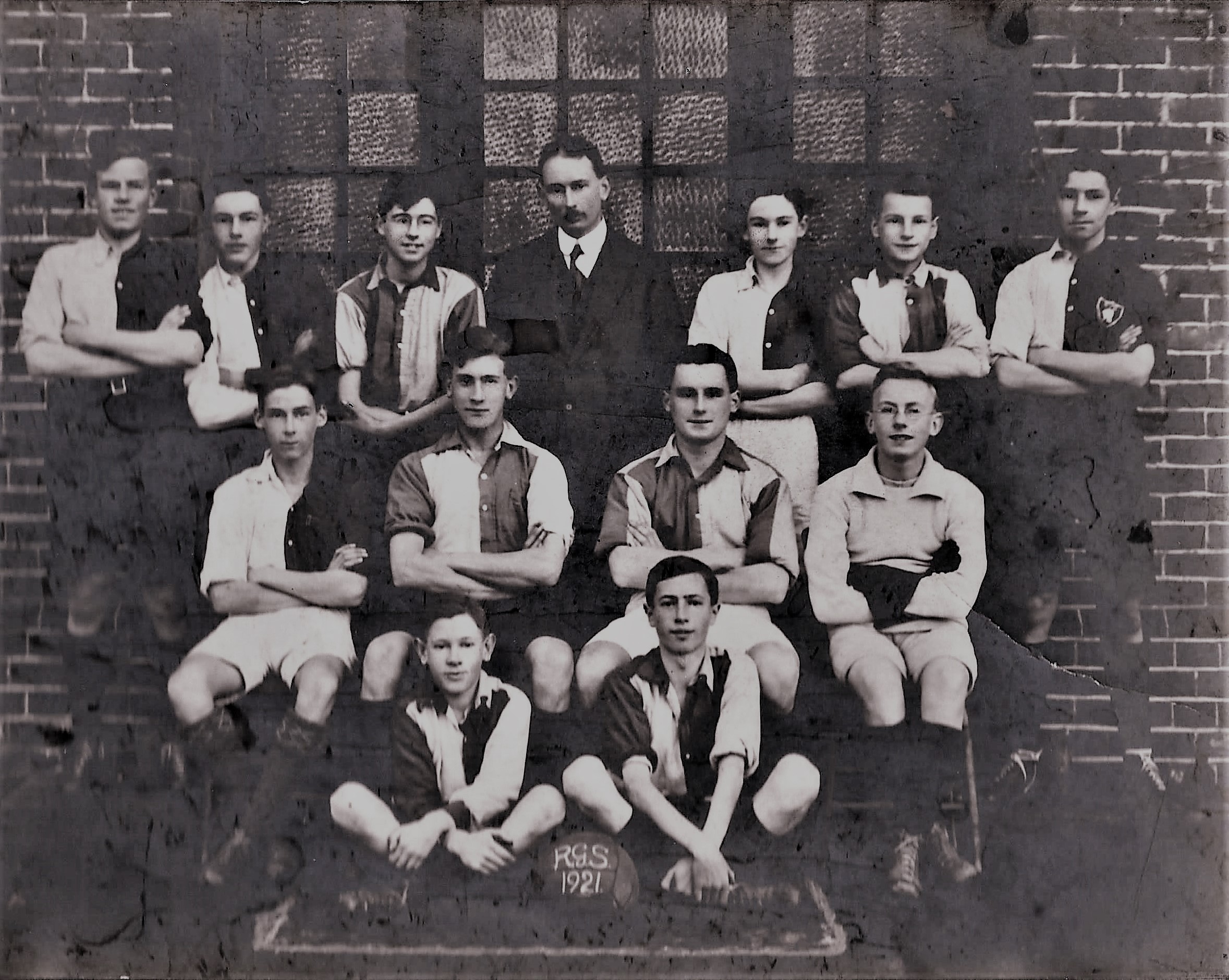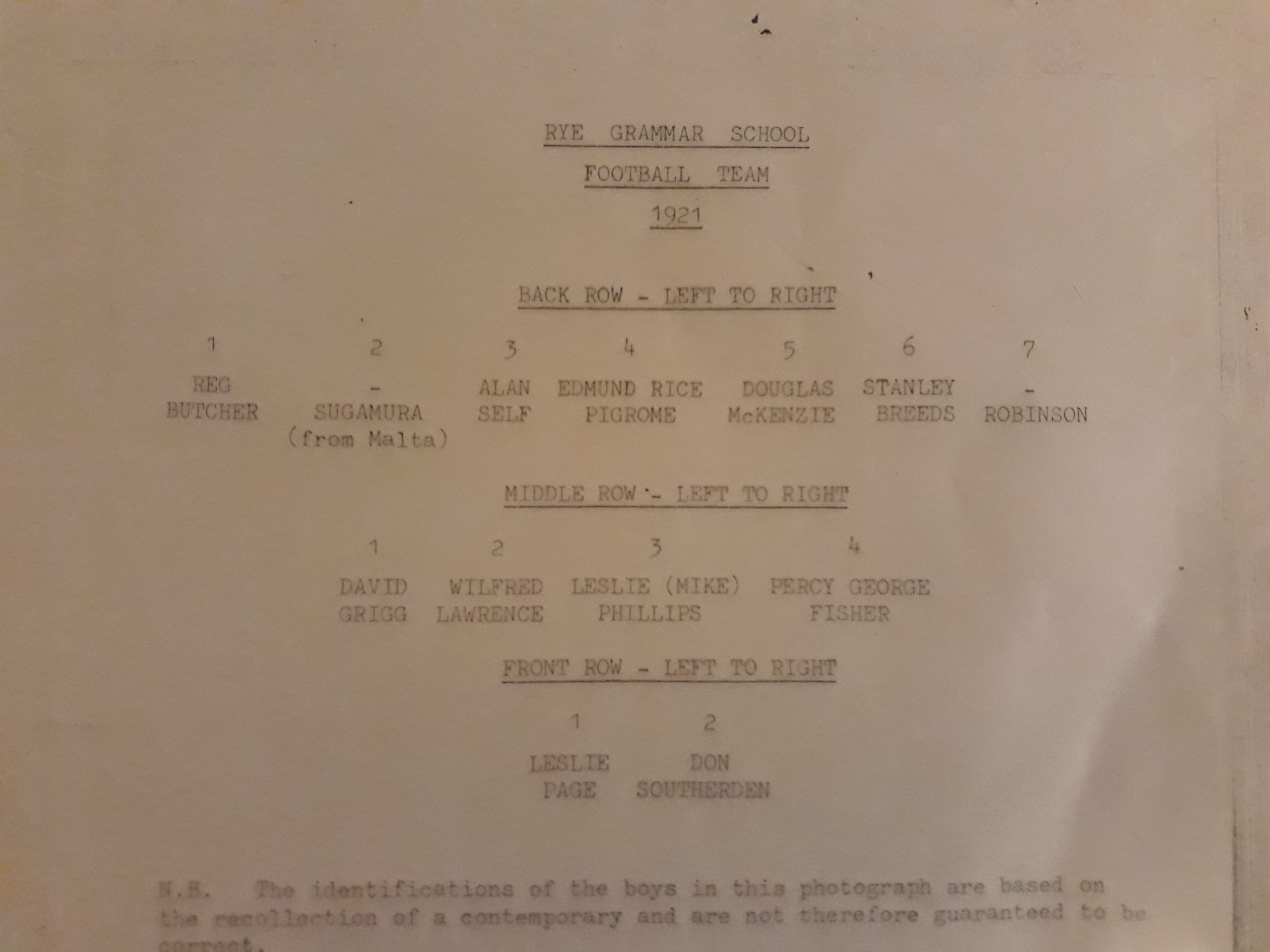 RGS Football Team 1921 – photo courtesy of John Pulford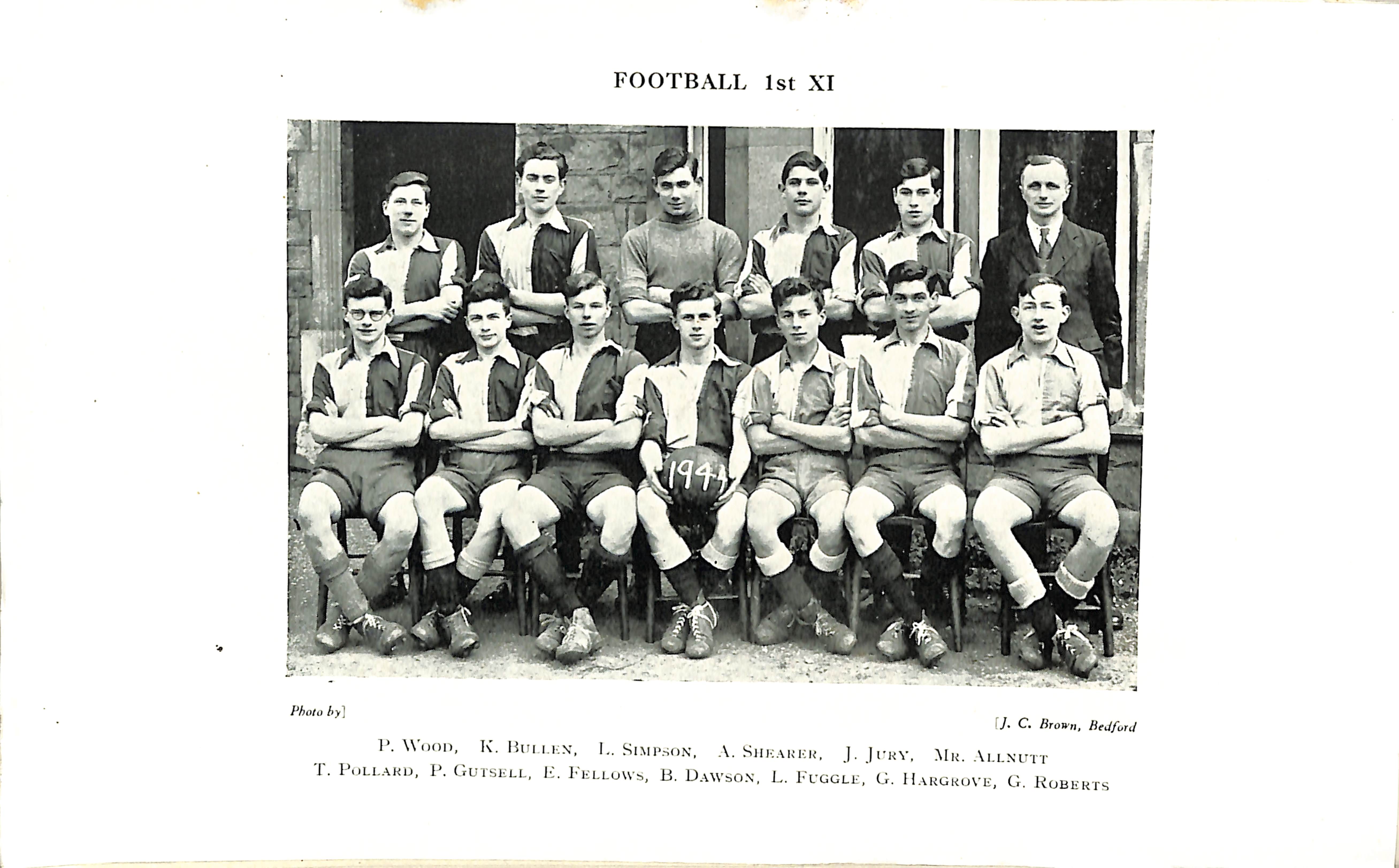 RGS 1st XI Football team 1944 – when the school was evacuated to Bedford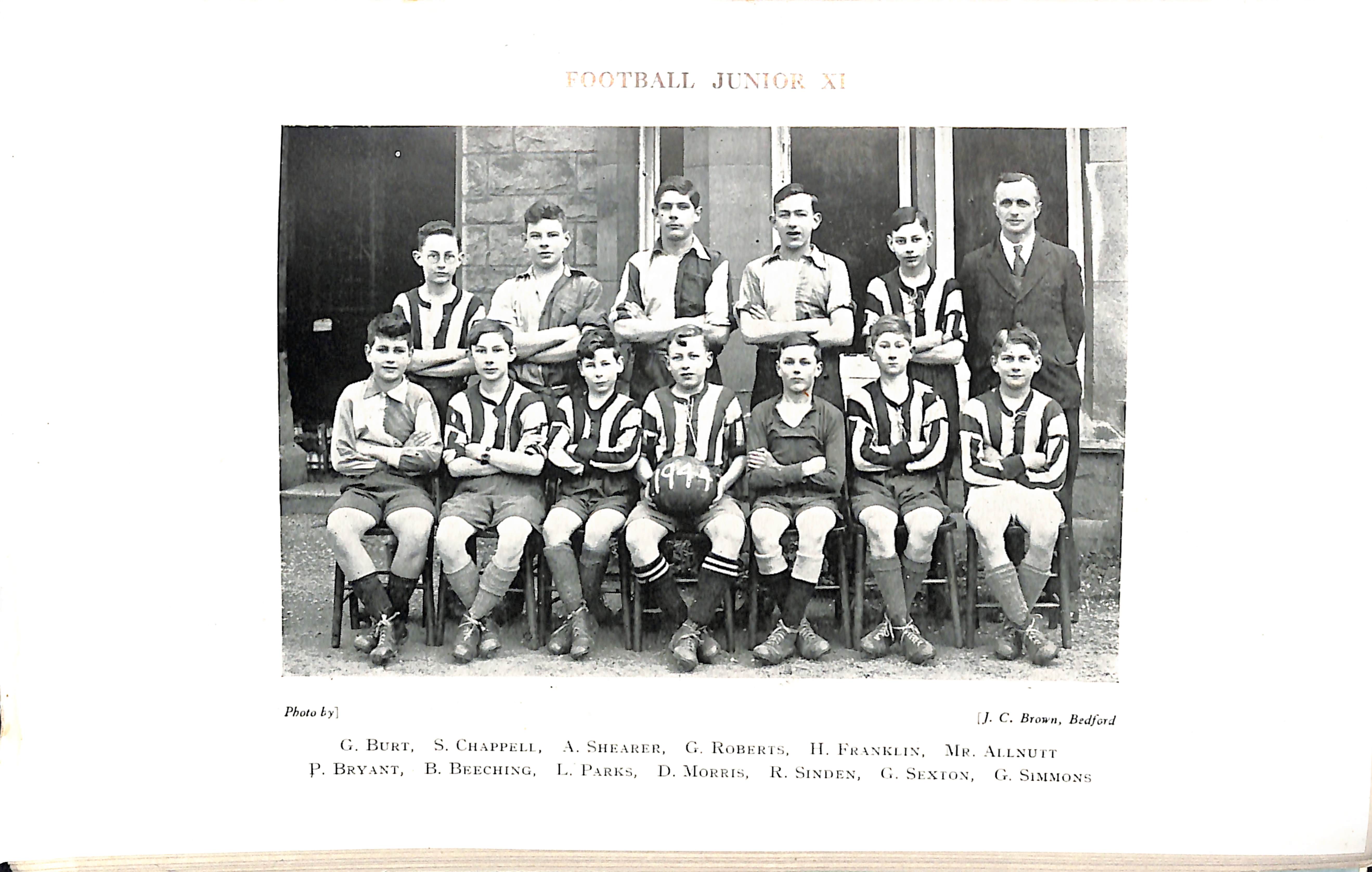 RGS Junior Football Team 1944 -when the school was evacuated to Bedford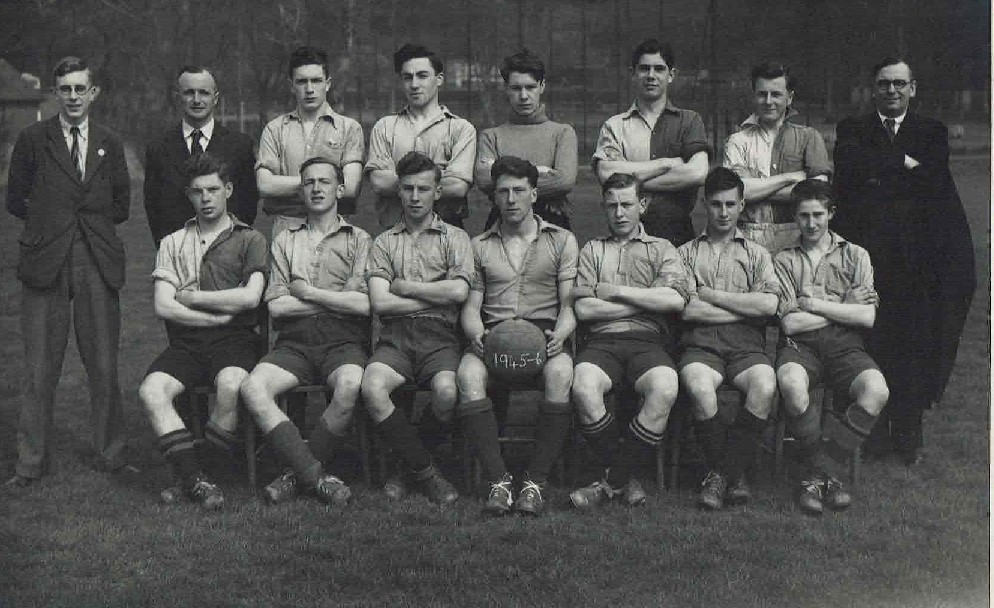 RGS Post-War Football Team: 1945/46. Catherine Ford (nee Boyce) says that her father, Peter Boyce, who went on to teach at Rye County Secondary School and Thomas Peacocke, is in the back row, second from right. 
The same team, below, with names.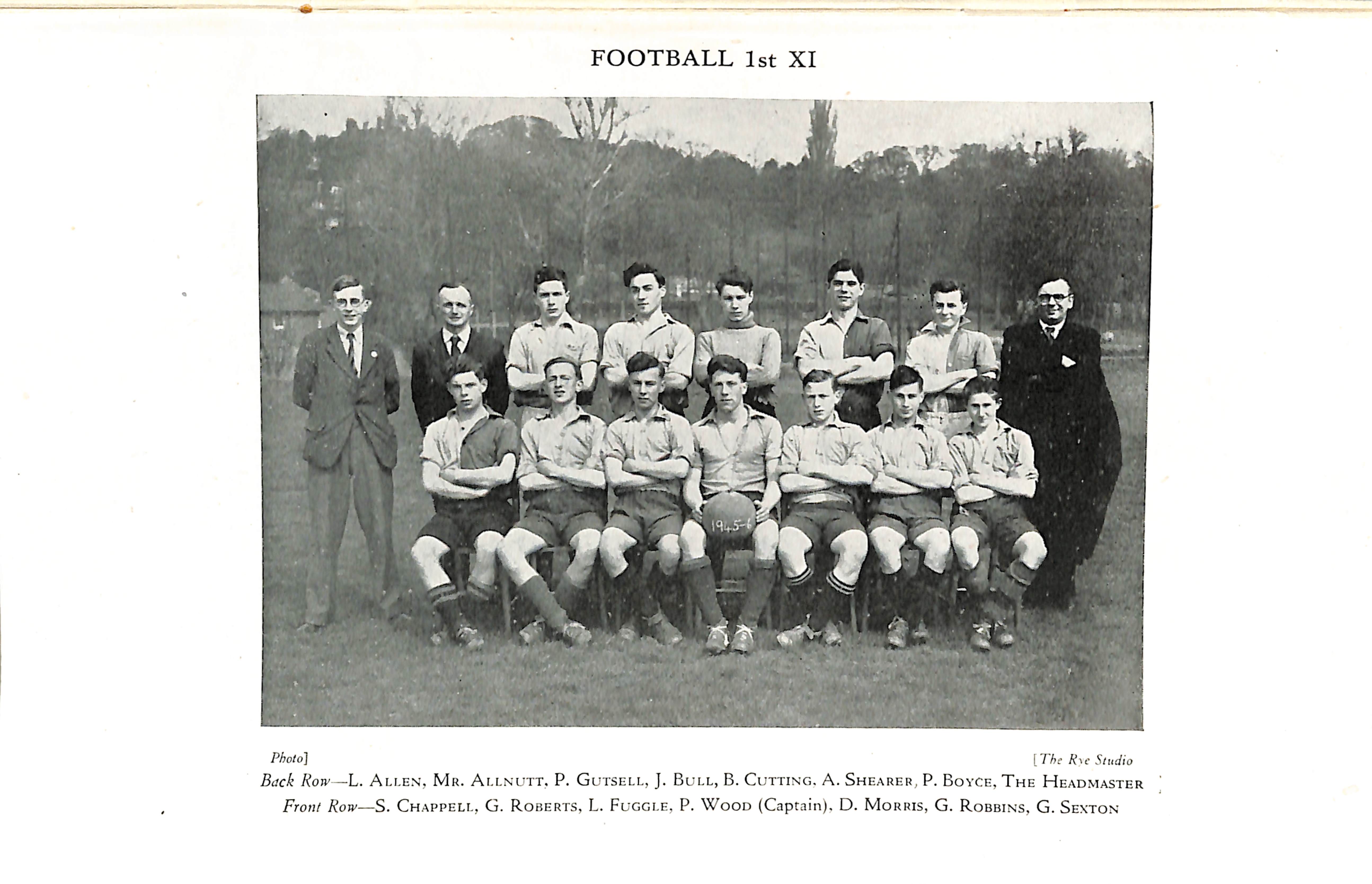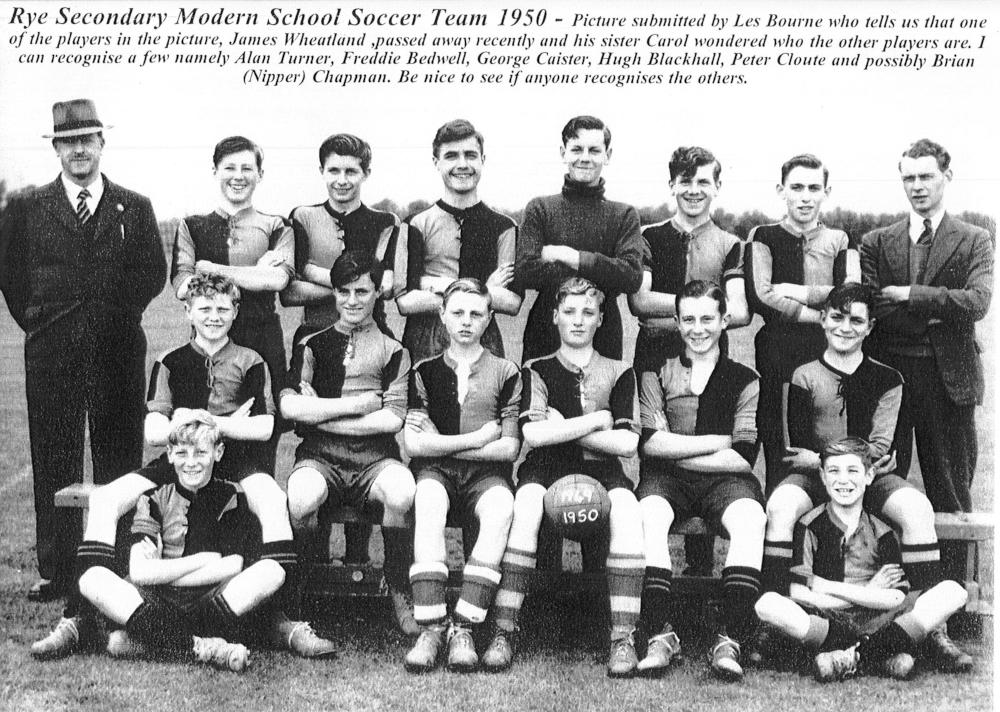 RSM Football Team 1950. Photo courtesy of Jo Kirkham. It may have come from an edition of Rye's Own. Mr Blackman (Headteacher) is on the left of the top row and Mr Huxstep (Coach) on the right.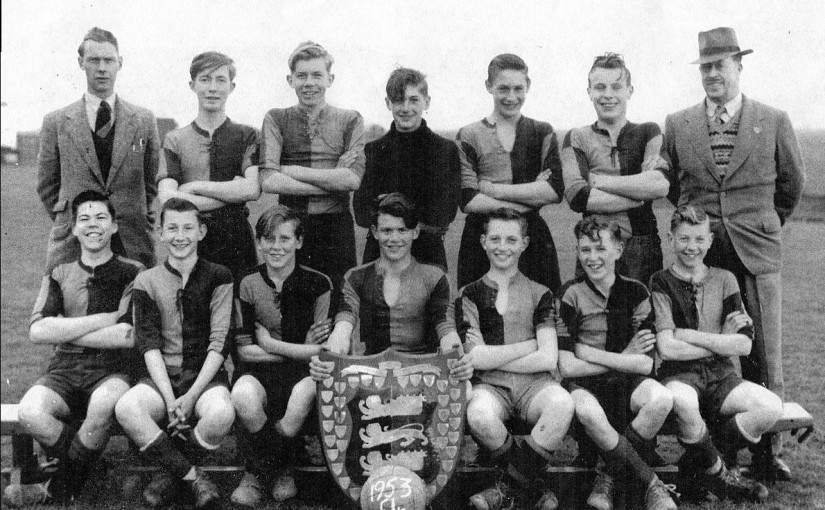 RSM football team, 1954
Winners of the Hastings Shield with a 4-1 win over Hastings Modern School.
Back Row (l to r) Coach Mr. Huckstep; M.Hobbs; J Parsons: V. Bryant;
J Jarrold; B Pope; Mr Blackman (Headmaster) Front Row S Heseman; P Turner: I Polly; D Ades, F Whitnall; J Gould and R Putect
(Photo Courtesy of Rye's Own)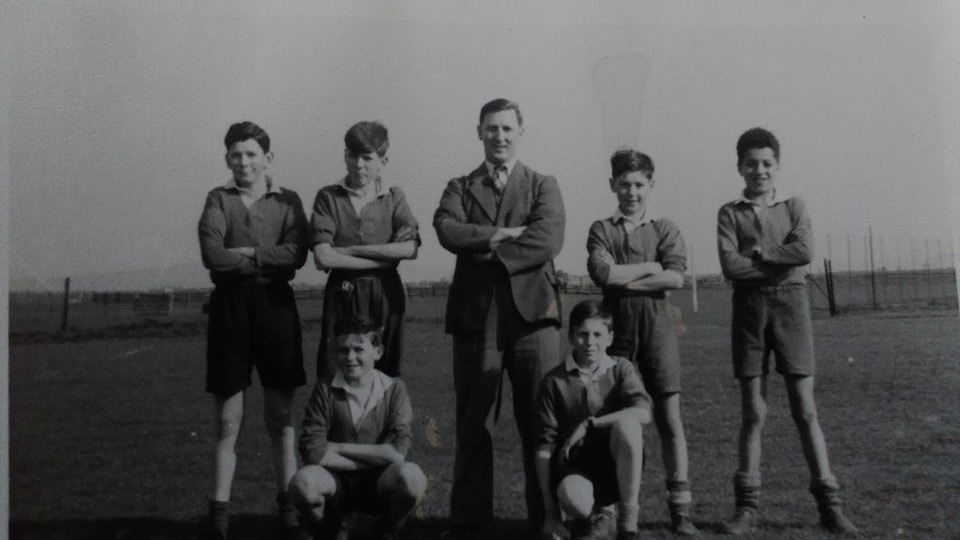 Teacher Harold Dorman with RSM Lion Junior Cross Country Team – 1954
Back: King, Page, Booth, Thomas (Winner)
Front: Foord, Dunn
(Picture courtesy of Colin Dorman)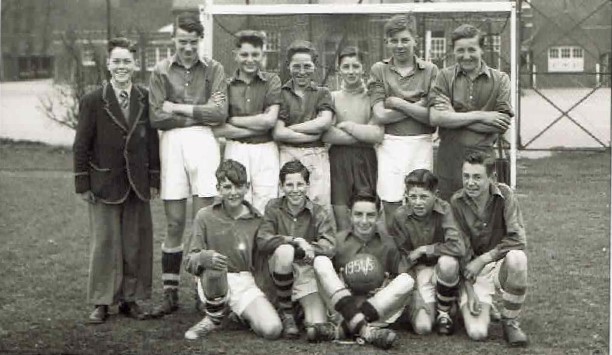 1955 RGS football team.
Back row Mike Bryant (in school uniform), Mick Hills, Mark Jarvis, Mickey Boon, Graham Bourne, Chris Edwards, Peter Cook.
Front row Richard Seeley, Michael Greenhalgh, Kenny Huxstep, David (Sammy) Rogers, 'Nibby' Young. With thanks to David Swaine, Chris Hayes, Graham Bourne and Mike Bryant for naming the team members.
RGS Football Team – 1956/57 .
back row… 'Gus' Allnutt, Colin Relf, Mick Hills, Bernard Rankin, David Rogers, ?, Chris Edwards.
Front row… Kenny Huxstep, John Clarke, ?, Ovenden, Mark Jarvis. With thanks to David Swaine, Chris Hayes, Graham Bourne and Mike Bryant for identifying the year and naming the team members.

RGS Ist Xl Football team 1957/8.
Back row… Gus Allnutt, Mark Jarvis, ?, Graham Bourne, Alan Jarvis, Mick Hills, Mr Jacobs.
Front row … Eric Clark, Bruno Forte, Kenny Huxstep David Swaine, Richard Seeley, Chris Edwards
Sitting on the ground…. ?, Michael Greenhalgh, Bernard Rankin. With thanks again to David Swaine, Chris Hayes, Graham Bourne and Mike Bryant for identifying the year and naming the team members.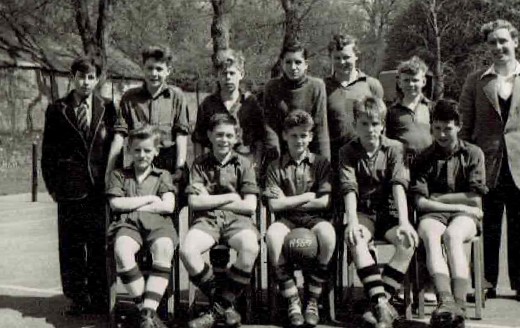 RGS Football Team – 1958/59 Back row… Seb Cole(in uniform), Peter Holmes, Chris Hayes, Graham Bourne, ?, Colin Newstead, Stan Jones.
Front row … Peter Cummins, Derek Baldock, Vic Pennell, Michael Playford, Glen Redman. With thanks again to David Swaine, Chris Hayes, Graham Bourne and Mike Bryant for identifying the year and naming the team members.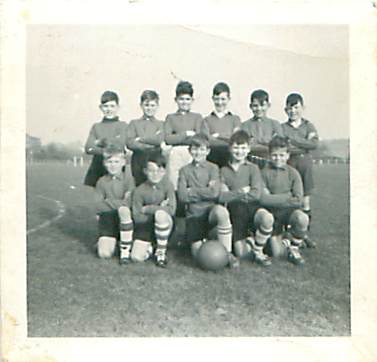 Rye Primary School 1st XI c1960 (Picture courtesy of Eric Igglesden)
Back Row L-R Martin Dungey, Cutting, Robert Cheesmur, Tony Dorman, Derek Stonham, Ian Sinden
Front L-R David Turner, Nick Machin, Eric Igglesden, Roy Bourne, David (or Jimmy?) Jarrett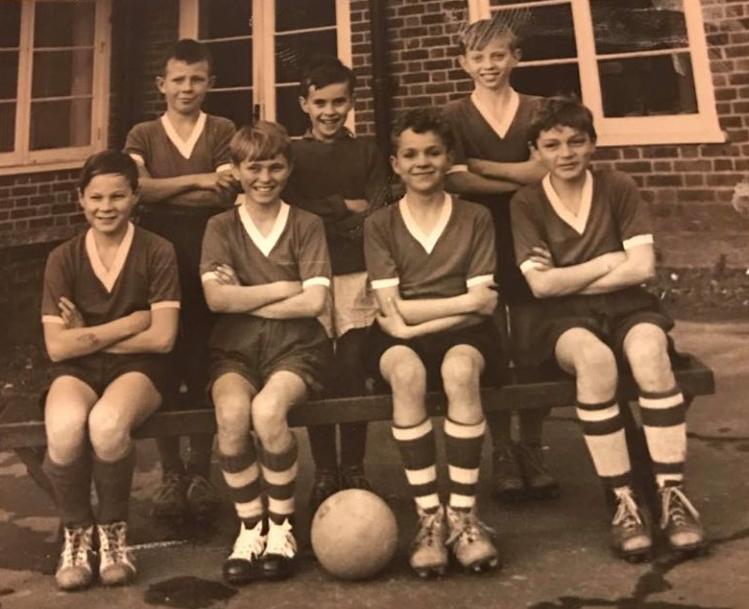 Rye Primary 'B' Seven-a- Side 1960/1961
Back Row L-R: Nick Rundquist  Chris Robus  John Ford
Front Row L-R : Keith Tillman  Robert Human  Bill Waters  Roy Goodlet
Photo Courtesy of Ryes Own News Facebook Page https://www.facebook.com/groups/793502067374037/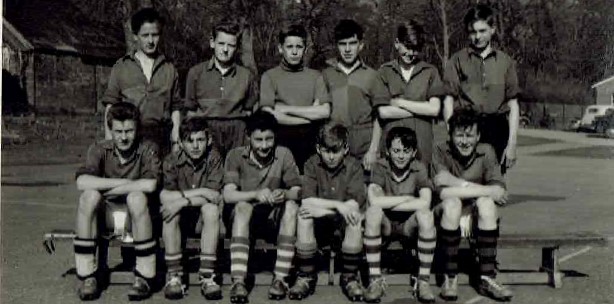 RGS U-14 Football Team
Back Row: Pat Beaney, Peter Cummins, Geoff Cook, Don Beaney, Tony Harris, Derek Baldock
Front Row: Richard Barnes, Michael Sealey, Robert Blacklock, Colin Newstead, Mark Bianchi, Chris Wisdom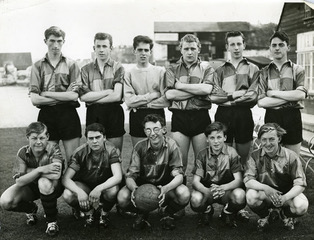 Rye Minors – c 1962/63
Coached by Gus Allnutt.
Back Row L to R (all RGS bar 1) Chris Wilson, John Wilson, Malcolm Tree, (Fred Urban neither RGS or RSM) Andy Ashdown, John Ashenden
Front Row  Ian Cutting   ??   Michael Sealey, Michael Bagley, Jimmy Cooper (All RGS/RSM)
(Photo courtesy of John Wilson)
Football 1964-1971
Contribution by Dave Goodlet
Reading some of the recent articles on the Old Scholars website inspired me to lookout some of my old photos. I will add just a few comments so that any reader can make sense of a pretty eclectic mix.
Rye County Primary A&B 7-a-side.1964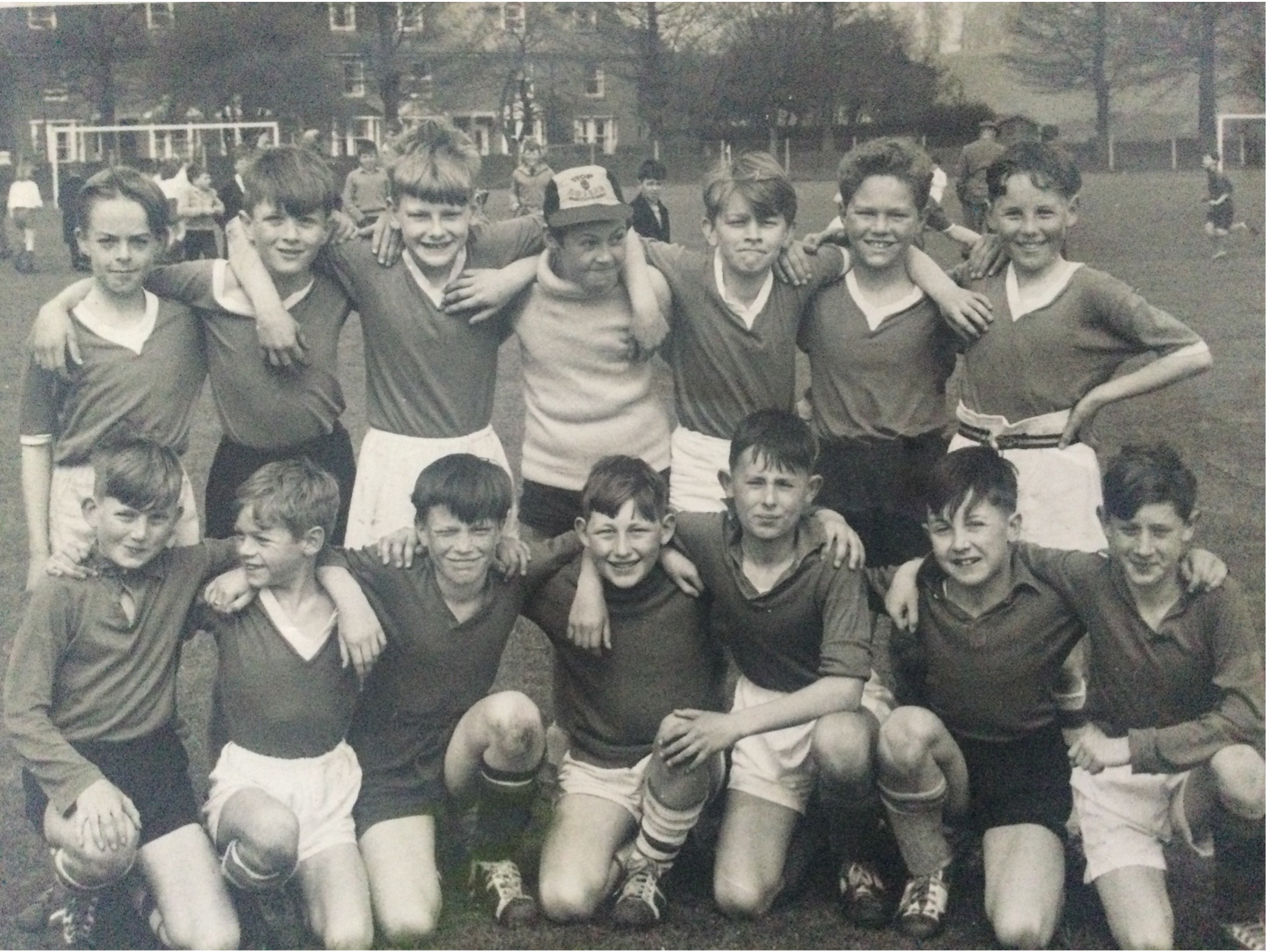 A team (back row l to right) Alan Fuggle, Alan Cato ,Derek Cutting , Dave Stoodley, Kev Miller, Dave Goodlet, Alec Tiltman. B team (l to r)Barry Marchant, Jimmy Fuggle ,Roy Fletcher, Paul Robbins, Graham Heritage Kevin Tubby, Derek Canon. The eagle eyed will notice Peter Ewart and Andy Bennet in the background over Derek Cutting' shoulders. Everyone in the picture went on to RGS and RCS.
U-13 RGS 1965/66 (Why only 9 players in the photo?)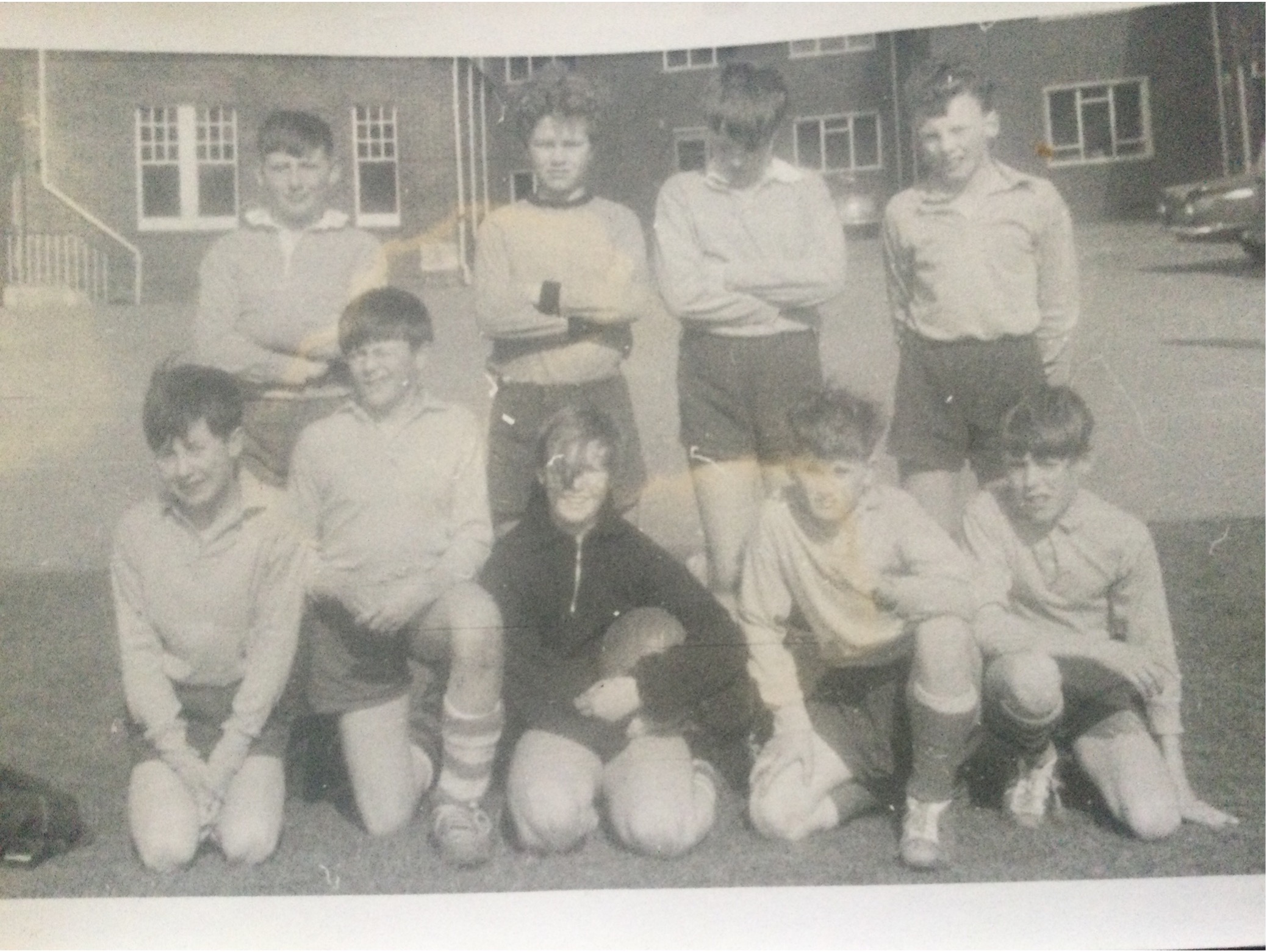 Back row(l to r) Paul Robbins, Dave Goodlet, Roy Fletcher, Colin Bradley Front row Kevin Tubby, John Crisford, Angus Coton, Gordon Finch, Nick Barham.
We had just beaten Hastings Grammar School 3-2  – a truly unexpected result. Gordon and Nick were both in their first year as we did not have enough players in our year.
East Guildford Youth Team 1967/68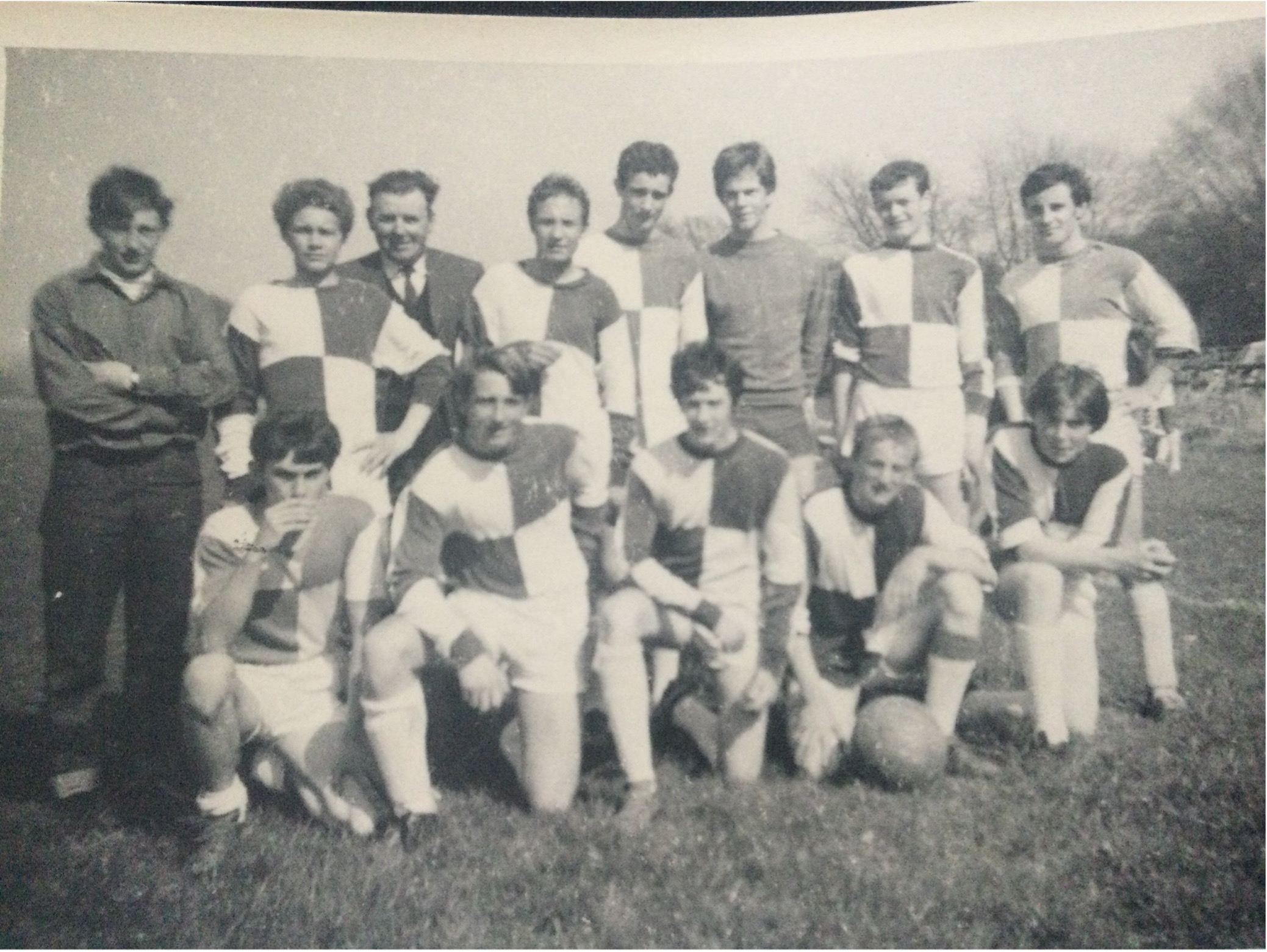 Back row (l to r) Paul Robbins, Dave Goodlet, Ron Collier (manager) Richard Oliver, David Moody, ?, Mick Fagan. Front row Jed Say, Peter Easton, Bob Kemsley, John Broomfield, Alan (Tiger) Tolhurst.
This team is the year before the double winning team of the following season( already added to the Old Scholars website). We did win the youth cup in this season but not the league. Farmer Ron Collier deserves a mention as he organised all the East Guildford teams including using one of his sheep fields as our windswept pitch. He knew hardly anything about the game he loved but worked tirelessly for the cause and produced teams for three seasons that dominated East Sussex youth football. All the players in this team and the double winning team attended RGS or RSM.

Thomas Peacocke 1st 11 1969/70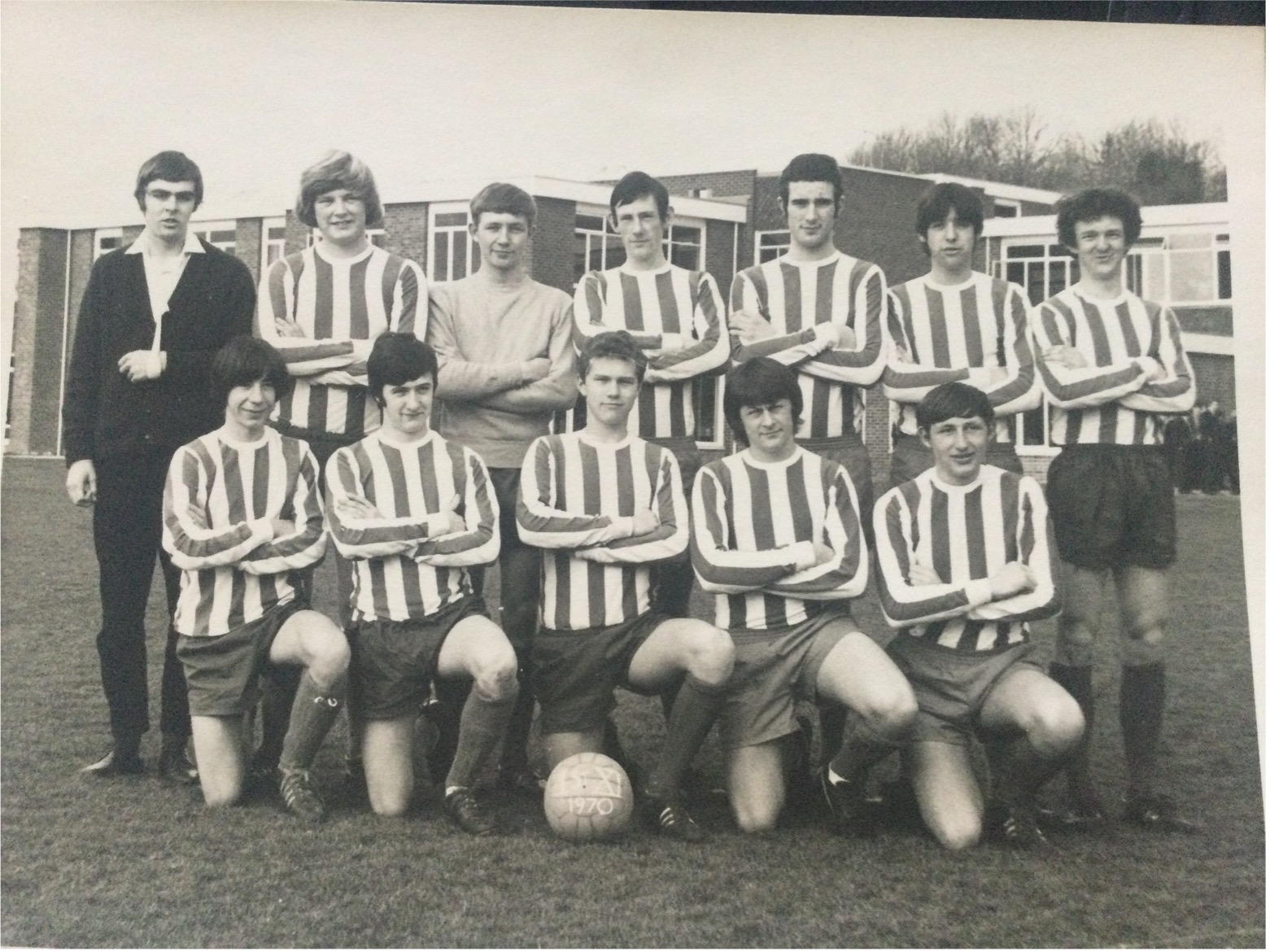 This photo already appears on the website. I would like to confirm that it is Mickey Paul and Peter Cox in the back row but it is John Healy furthest on the left in the front row.
Rye United 1970/71
The photo below was taken at the Pilot Field Hastings; we had just won the Hastings Senior Cup ( another unexpected victory). There are 4 Old Scholars in this photo a sign of how senior local football was becoming dominated by players from elsewhere.Considering the 12 players from left to right Vic Pennell is on the extreme left ( the single substitute), Dave Goodlet is next in line, 5th in line (slightly hidden) Derek Baldock, one from the end the goalkeeper, Malcolm Tree.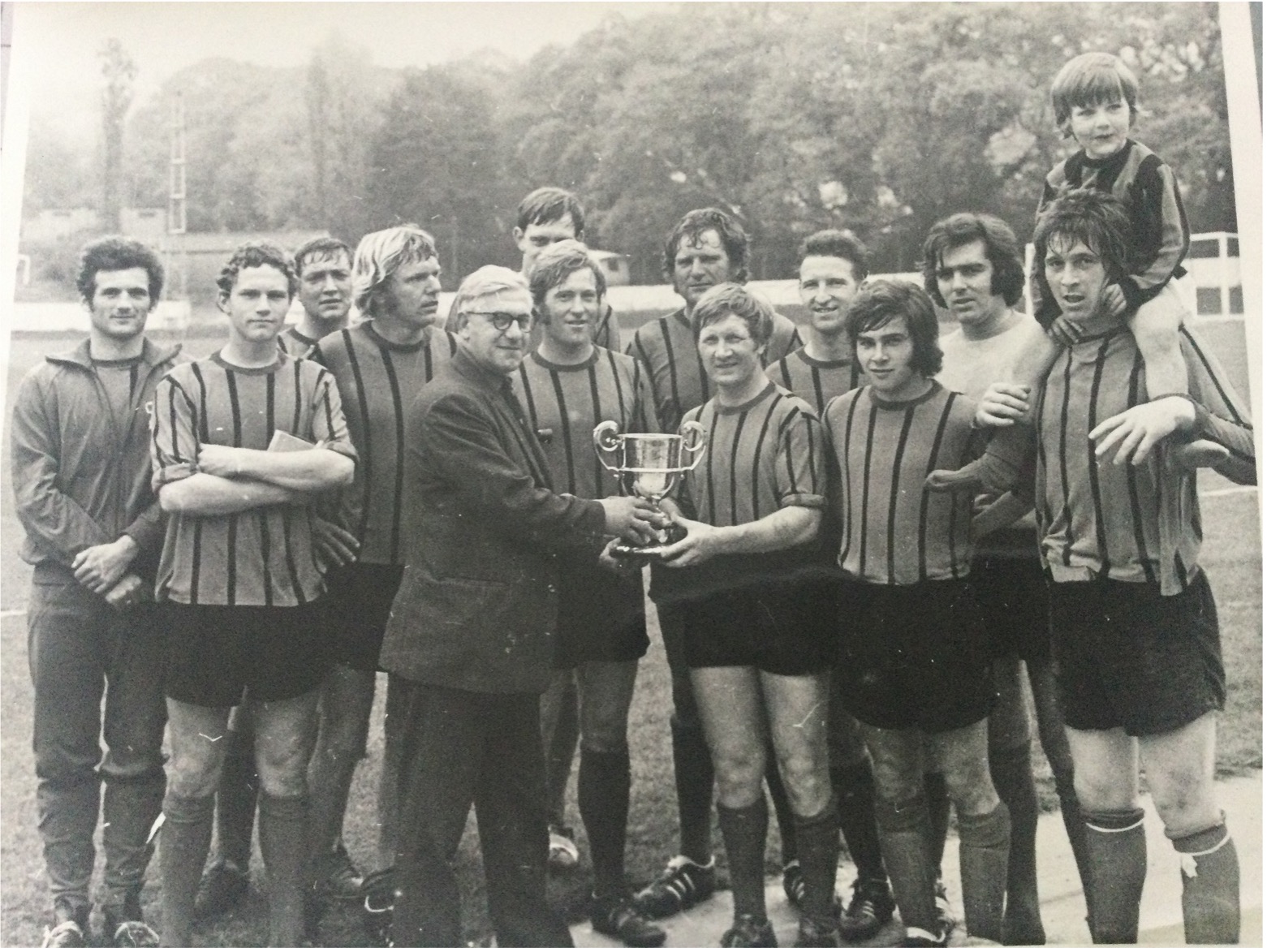 Andrew Bennett has sent the following contribution -February 2021:
I have recently found these old photographs of 7 old scholars and a teacher  representing Rye United first XI playing in the Sussex County League Div 1 and some years later a Rye Sunday club The Union Inn with old scholars and teachers in the Hastings Sunday League Div1 Winners picture.
I retired as Sales Director in World Duty Free in 2016 and my wife Mary(nee Manmar RSM) and I had a house built at Winchcombe in the Cotswolds, where we remain very happily to this day.
We do hope to see many of these and others at the next ROSA get-together.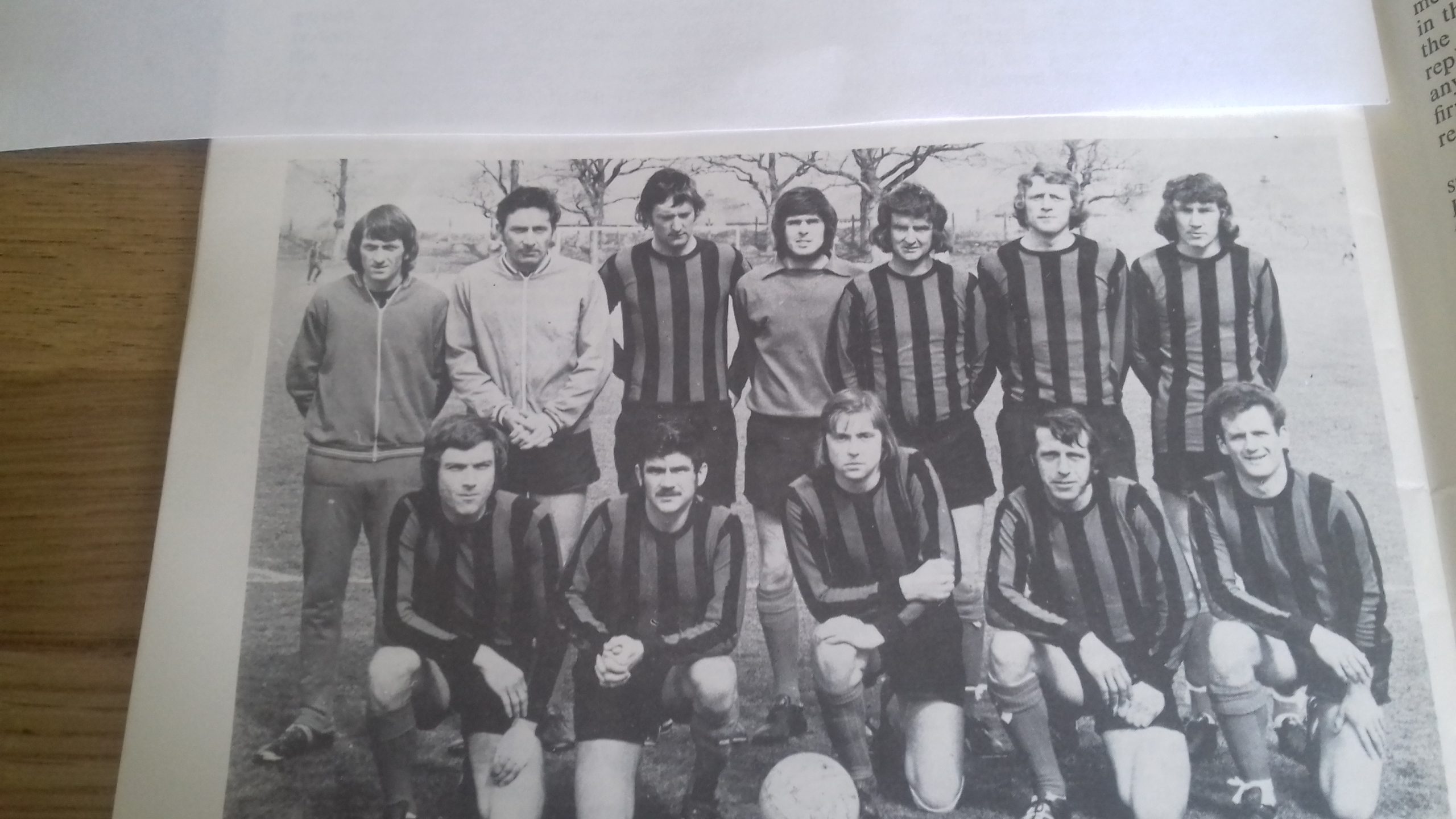 Rye United Team as follows L-R
Back Row: John Leahy, Ian Newstead( RSM) Keith Gamble(PE Teacher T Peacocke) Steve Williams RSM, David Vicary RSM Andy Bennett RSM Dennis Gunn.
Front Row: Bob Chantler, Bela Olah, Alan Tolehurst RSM, Chris Ades, RSM Vic Pennell RGS
Sadly  two members of the Rye United side are no longer with us, Ian Newstead RSM was one of the fittest, fastest and intelligent strikers I have played with and Bela Olah(the Manager) was a Ex Hungarian international and an extremely gifted individual. This picture was taken in 1973 before the Sussex Senior Cup semi final which we lost to the eventual winners Ringmer FC by 2 goals to nil.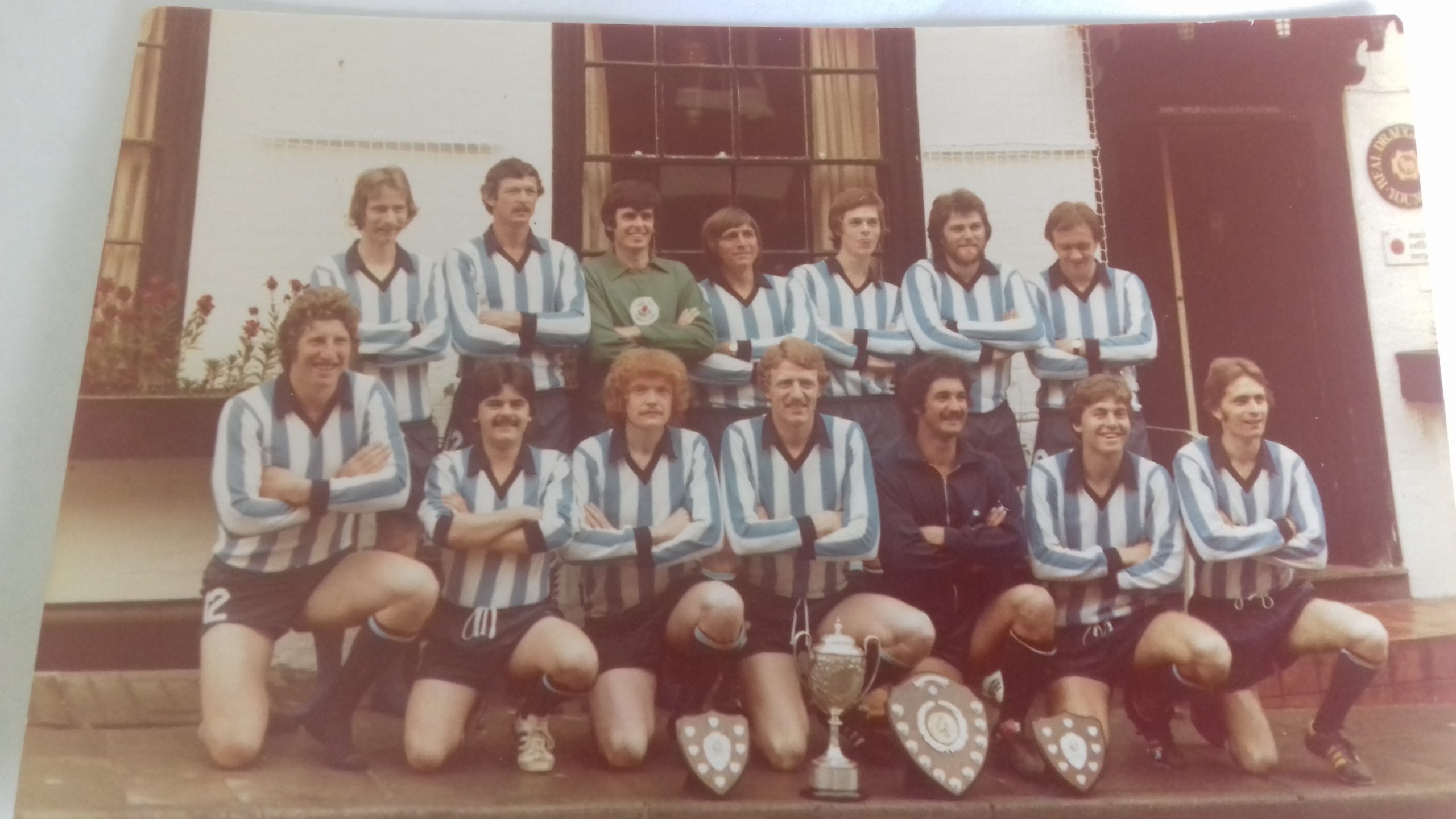 The Union Inn Rye featuring old scholars and teachers.
Back Row L-R John Hollands, Chris Ashbee RSM, Steve Williams RSM, Les Britton, Jimmy Fuggle RSM, Colin Hoare, Alan Cato RSM.
Front Row L-R John Coles (Teacher Thomas Peacocke) Terry Avann, Pete McConnell, Andy Bennett Captain RSM, Paul Mountford (teacher Thomas Peacocke)Terry Freer, Roger Hibbs.
3 people were missing from this picture, they are Lawrence and Mark Easter both RSM and Keith Fitzhugh RSM(Treasurer & Manager, who unfortunately passed away last year RIP my friend.
This picture was taken in 1982 with the Hastings Sunday League Div 1 Trophy.
The Union Inn were and still are the only Rye club to win that League, at there best they could field a side with every player having played County standard or above, I was very happy and honoured to be captain of a very, very good cup winning team.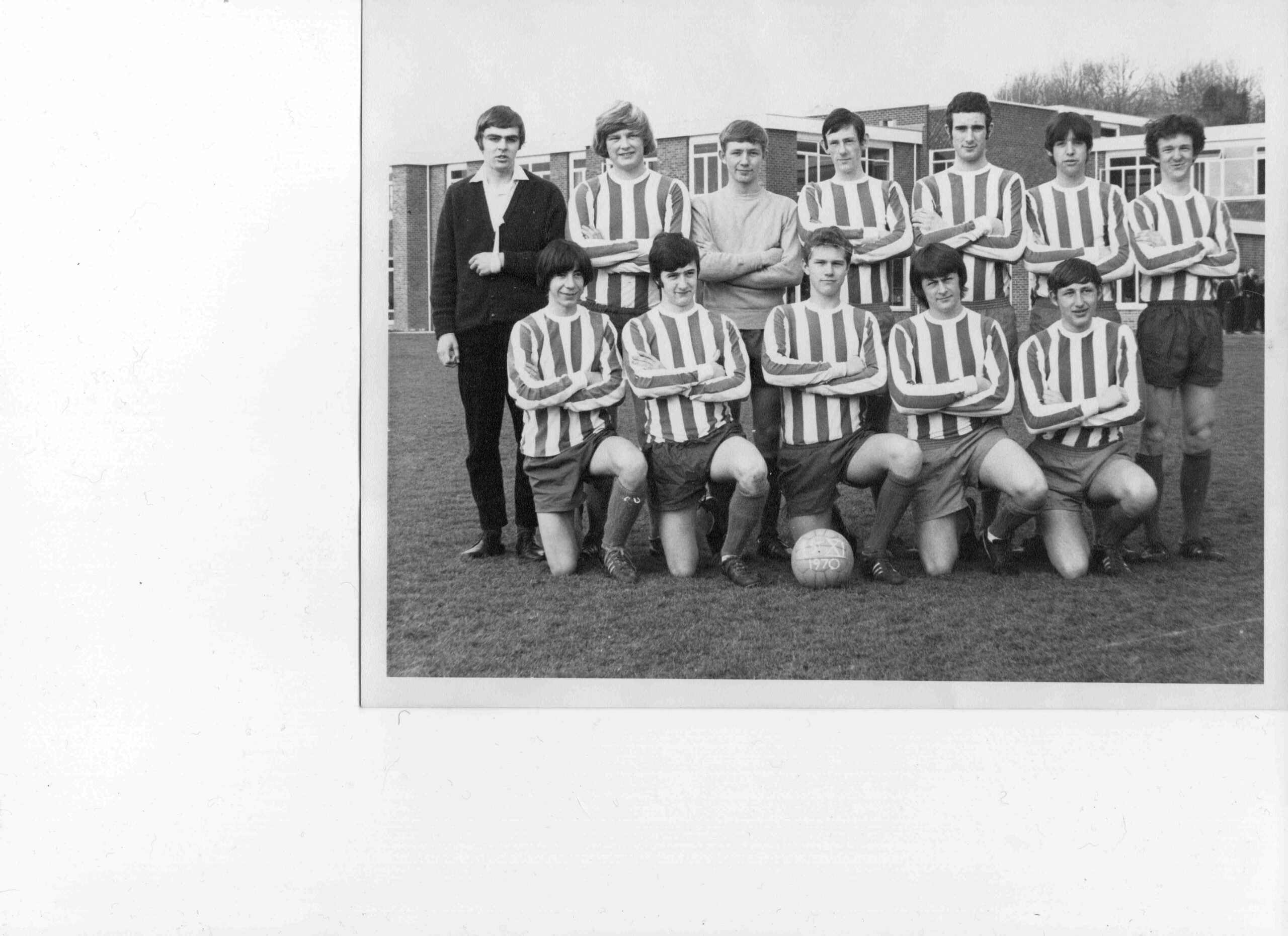 Thomas Peacocke School 1st XI for the 1969/70 season.
Photograph courtesy of Nick Jury who adds the following:
These are the names as I remember them
Back row L to R         A Keen, M Paul, P Cox, J Evans, S Nesbitt, N Jury, P John,
Front row L to R       I Igglesden, R Kemsley, D Goodlett, J Crisford, P Robbins
Of the three I can't remember I have signatures on the back of the picture who are :- P Cox, M Paul I think these are the 2 in the back row but can't be sure.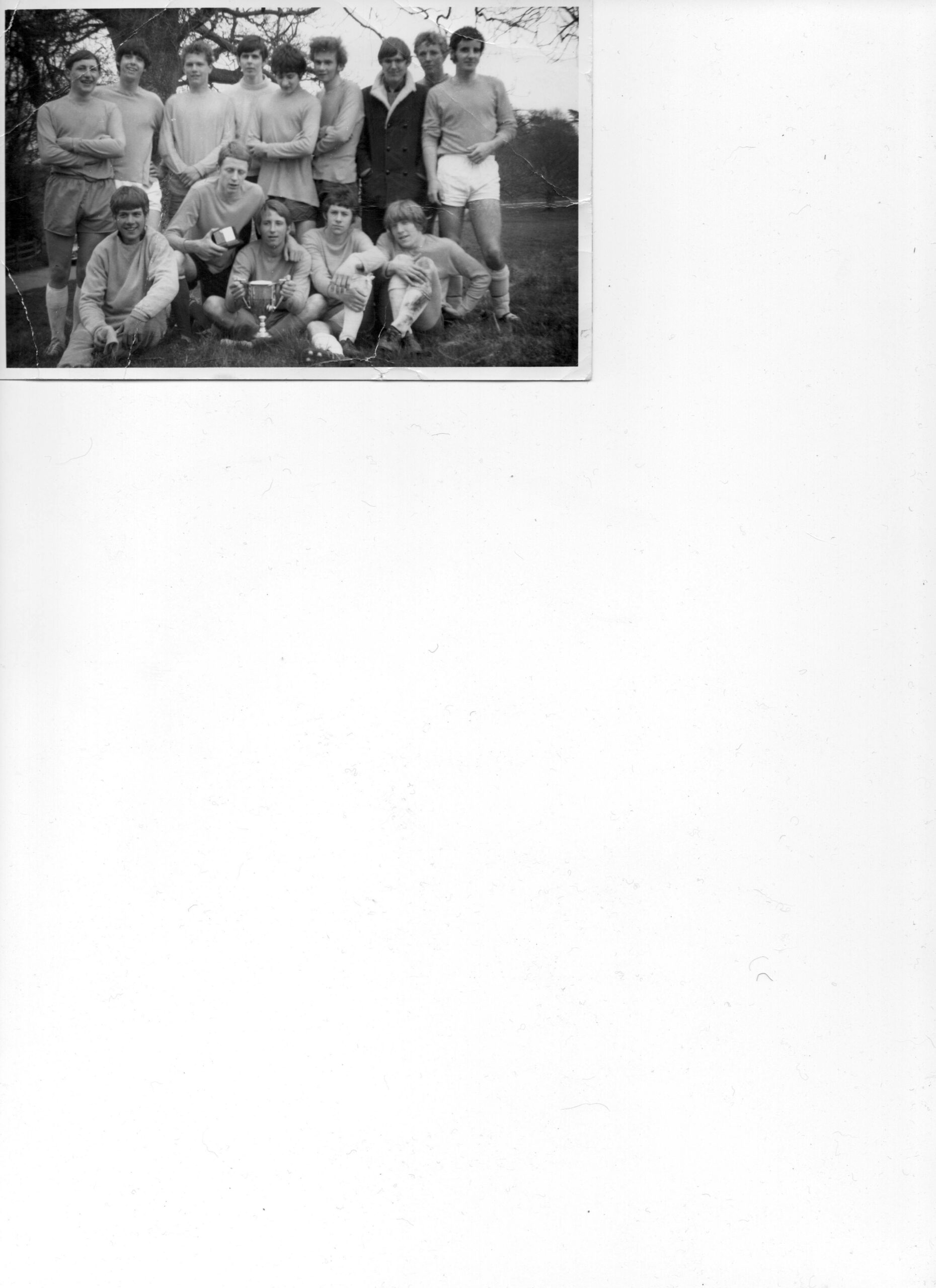 East Guldeford Under 17 team of 1968/69 who won both league and cup that season. They would have all attended one of the Rye secondary schools.
Photo courtesy of Nick Jury who adds the following: 
Names Standing  L to R  Paul Robbins, Nick Jury, Dave Goodlett, Steve Williams, Bob Kemsley, Steve Turner, Tony Edwards, Keith Southerden, Mike Fagin
Front Row  L to  R  Mick Crouch, Andy Bennett, Pete Easton (Capt), Roger Boreham, Colin Dickerson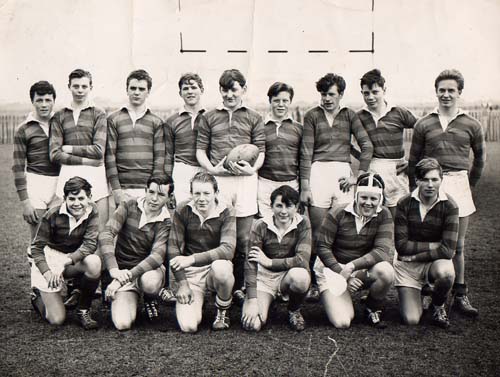 RCSS Rugby Team c1966
With thanks to Brian Dennis for supplying the picture. Rugby was introduced to RCSS by the PE teacher, Mr Evans, who, as his name suggests, was Welsh – hence rugby! Brian has identified some of the team as follows:
Back row – left to right: 1 – Brian Dennis 2 – ? 3 – xxxx McLean (might be Maclean) 4 – Derek Foy
5 – xxxx Cook  6 – xxxx Evans 7- ?  8 – ?   9 – Barry Oldfield
Front row – left to right:
1 – xxxx Wyatt  2 – Keith Datchler (spelling?)  3 – ?  4 – Roy Igglesden  5 – 'Bunter' (for obvious reasons!)
6 – xxxx Brewster
Any further suggestions?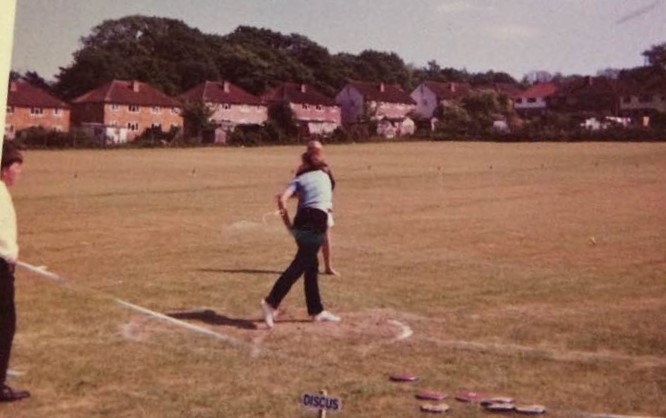 Peta Baxter, nee Kent-Nye, discus throwing in the 1960s
Peta tragically died in August 2016 after a fall at her home. She is sadly missed by her former RGS colleagues who were friends with her on Facebook. Thanks to Penni Stretton for the photo.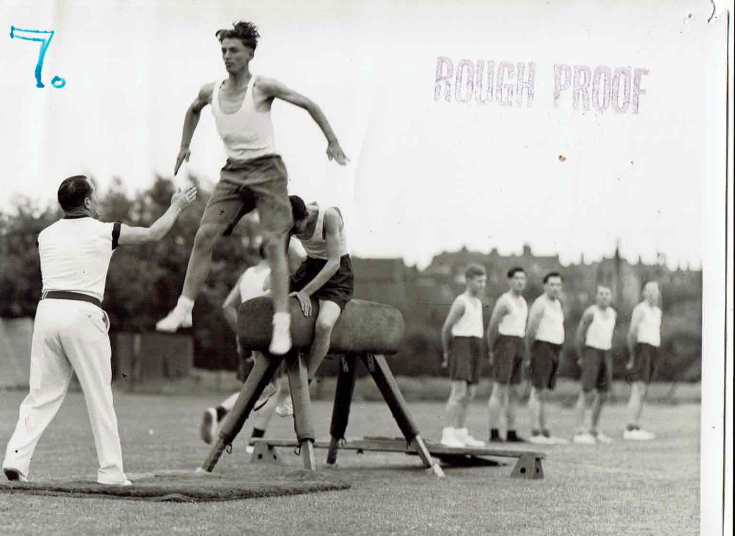 Anyone recognise this?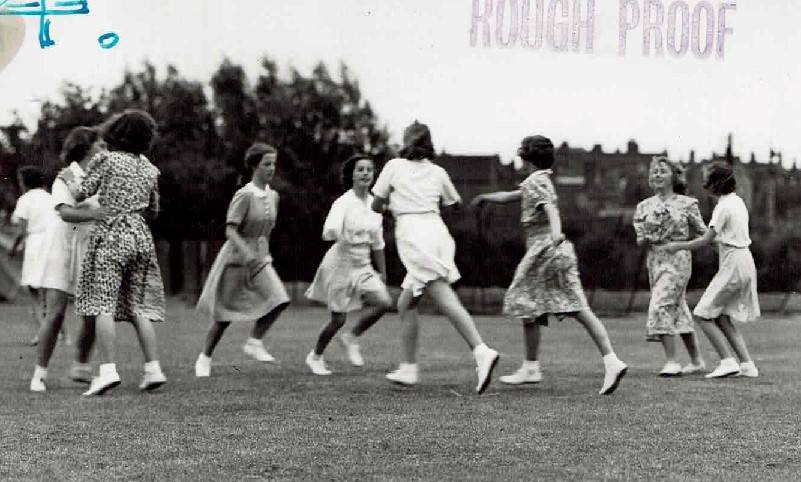 Country dancing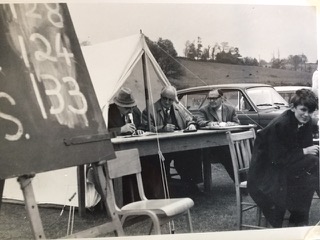 Sports Day 1967
Messrs Robinson, Allnutt and Latimer keeping track of the score at the 1967 sports day.
Picture and comment courtesy of Richard Robinson.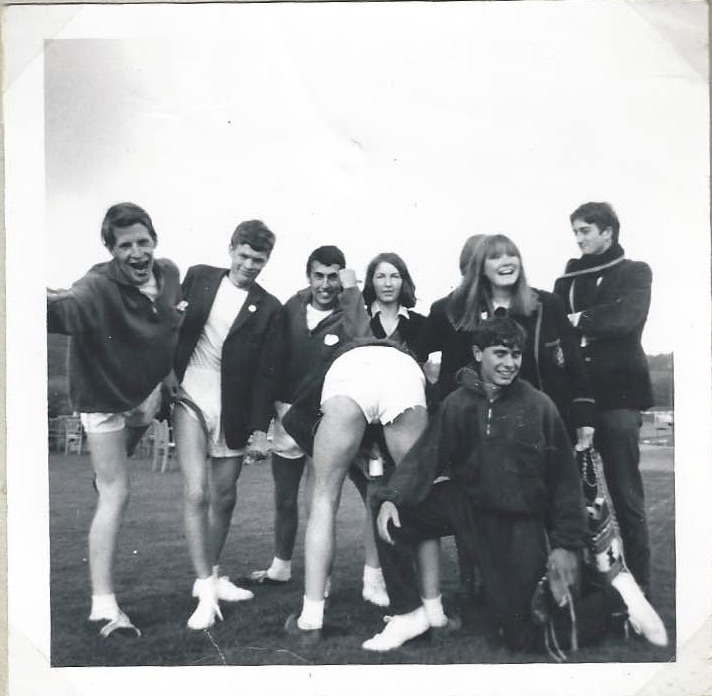 Preparing for Sports Day 20 May 1967 – photo taken by Gilly Winterbottom, submitted by Chris Williams
Back Row:  Left to Right – Chris Williams, Eric Brooks-Dowsett, Digby Hobson, Sue Ritter, Lynne Morgan, John Hooper Front Row: Nick Marshall (rear view), Steven Pern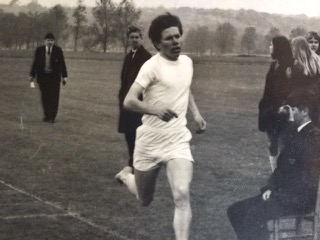 Peter Ewart
Peter excelled at distance running. That may be Graham Ashdown right behind him.
Picture and comment courtesy of Richard Robinson.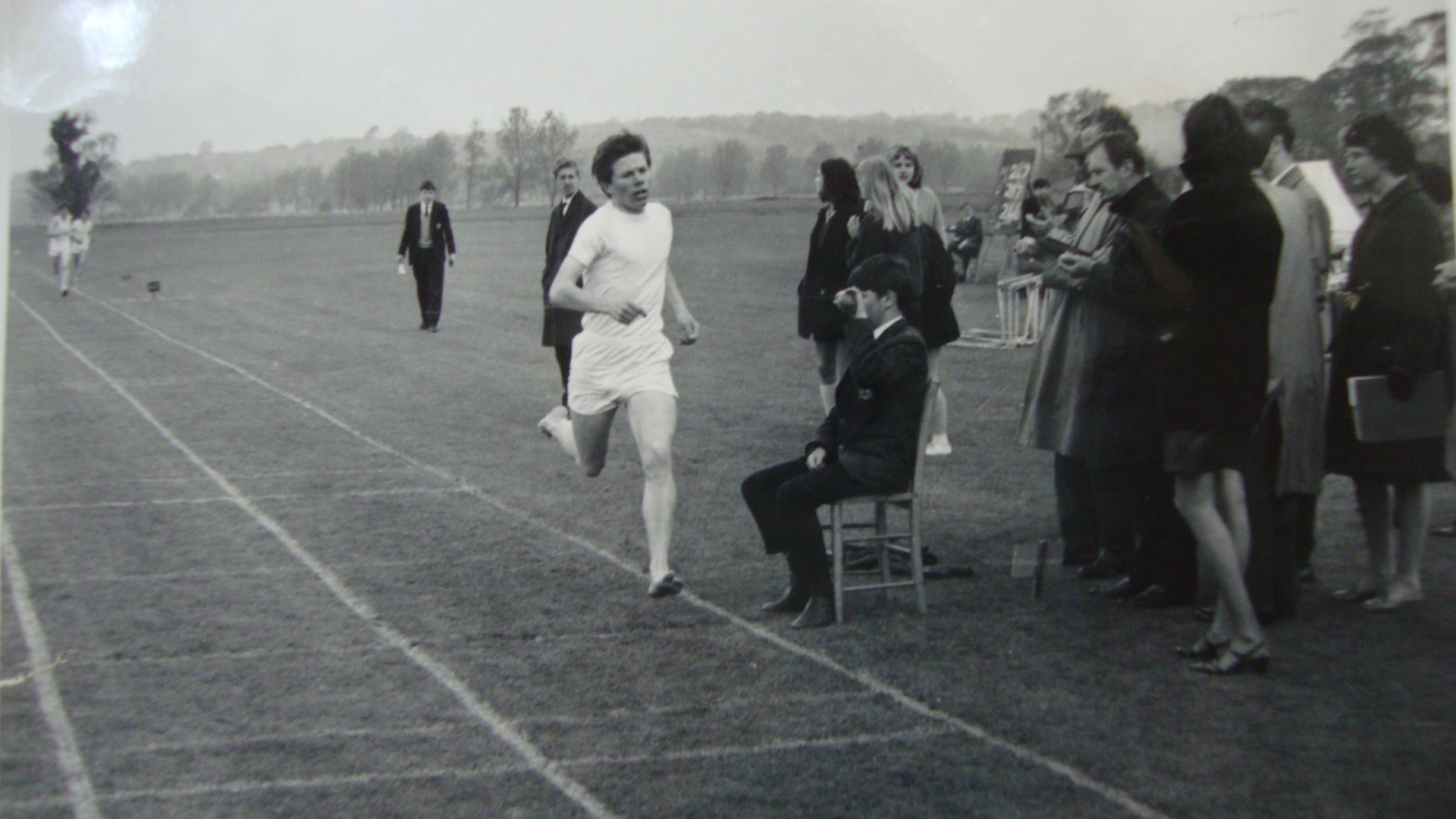 Peter Ewart – wider shot of the one above
Picture and comment courtesy of Peter Ewart. Peter writes:
' Back in 1968, Richard Robinson gave me two versions of the running photo he took. This one pcontains several staff members whom some old scholars will remember.  It was on RGS annual sports day, held in May 1968 & covers the conclusion of the senior mile event. In 2nd & 3rd place, just visible, are Keen & Steve Pern, both of Meryon House I believe.  Earlier in the afternoon, Steve, an excellent runner (including cross-country) had beaten me into 2nd place in the 880 yds & I was annoyed with the old running spikes I'd worn. Even as a regular runner for the school at the mile and 880, I'd never possessed my own pair of spikes, usually picking out something from the old cardboard box of assorted togs provided by 'Muscles' Holness. They were hopeless, so I decided to go without footwear altogether in the mile – I should have gone barefoot in the 880 as well! 
Among the staff group can be seen (LtoR):  Mr White (partly concealing Mr Mabey); Miss Benton (partly concealing Mr Silver & Mr Cawkwell); Miss Getley.  According to the scoreboard, Sanders House look as if they're on their way to victory (but magnifying glass needed!)'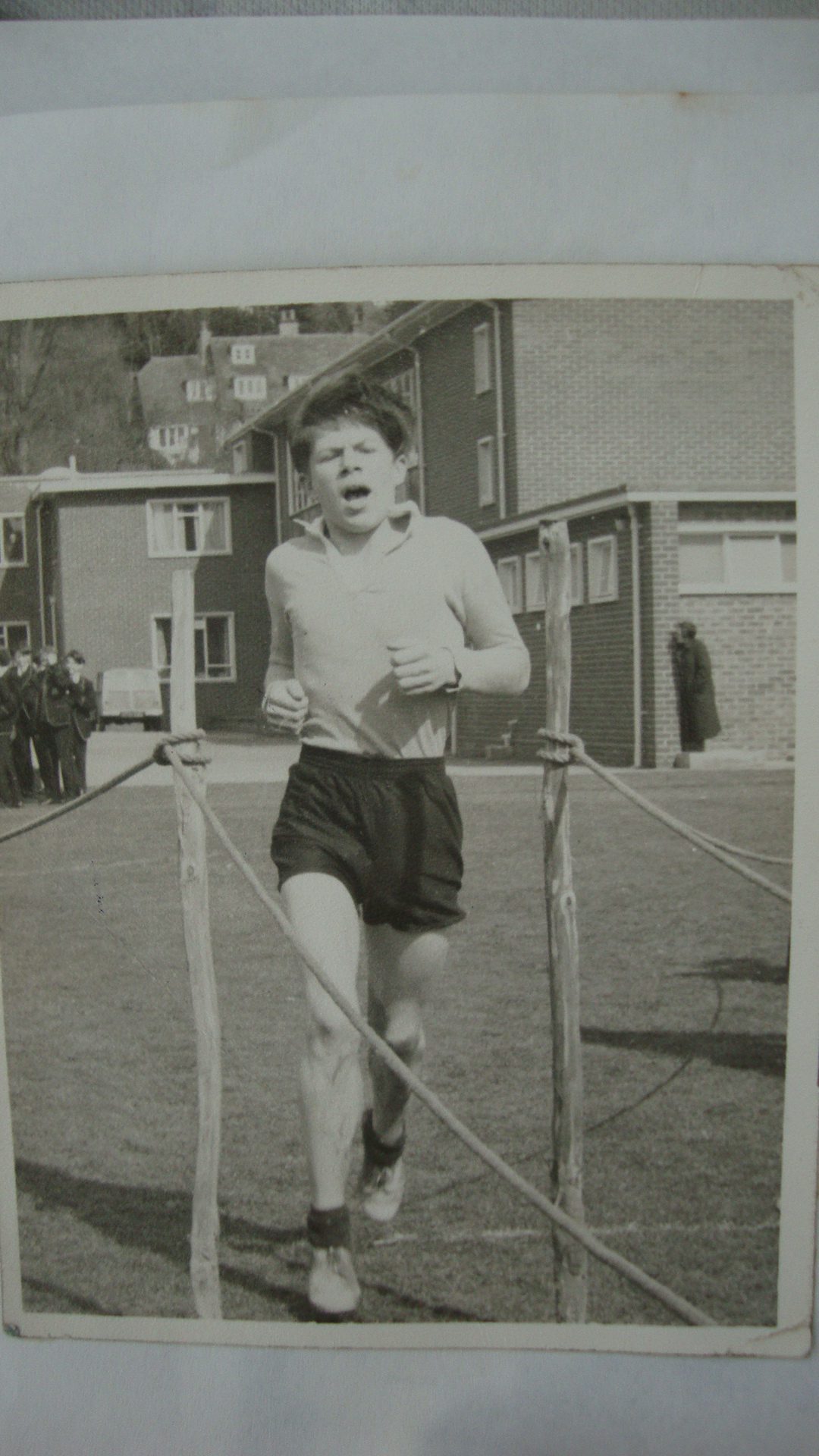 Peter Ewart coming third in RGS country 1966
Picture and comment courtesy of Peter Ewart. Peter writes
'This snap is not intended to be an immodest contribution, although it does show yours truly coming 3rd in the school's annual cross-country competition (senior race) at RGS on 28th March 1966.  Either I'm in a bad way or I'm "putting on the agony" like some modern Premiership footballer!  However, I've always thought the really interesting feature in this snap is not me – but Miss Dann, Senior Mistress, standing all on her own in a drain just round the corner from the gym, no doubt to keep out of a biting wind.  I managed 2nd place the following year (to Nick Marshall) and finally won it in '68 after he'd left!  As I've reminded him over the years at reunions, I found coming 2nd to him hard to take (despite his one year advantage) as he smoked like a chimney!'
Sanders House Football Team – 1968
Pictures and comment courtesy of Peter Ewart.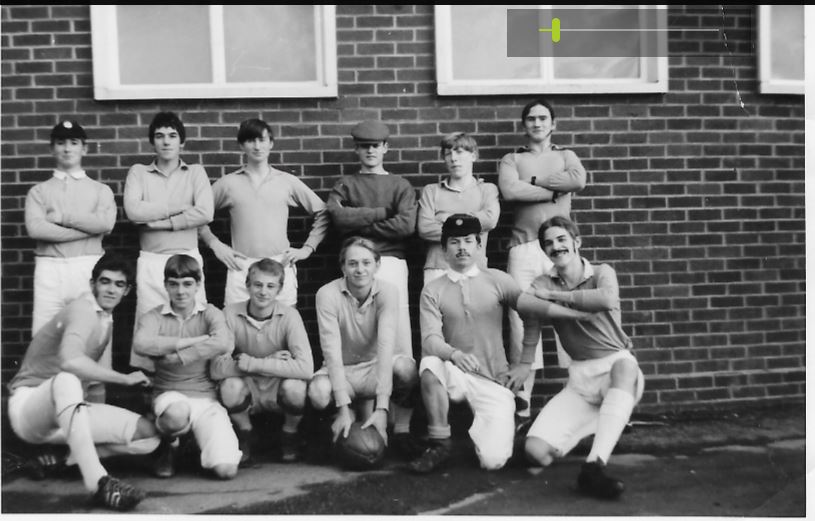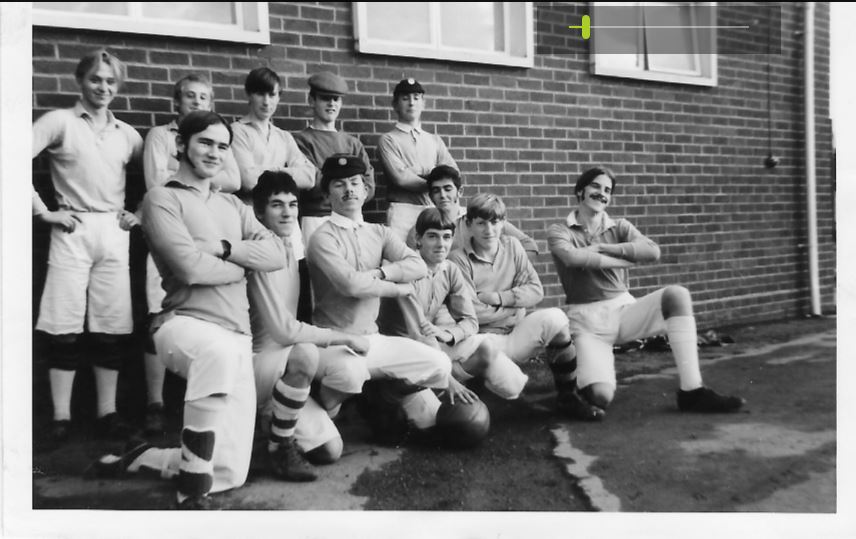 Back Row,  L to R:  Peter Easton, Peter Barnet,  …. Gordon-Jones, Geoff Boxall, …. Dickerson, Barry Fuller.
Front Row, L to R:  Robert Cheesmur, Paul Sands, John Broomfield, Geoff Wickenden, Peter Ewart, Chris Williams.
Nick Jury adds the following missing names:
Alan Gordon Jones and
Colin Dickerson
Colin also appears in the 6 aside picture 
(Two first names elude me).
The second picture was taken from an angle, with positions changed.
Photographer unknown – no doubt a friend, possibly Richard Robinson?
To explain the unusual pose, it might help to provide an explanation. A friend had a camera in school and I thought it would be fun to have a photo taken of the team before our House match.  Introducing a light-hearted theme, I tried to replicate the atmosphere of "studied nonchalance" seen in Victorian pictures of public school and university soccer and cricket teams. One or two girlfriends were hurriedly recruited into sewing additional bits to our brief 1960s-style shorts.  In the brief time available, a couple of moustaches and school caps, a medicine ball and the exaggerated pose would have to suffice for the rest.  As we all lined up, we were spotted by Ron Woodward, the young games master who had succeeded David Holness (Muscles) the previous September.  I feared a bit of a telling off for our frivolity but, to my relief, he had a chuckle and praised our originality!
 RGS six-a-side: autumn 1967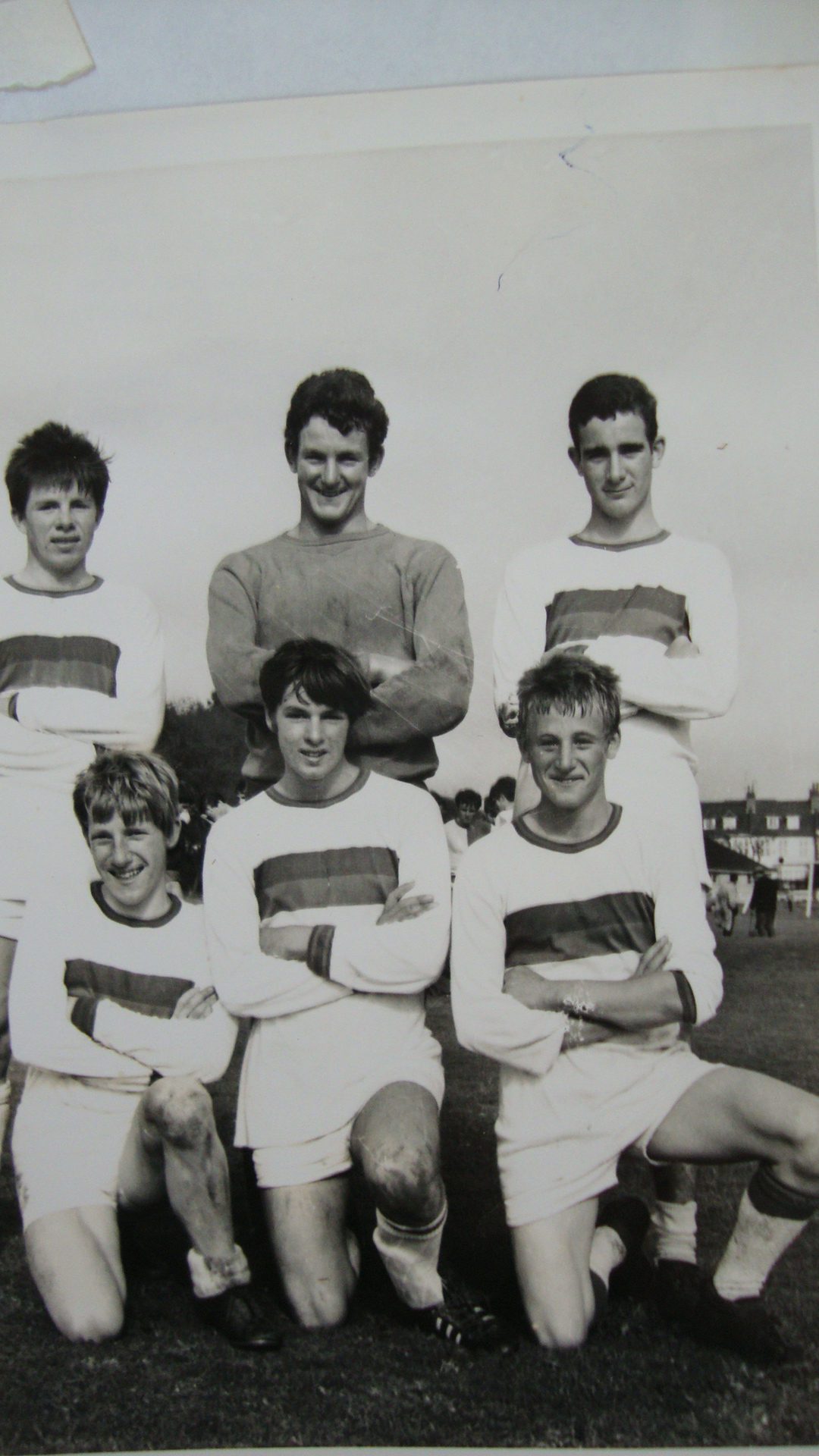 RGS  six-a-side football team photographed at the conclusion of the East Sussex Schools 6-a-side tournament, held at Brighton, Hove & Sussex Grammar School, autumn 1967. 
Back Row, L to R:    Peter Ewart, Ian Shedden, Scott Nesbitt.
Front Row, L to R:    …. Dickerson, Ricky Turner, John Broomfield
Photo Courtesy of Peter Ewart
East Sussex Athletics 1970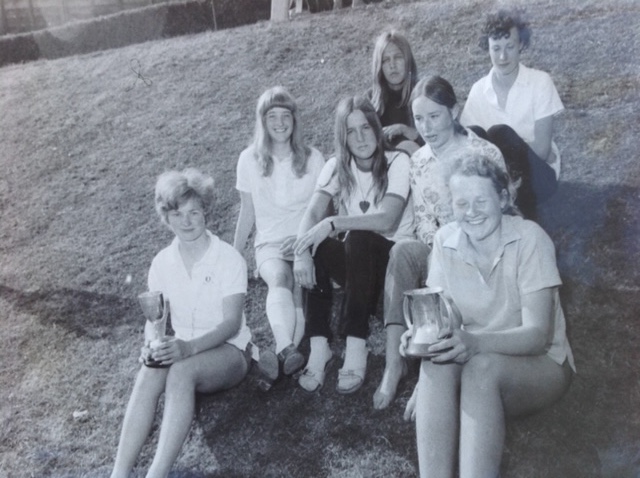 Left to right,Catherine Boyce, Sandra Barnes, Liz Whale, Peta Kent Nye, ? , Rosemary Kinnis, Jenny Handley. (Photo courtesy of Catherine Ford, nee Boyce)
Richard Merricks Room – Rye Cricket Salts
Rye Cricket Club have named the upstairs room at the Cricket Pavilion on the Salts after Richard Merricks, who died last year. Richard, known as Rick, an RGS old scholar, was a lifelong cricket fan. The report of the opening of the Room on 6 August 2018 and the cricket match that accompanied it can be read in Rye News here 
http://www.ryenews.org.uk/sport/club-honours-richard-merricks
Those attending the 1960s reunion on Saturday 22 September will get a chance to see the Richard Merricks Room as the reunion is being held the year the cricket pavilion.