What play and year is this?
 RGS: Pride and Prejudice – what year is this?
RGS: Taming of the Shrew 1961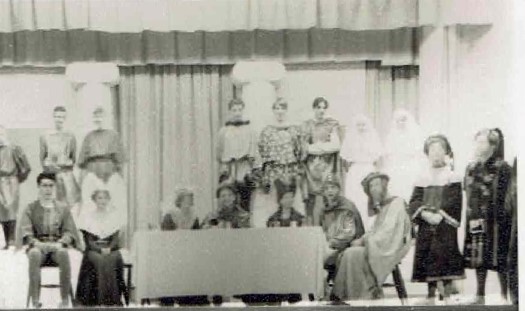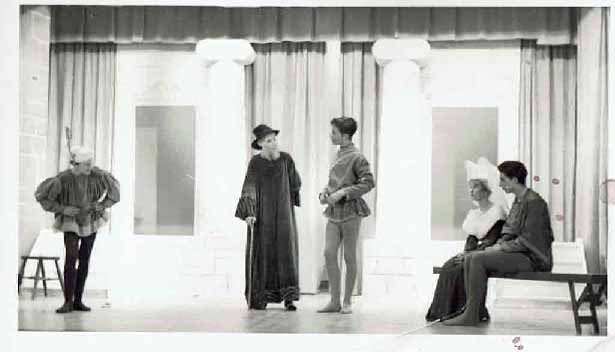 From left to right: Paul Smith, John Evans, John Ellinger, Jacqueline Ovenden, Errol Girdlestone
RGS: Knight of the Burning Pestle – 1962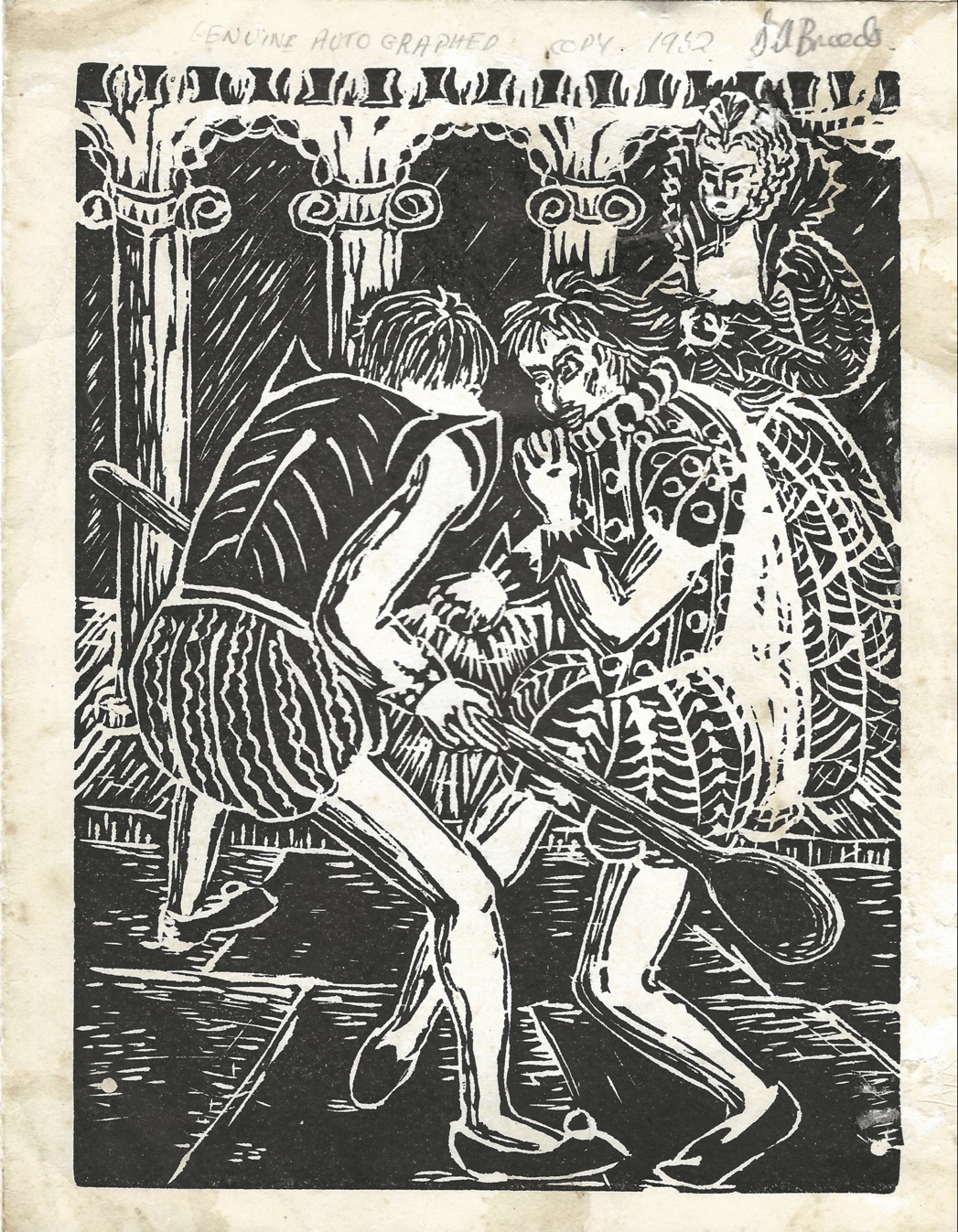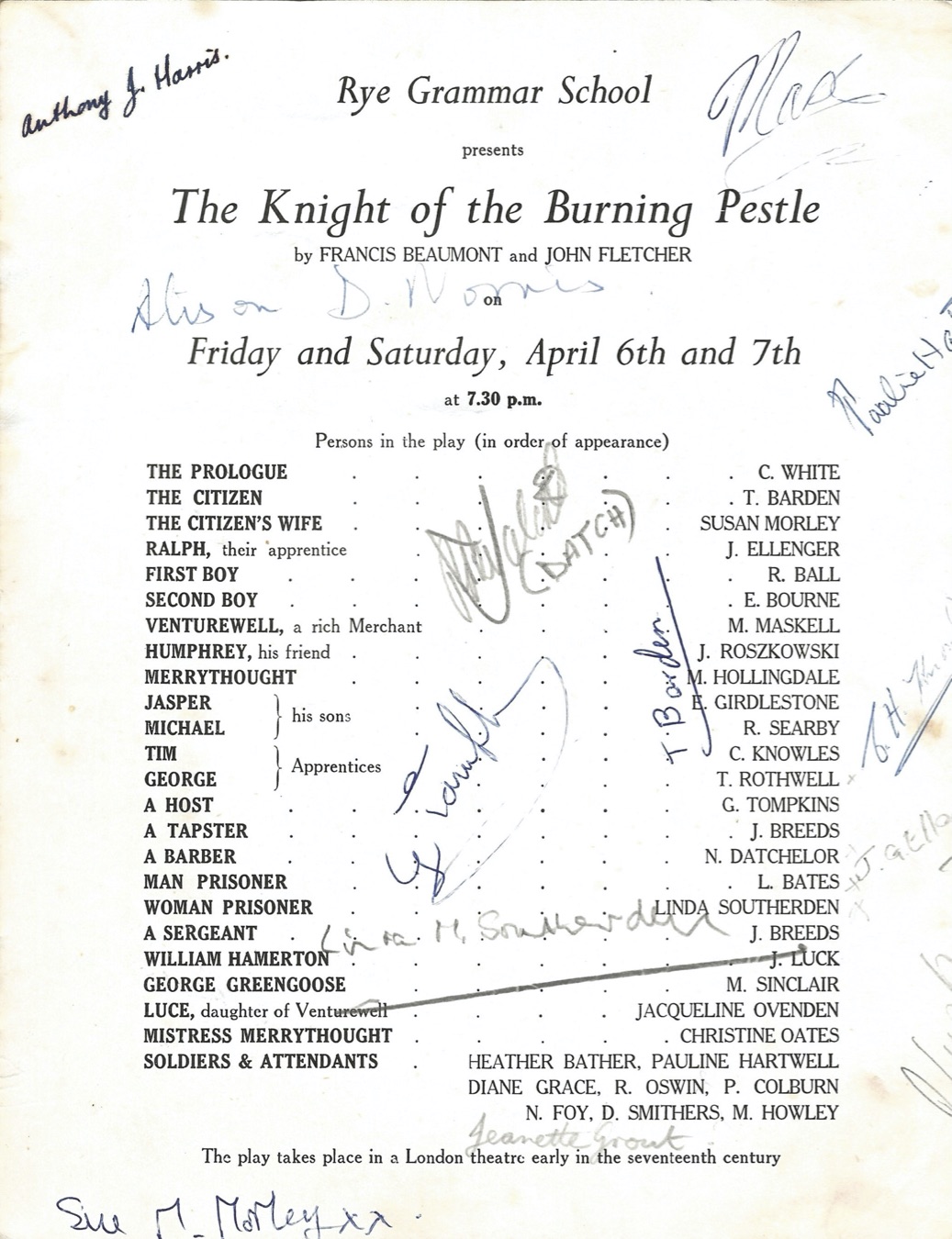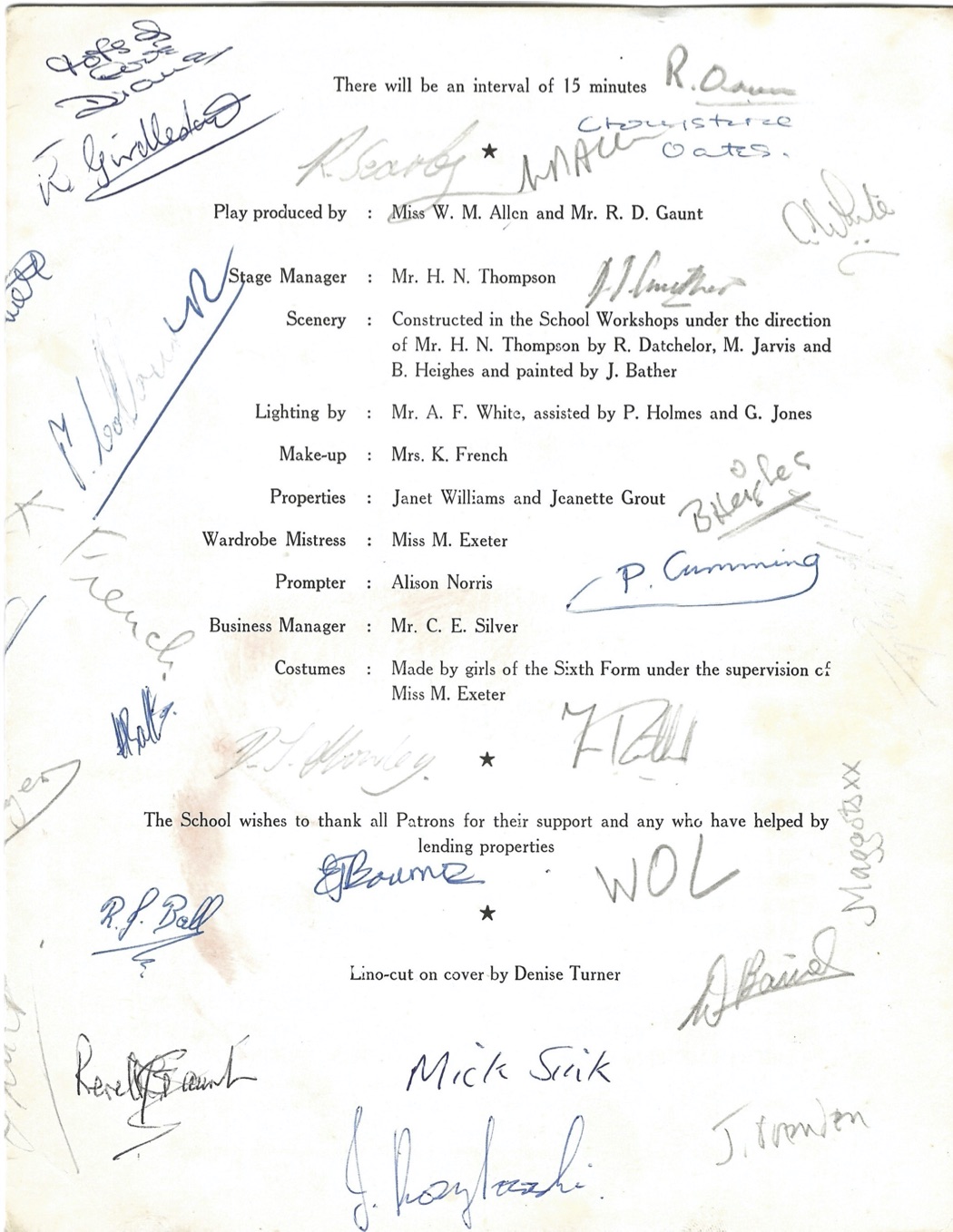 Programme Courtesy of John Breeds. John adds:
Scans of the programme for the School Play "The Knight of the Burning Pestle" – fully signed by cast and crew. I played two parts, so my name is on the cast list twice! My performance as the tapster was heavily criticised by Mr Gaunt for "hamming it up".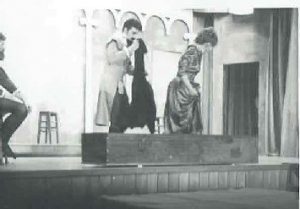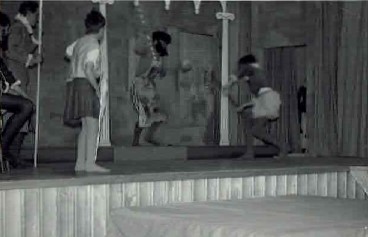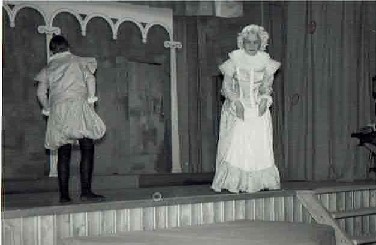 Michael Cleverly and Christine Oates
RCSS (Rye County Secondary School): The Government Inspector 1963
(Photos of programme and action and information courtesy of Barry Ewart)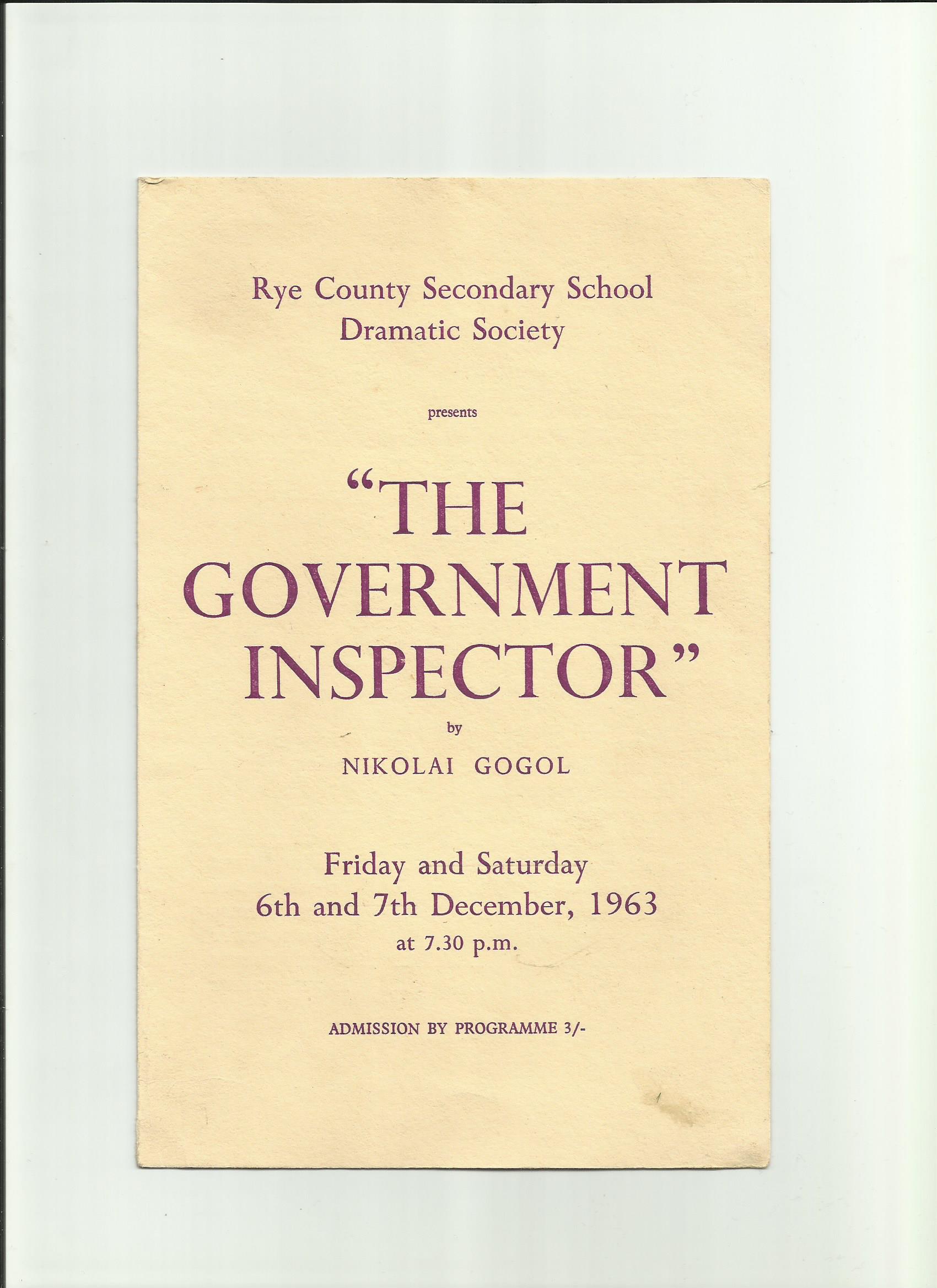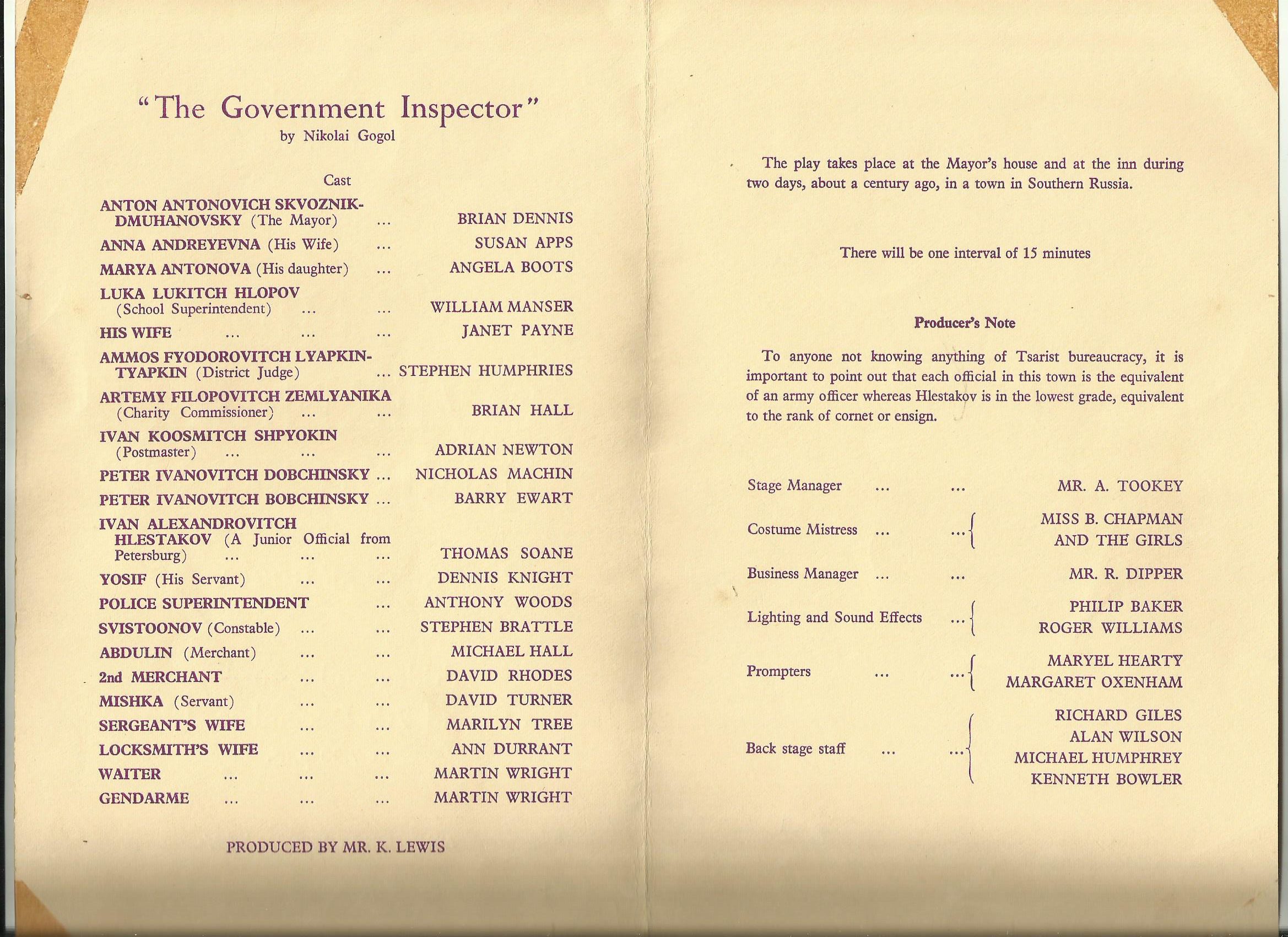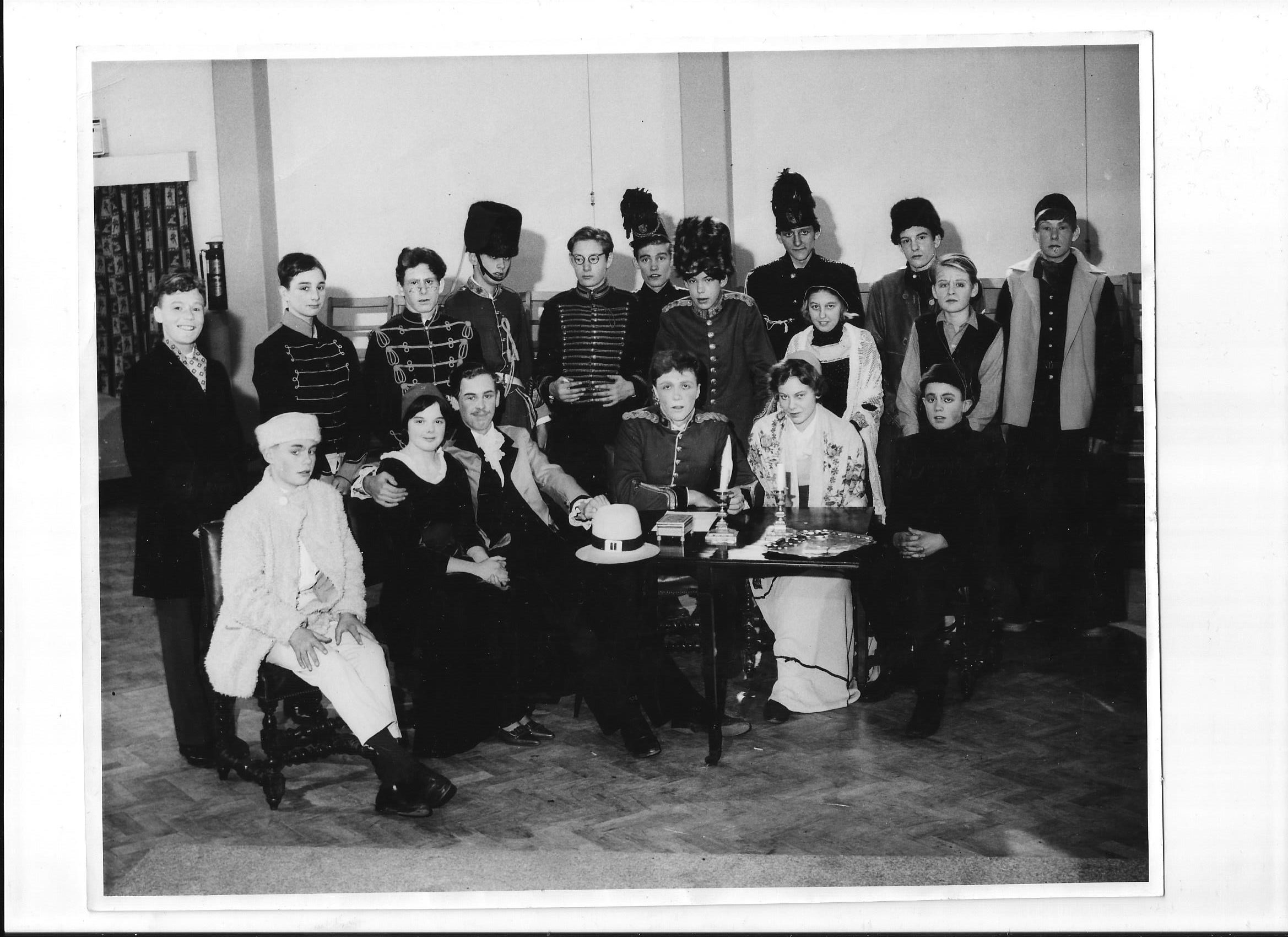 Cast of The Government Inspector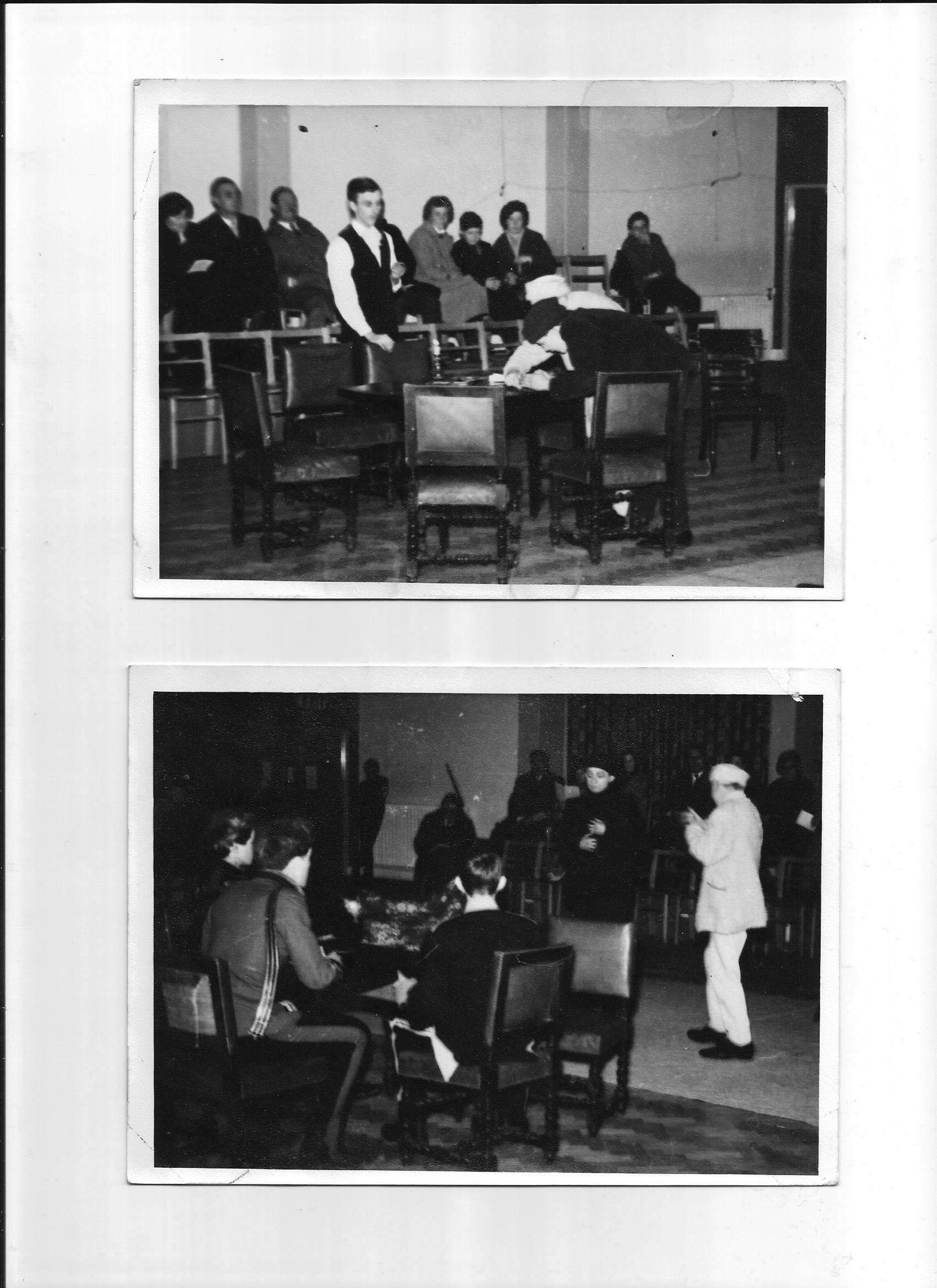 Action from The Government Inspector
First picture:  Top: Thomas Soane, Barry Ewart, Nicholas Machin.  (Bottom)  seated:  ?, Brian Dennis, Adrian Newton.   Standing:  Nicholas Machin, Barry Ewart
Second picture: Top: Nicholas Machin, Anthony Woods, Barry Ewart,  Brian Dennis.  (Bottom) Angela Boots, Thomas Soane, Susan Apps, Brian Dennis
More action from The Government Inspector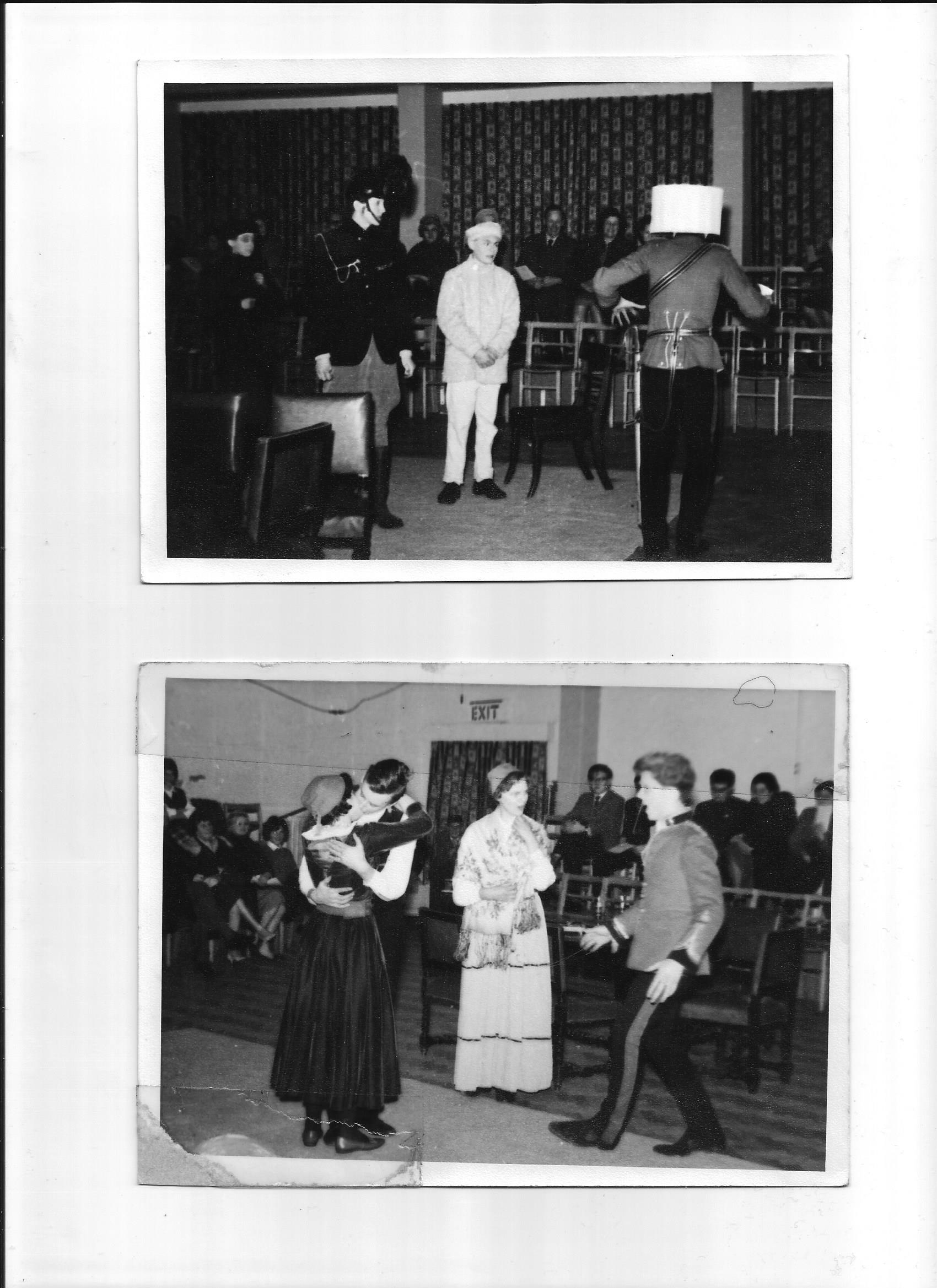 RGS: Androcles and the Lion 1964
(Jim Holmes played Androcles)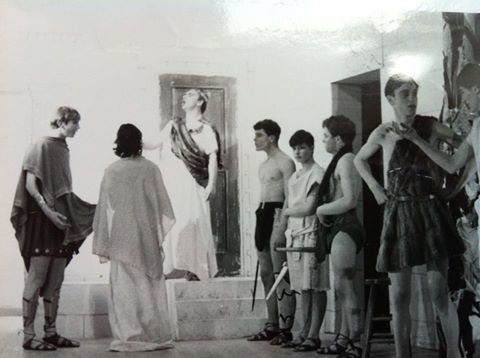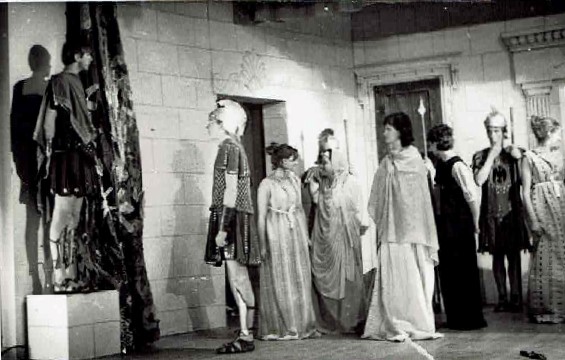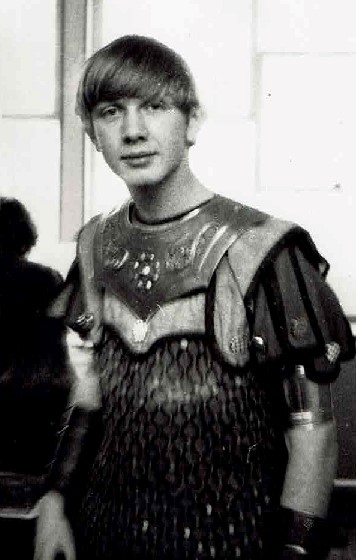 John Apps in Androcles and the Lion
A Midsummer Night's Dream- 1964
(Photo and information courtesy of Barry Ewart)

Barry Ewart writes: This picture was taken outside the Ellen Terry Memorial theatre in Smallhythe, near Tenterden.  It is also known as the Barn Theatre (it is a converted barn) and beside it stands the Ellen Terry Museum – or it did.  It shows me as Puck with Peaseblossom, Cobweb, Moth & Mustardseed in attendance.  We were probably taking a break during a dress rehearsal of "A Midsummer Night's Dream" in August 1964 when I'd just turned 15.  Remarkably, the four fairies comprise two sets of twins so the pic contains five twins! – a theatrical first?  I vividly recall the cast being lined up following one matinee performance, in the same spot as the picture, to meet the actor Donald Houston who shook hands with us all rather like the Queen meeting the  cast of Royal Command Performance backstage at the London Palladium.
RCSS: Dark of the Moon – 1964 
(Photos of programme and action and information courtesy of Barry Ewart)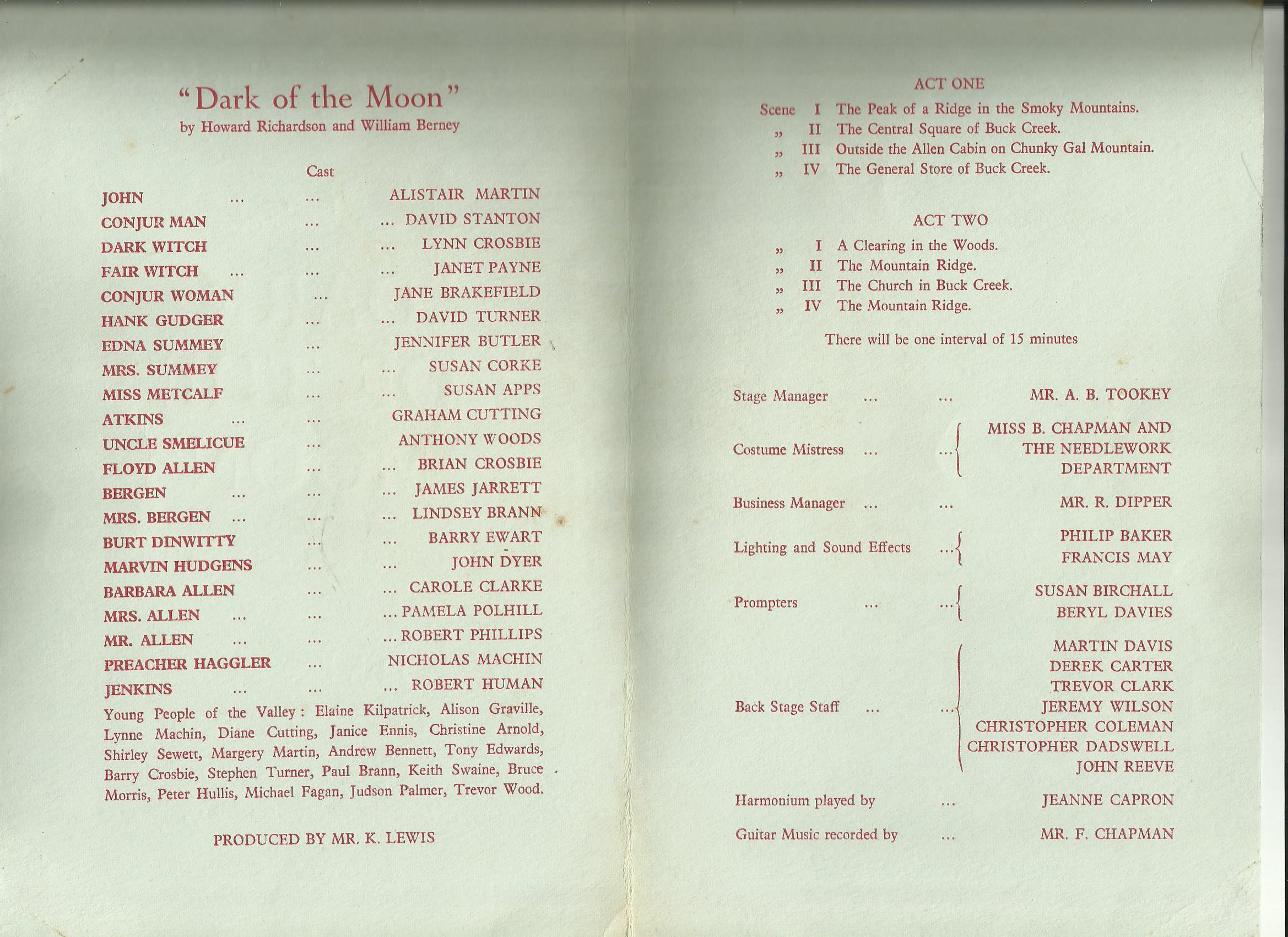 Cast of Dark of the Moon
RGS: Macbeth – 1965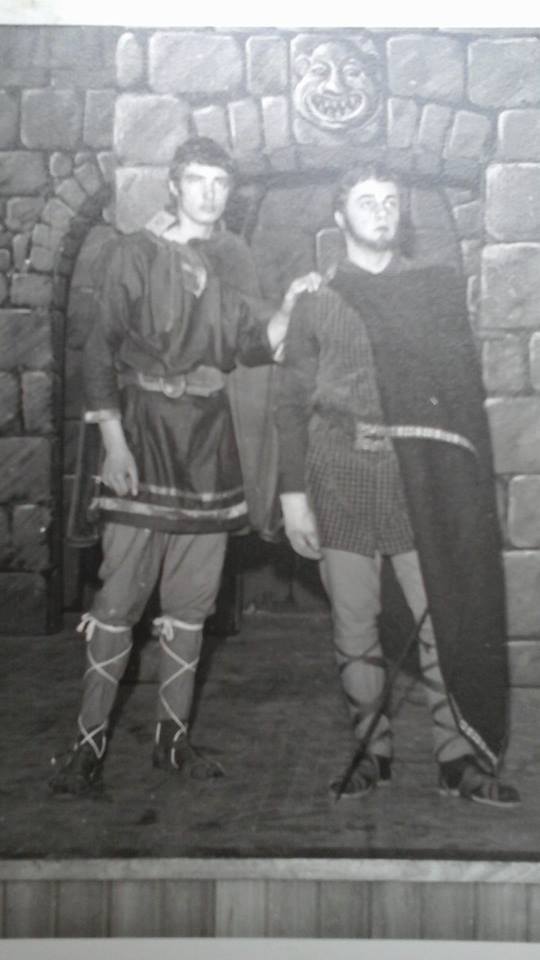 Brian Dennis (Macduff) and Chris White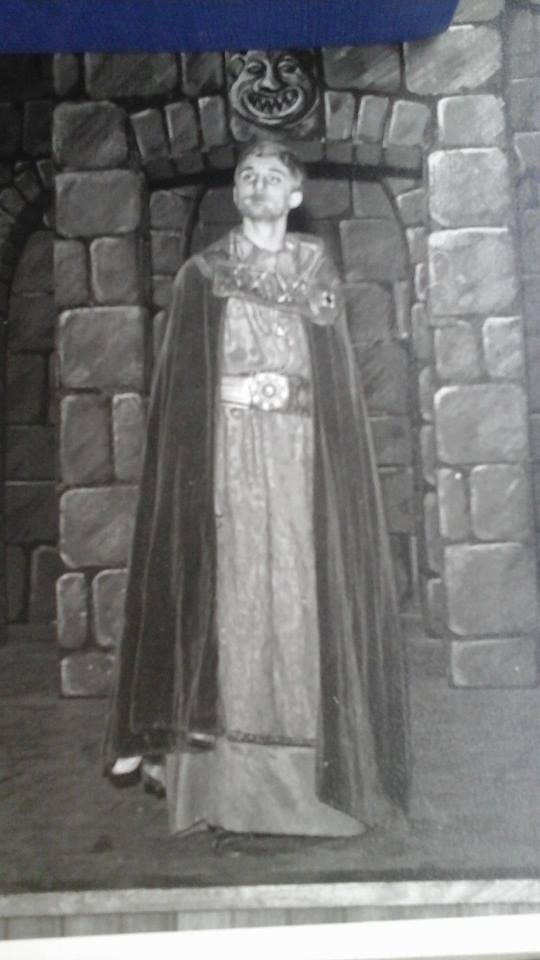 Graham Alcock as Duncan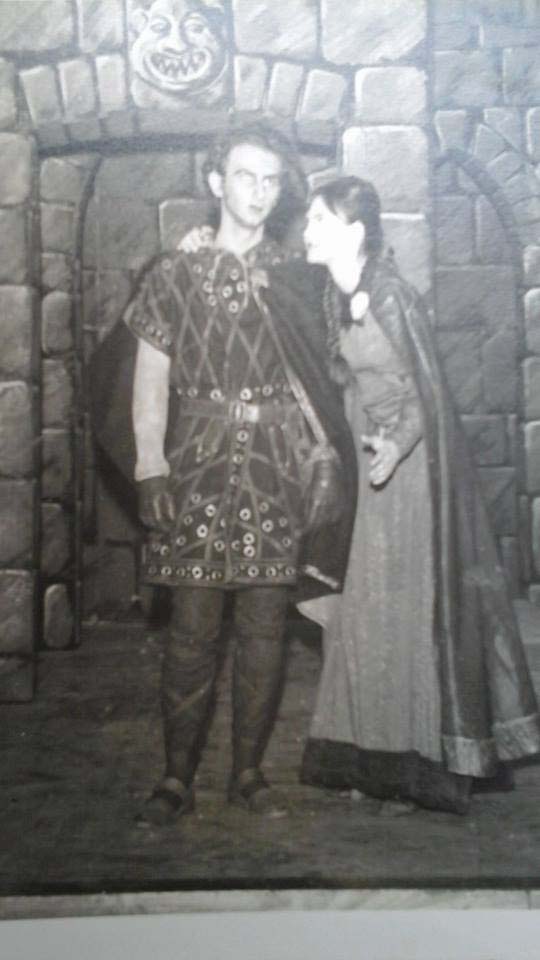 Terry Barden and Alison Hadley as Macbeth and Lady Macbeth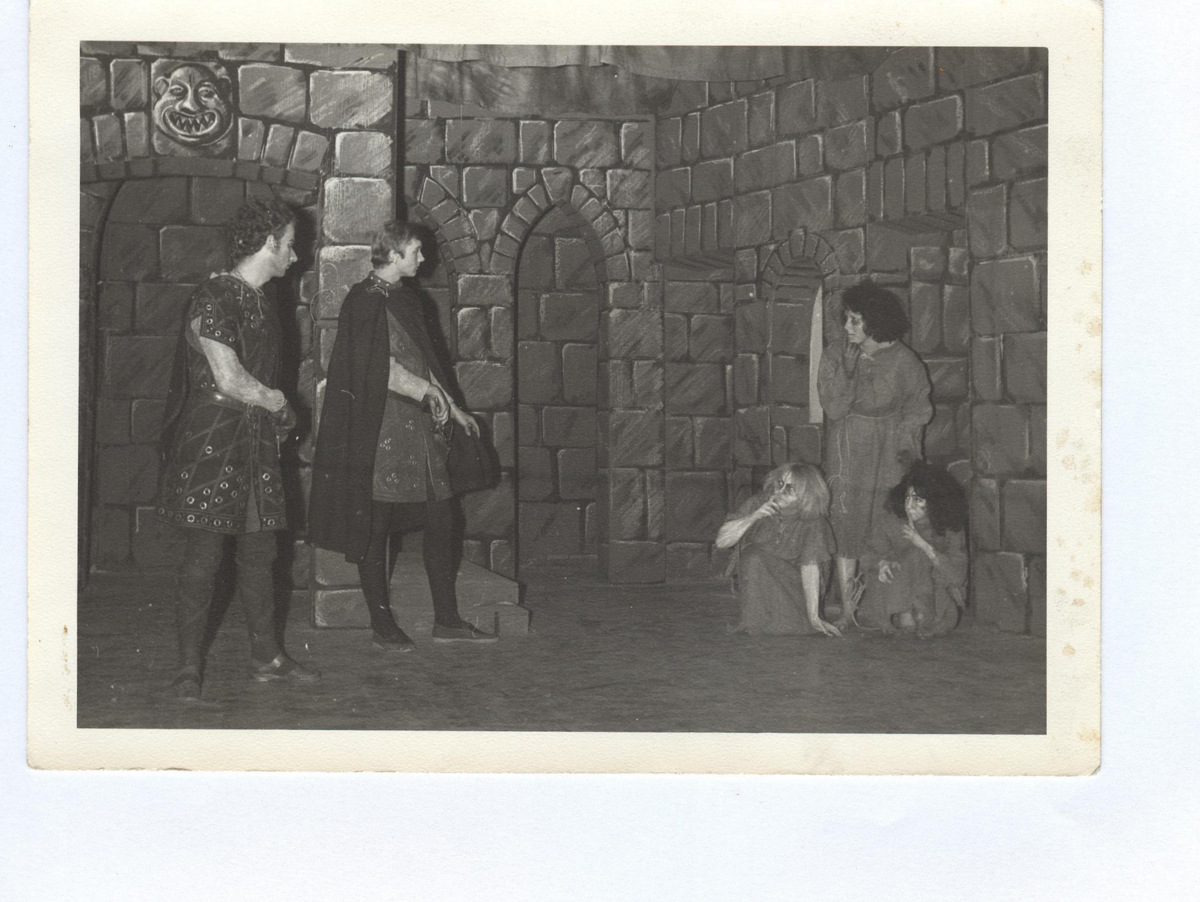 Terry Barden (Macbeth), John Apps (Banquo) meet the witches – Ingrid Burke, Hilary Hamilton and Jane Albury (Photo courtesy of Hilary Hamilton)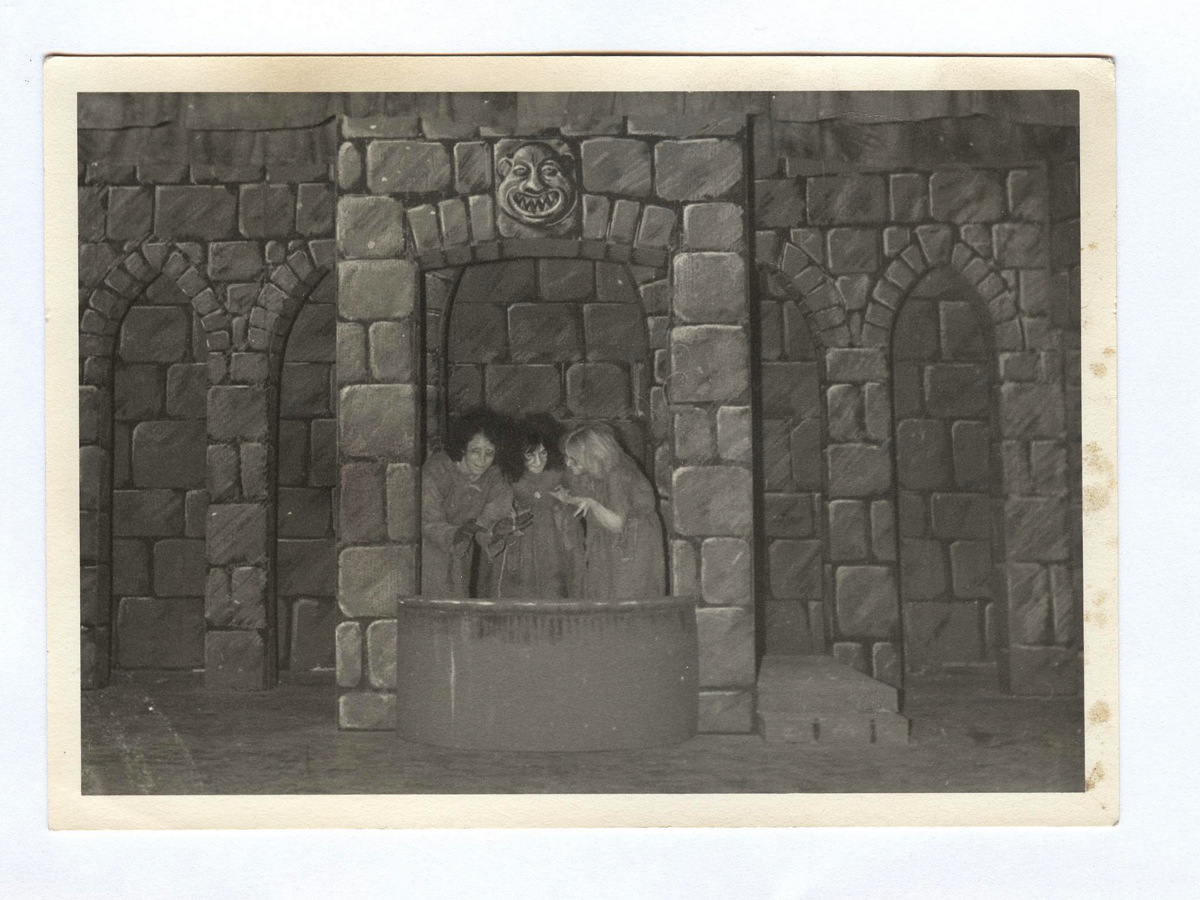 The witches  (Photo courtesy of Hilary Hamilton)
The Lady's Not For Burning – 1966
(With thanks to Colin Swan for the photo – he describes himself as the rather Goth-like Chaplain!)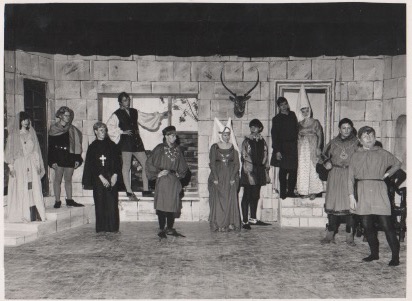 Peter Ewart has provided the following comments on the above picture:
'I remember this was David Gaunt's 1966 production, but that's about all!  My part, Matthew Skipps, was a very small role with a walk-on part near the end, in which he makes a bit of a scene while drunk, mispronouncing almost everything. Don't recall reading the whole script even once, nor was I at many rehearsals, as RDG recruited me quite late, it being a small role. I auditioned (just a brief read through) one lunchtime in the hall and he also heard Geoff Boxall read through it too. He should really have chosen Geoff, who'd bothered to familiarise himself with the part beforehand, whereas I hadn't and didn't even know it was a drunken role! But RDG ("Rev") had been asking me for ages to get involved in drama as he knew two of my brothers had, but I'd held off each year. Too busy footballing & cricketing!  I was astonished at the burst of applause as I exited, having no idea then of the tradition of applauding colourful little cameo roles. Perhaps that encouraged me to stick with the school play in future! 
Surely the winkle-pickered lad under the antlers is Grant "Polly" Parrot?  I'd be surprised if it wasn't.  He was established in school plays by then and played Romeo in 1967.   Fifth from left looks like Alan Milnes to me.  He was in my year and also appeared the following year in R & J.  Although the faces aren't all clear, I suspect the chap on the window sill at the back is John Apps (if still at school in '66). I think John Hooper, who played Mercutio in '67, arrived later.  A copy of the 1966 RYA would help.'
Colin Swan adds:
'To follow up on Peter's 'Dramatis Personae', he is quite correct with Alan Milnes, Grant Parrott and John Apps. There is also Jane nee Allbeury, standing beside Tim Rothwell, and in the doorway Simon Allbeurry and Penny nee Hill. Finally behind Peter looms Andrew Page.
We are nearly there and I feel a bit mortified that I cannot identify the last actress, who was really good.'
Chris Williams reminisces about School Plays
Chris Williams Reminisces about School Plays
Chris Williams remembers Romeo and Juliet (1967) and the Crucible (1968)
I think that 'Romeo and Juliet' was only my second time on a proper stage since being The King, the role of the youngest wolf cub, in a pack performance in the Burnage Parish Hall in south Manchester back in 1956. My one line had been to tell everyone to 'rock around the clock' which they did, Bill Haley being all the rage. The other time was at the Lewes Little Theatre as an extra in 'The Tempest' while at Lewes CGS for Boys.
Fast forward a few more years to Rye and joining the Sixth Form, a mixed environment with the contingents from Leasam and Saltcote. I don't know how I was first pulled into the school plays – perhaps it was the girls – but never as the romantic lead, swash-buckling hero or comic turn. The roles were the serious ones – The Prince in 'Romeo and Juliet' and then Deputy Governor Danforth in 'The Crucible'. Was this in fact type-casting,  a premonition of 20+ years mostly as the senior deputy head in a large secondary schools? However it may have started and regardless of the roles, the acting, teamwork and the social spin-offs  were great fun and yes, character-forming. We discovered what it meant to be wished "break a leg". Being immersed in the productions, I remember very little about the actual performances beyond the most dramatic moments – the Mercutio-Tybalt fight, the Romeo and Juliet death scenes, the build-up of tension as the Salem 'witches' are revealed – but I do recall being stunned by the quality of the acting and the energy of the cast, usually from a very slow start.  These shows were great.
After Rye I threw myself into Drama Soc in my first year at UEA and was involved in four plays, student politics and all the rest of it before the Swinging Sixties came to an end, and meeting the requirements of the degree course took over.  As a young teacher I wrote a few more sketches and did a little acting in school productions while doing an occasional turn in Sixth Form revues, the scripts of course written by the next generation.
Half a century later I deliver ice-breaker sessions at multi-national contact seminars for teachers, mostly in Eastern Europe. The purpose is different but perhaps the need to deliver for an audience is not really that far from the Verona and Salem locations recreated on the Rye GS stage. 'The Rev' taught me and countless others how to project our voices, follow a script, remember our cues, support each other and please 'Joe Public'. "The show must go on". And it did. Thank you.
Programme for Romeo and Juliet (1967)
Programme for Crucible (1968)
(Programmes courtesy of Chris Williams)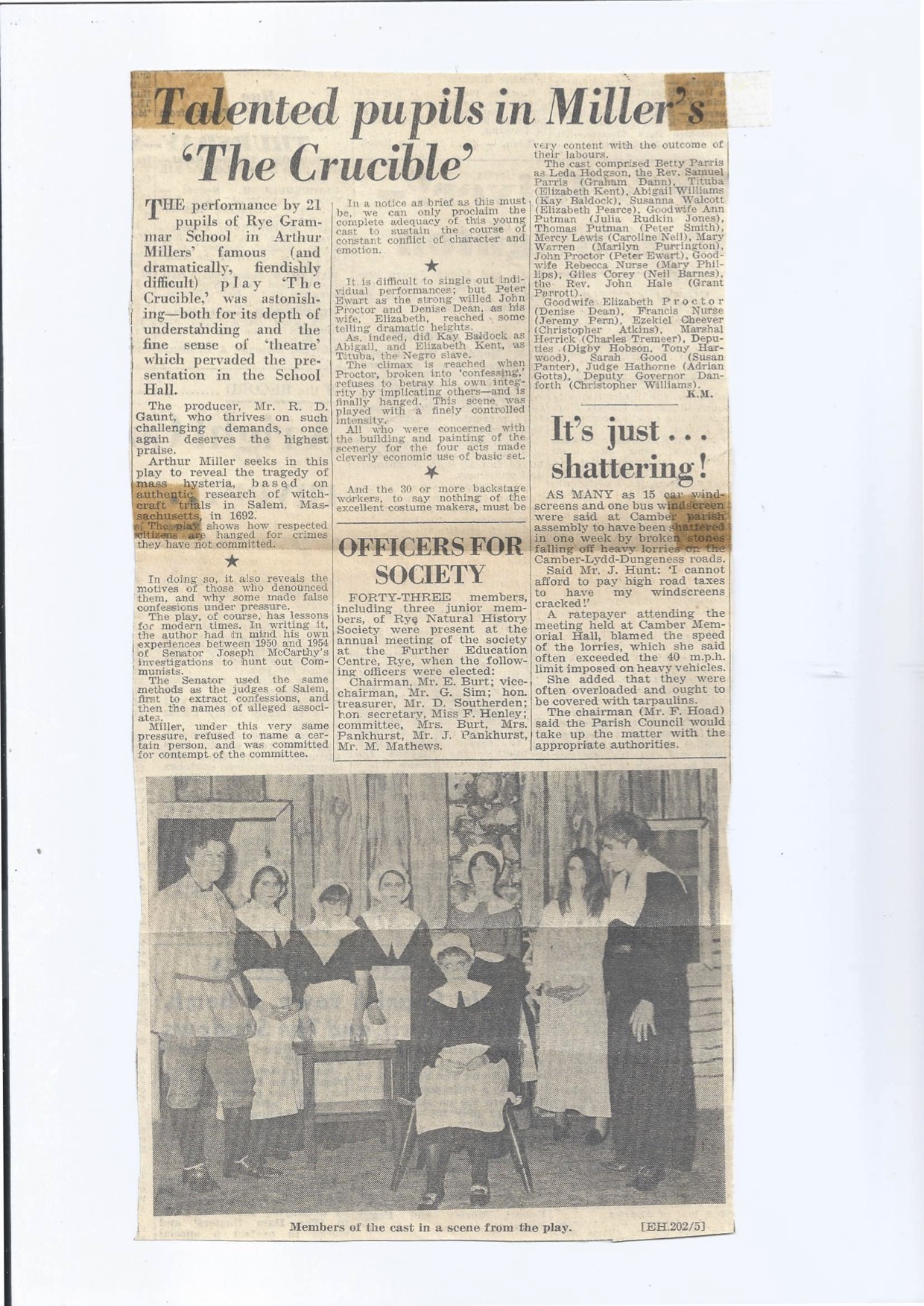 Press Report of the Crucible – courtesy of Chris Williams
RGS: The Crucible – 1968 (With thanks to Peter Ewart for the pictures and notes)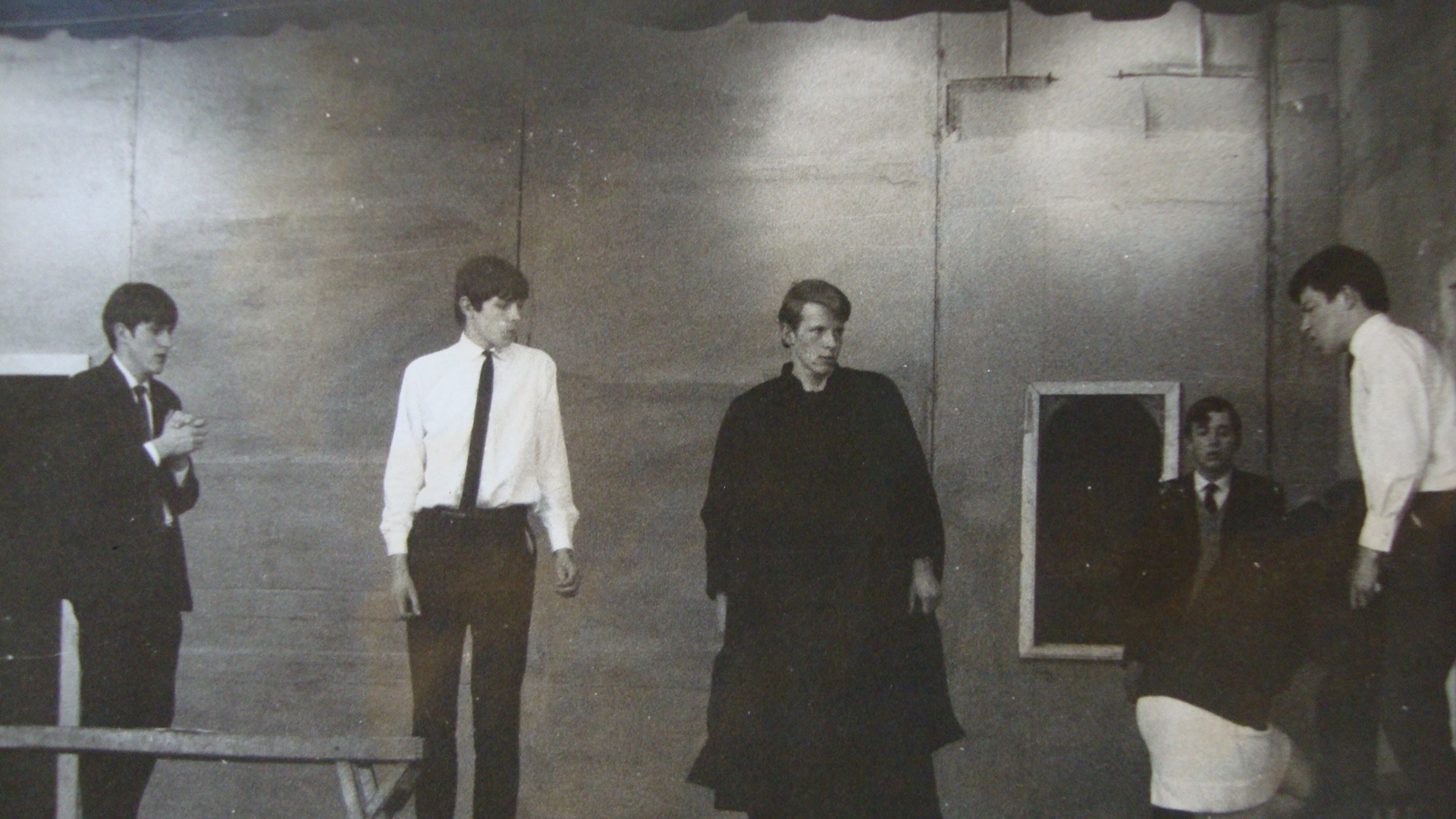 Crucible rehearsal – directed by Mr David Gaunt.  
L to R:
Graham Dann (Rev Samuel Parris),  Grant Parrott (Rev John Hale), Chris Williams (Deputy Governor Danforth), Denise Dean, kneeling (Elizabeth Proctor) & Peter Ewart (John Proctor).  In background: either Christopher Atkins, Charles Tremeer or Tony Harwood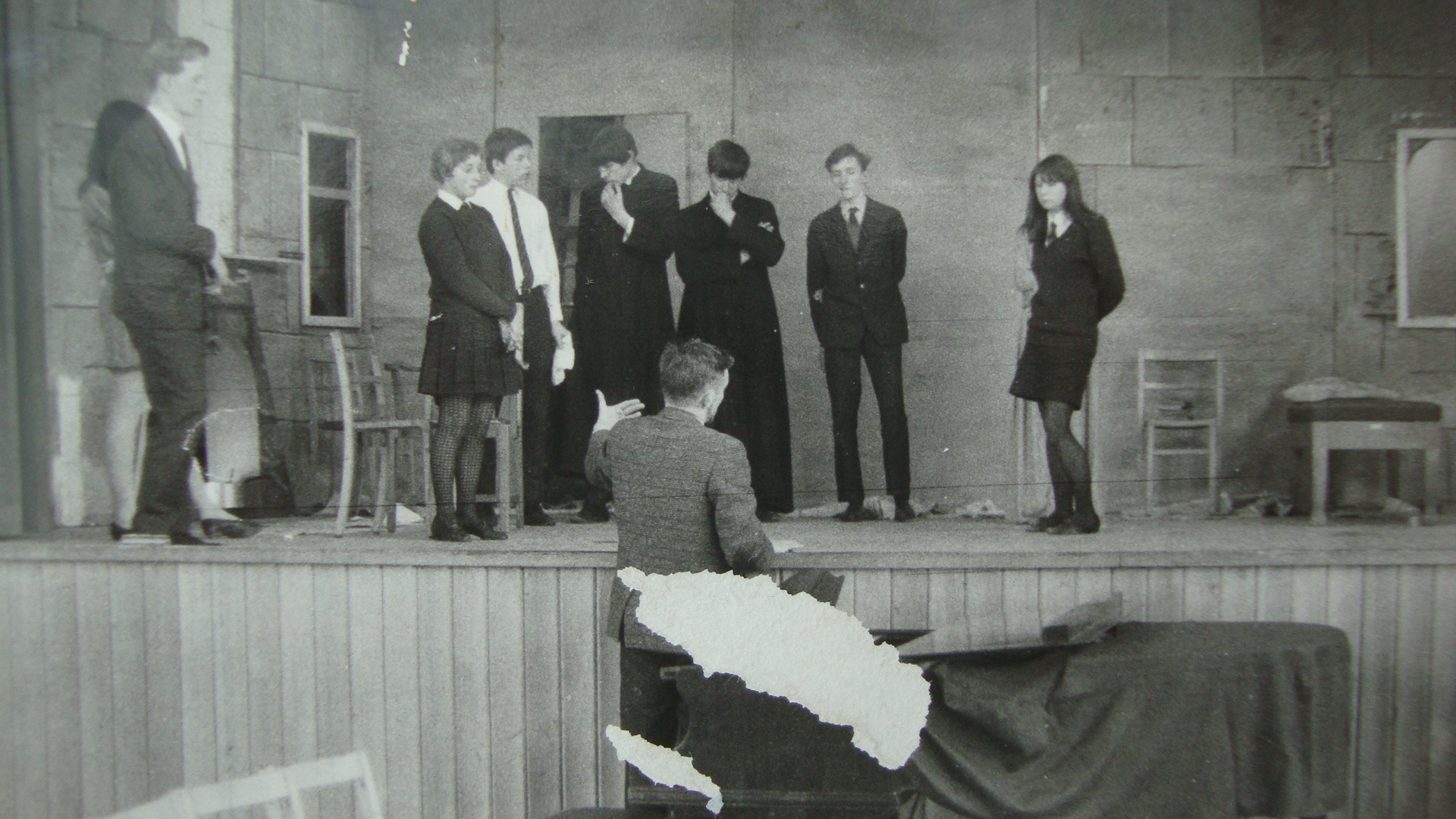 Crucible rehearsal
Mr Gaunt directing from floor.  On stage standing, L to R
Peter Smith? (Thomas Putman), Julia Rudkin-Jones (Ann Putman), Peter Ewart, Grant Parrott, Graham Dann, Neil Barnes (Giles Corey), Kay Baldock (Abigail Williams). Concealed behind Peter Smith may be Caroline Neil. 
Rye Youth Drama Group: 1961-62
Chaz Mitchell has kindly supplied he following three photographs and the commentary.
The first is of the winners of the Sussex Drama Festival 1961. All the cast were RGS 6th formers.
Left to right
Chaz Mitchell, Robert Blacklock, Charles Knowles, Mike Rogerson, my father who ran the Rye Further Education Centre where rehearsals were held, Michael Winter.
The women I have difficulty in recalling all their names. Beginning second from right Madelaine Barden, Bronwyn Burke, Felicity Rook, the remaining two I'm not sure. Also sincere apologies if I misspelled anyone's name  
I don't remember the name of the play but it might have been Our Town.
The second pic is some of the same group on stage but not sure if that was the winning production, also 1961.
The third pic is still the Rye Youth Drama Group but with new members [1962]
Again I don't recall all the names but I am on the left [smoking!! ] then Madelaine Barden's brother I think, Errol Girdlestone, Jenny Bather, Bronwyn Burke's younger sister and Charles Knowles. the other names elude me. Can anyone either correct me if I've got the names wrong or identify others?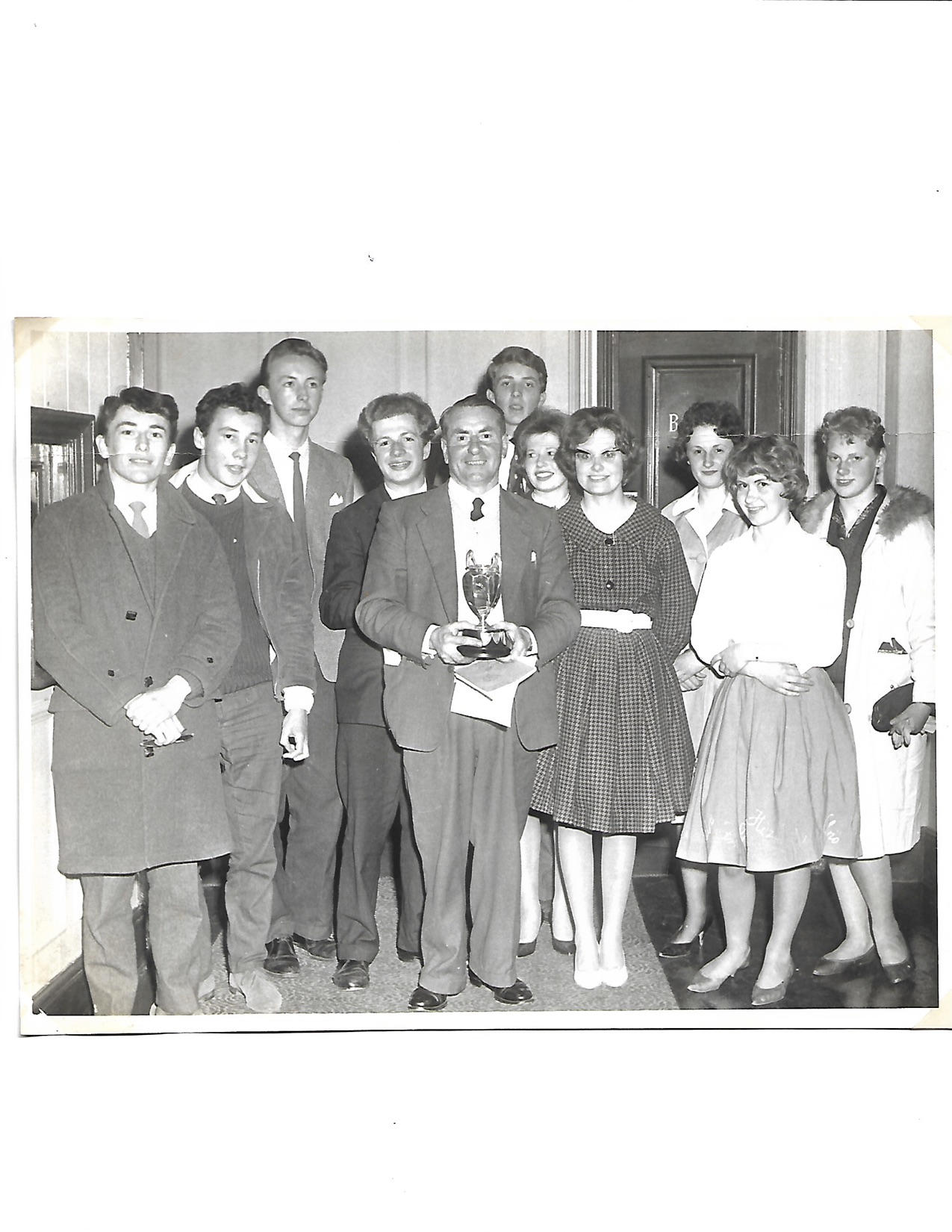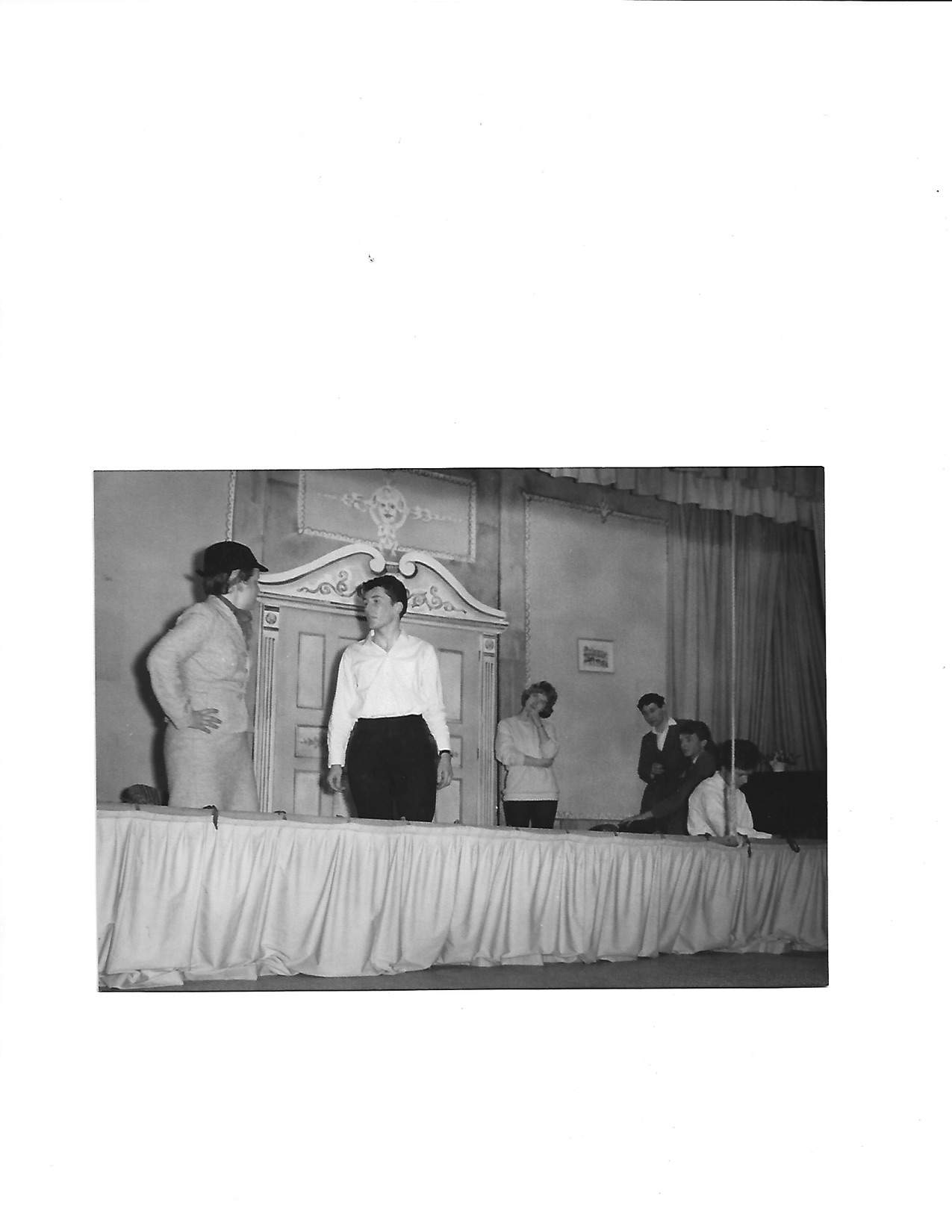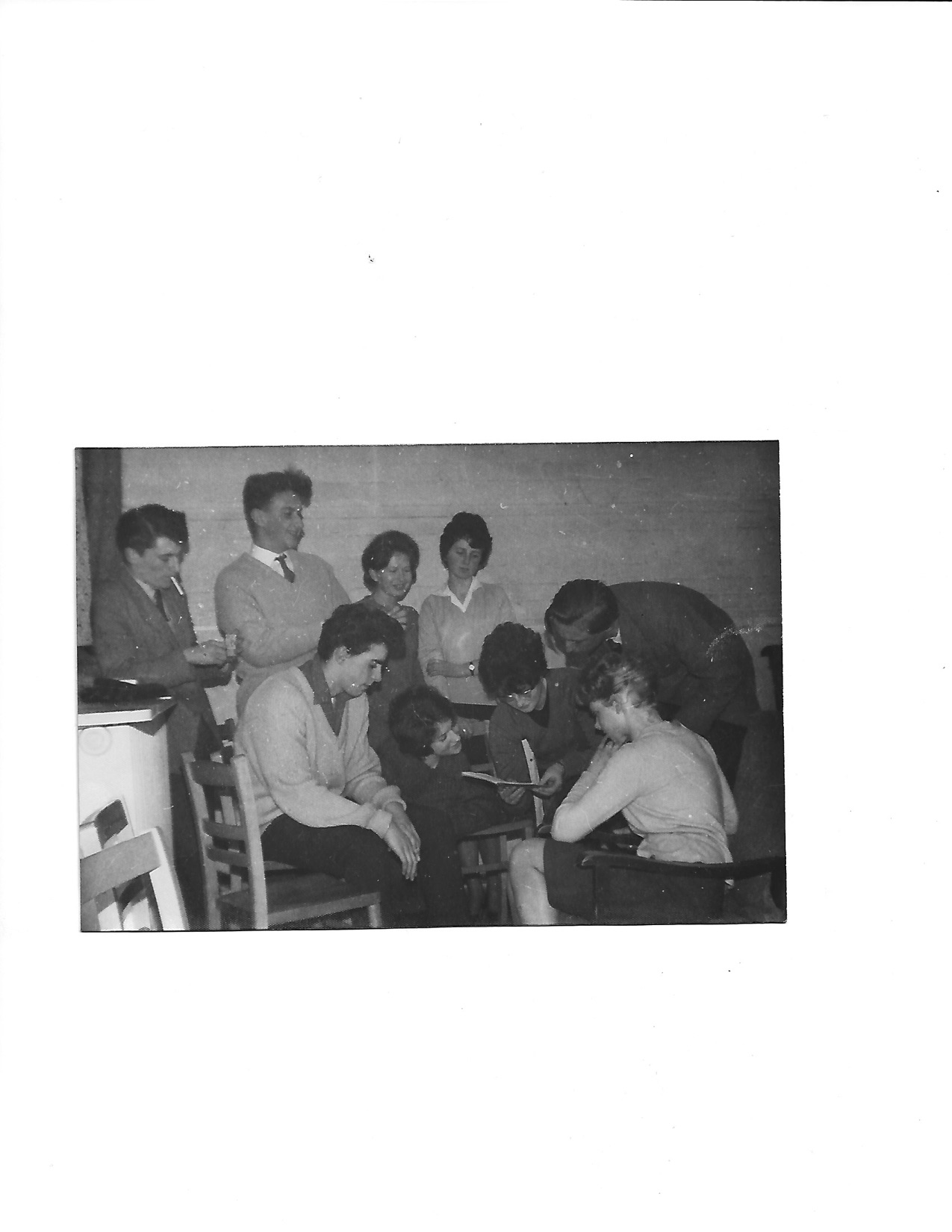 Thomas Peacocke School Plays and Entertainments
With grateful thanks to Fran Mileman (Née Francesca Hutchinson) – Saltcote 1967-1974 – for the following contributions.
Hastings Music Festival 1969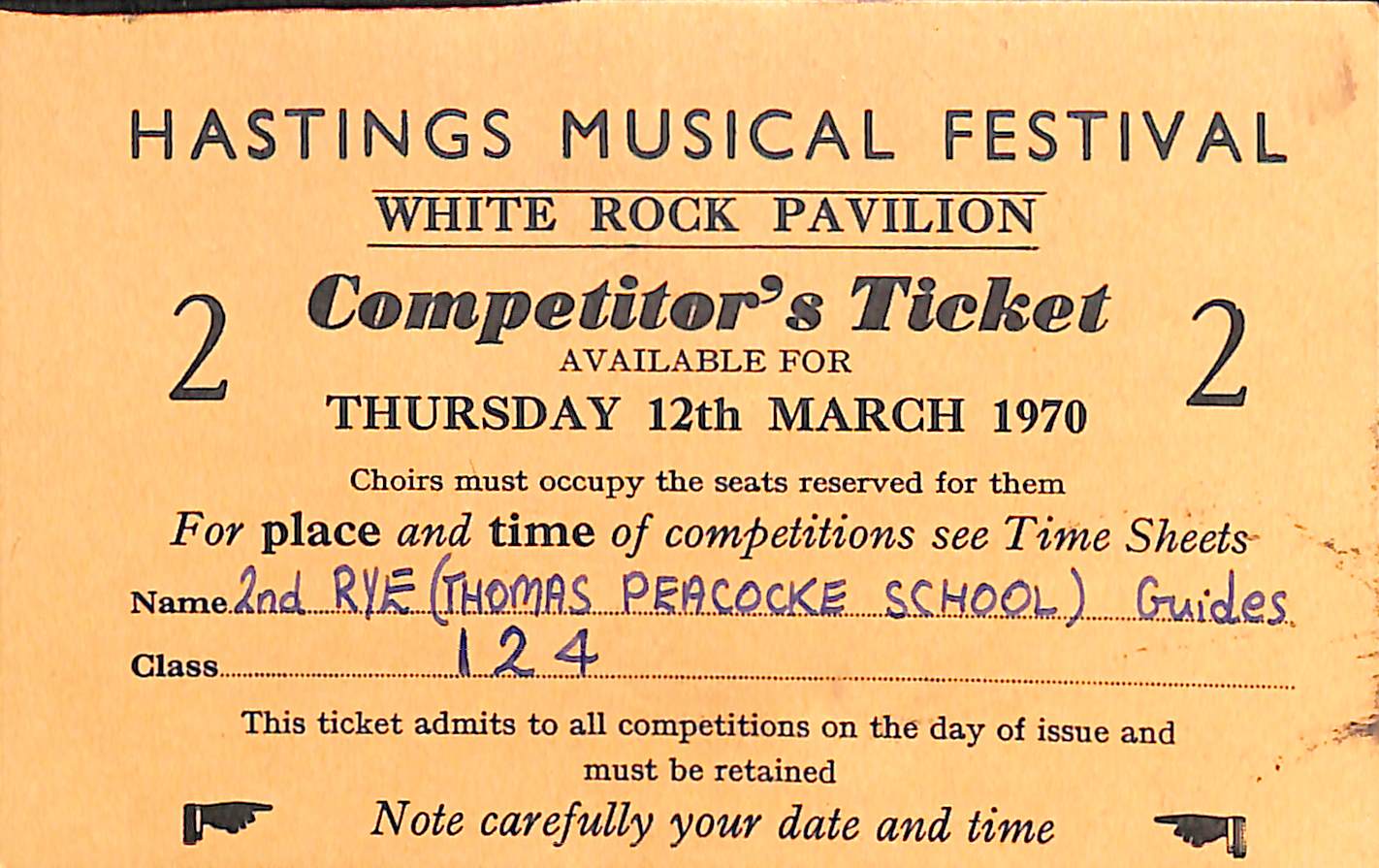 Oliver – 1971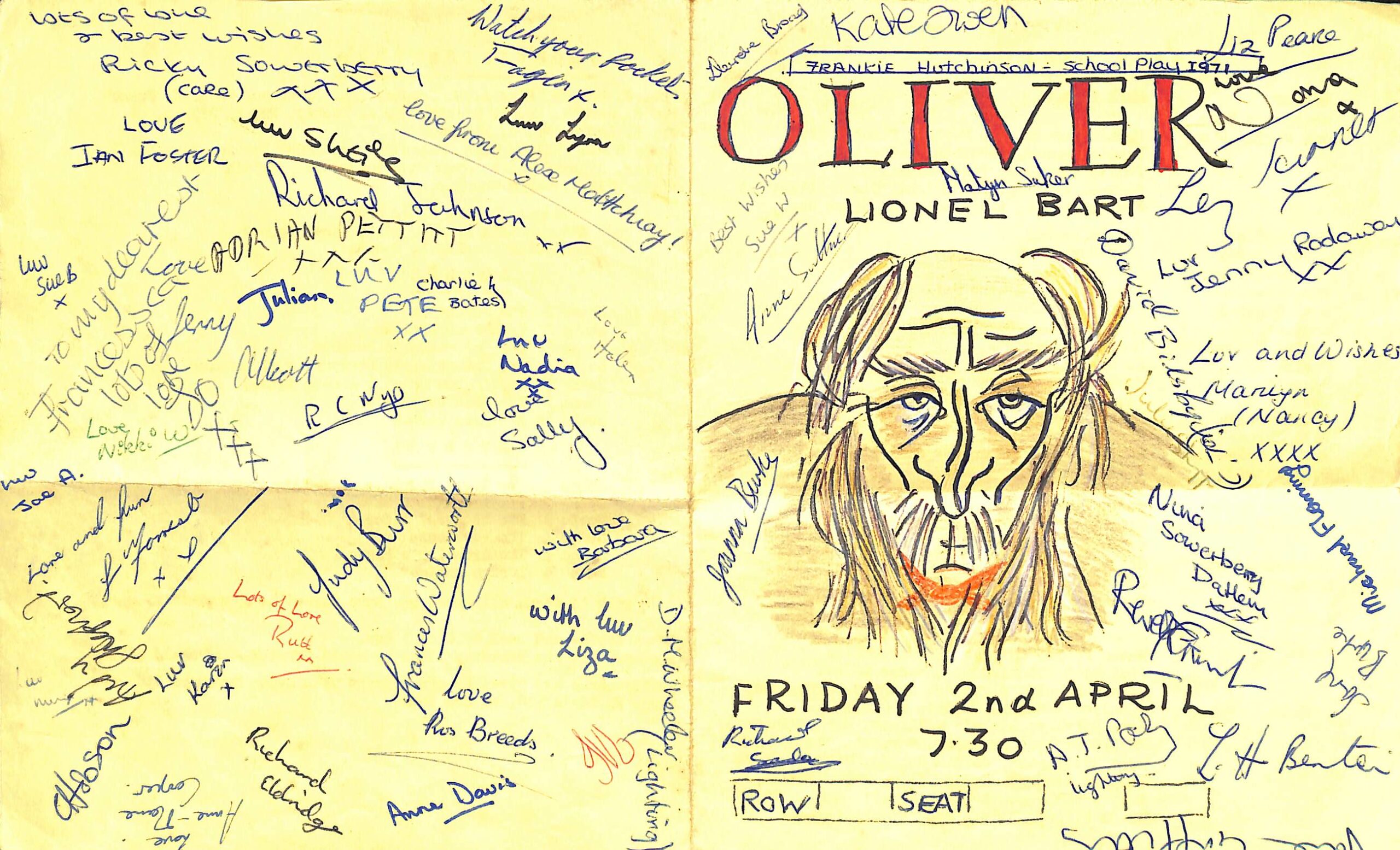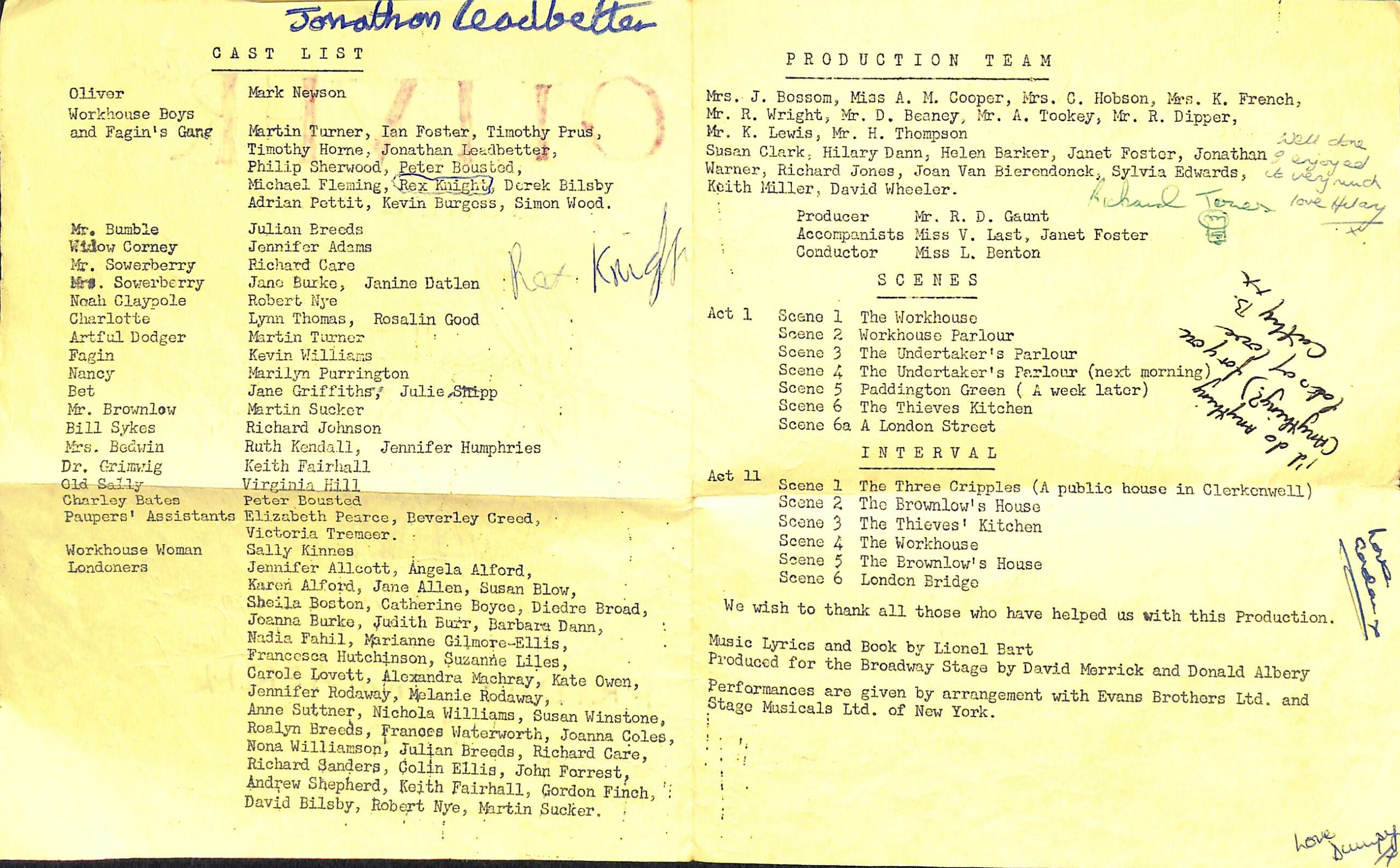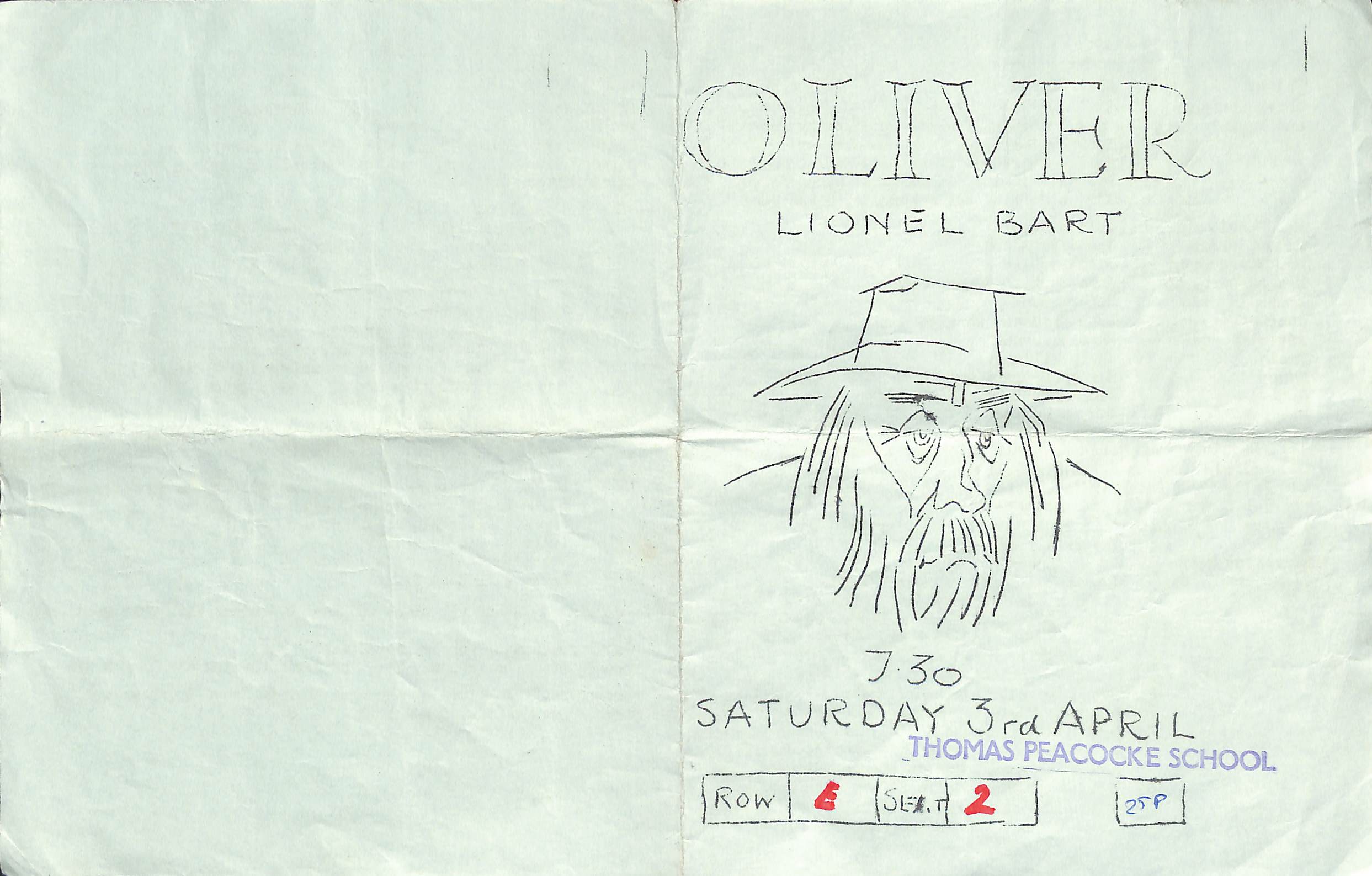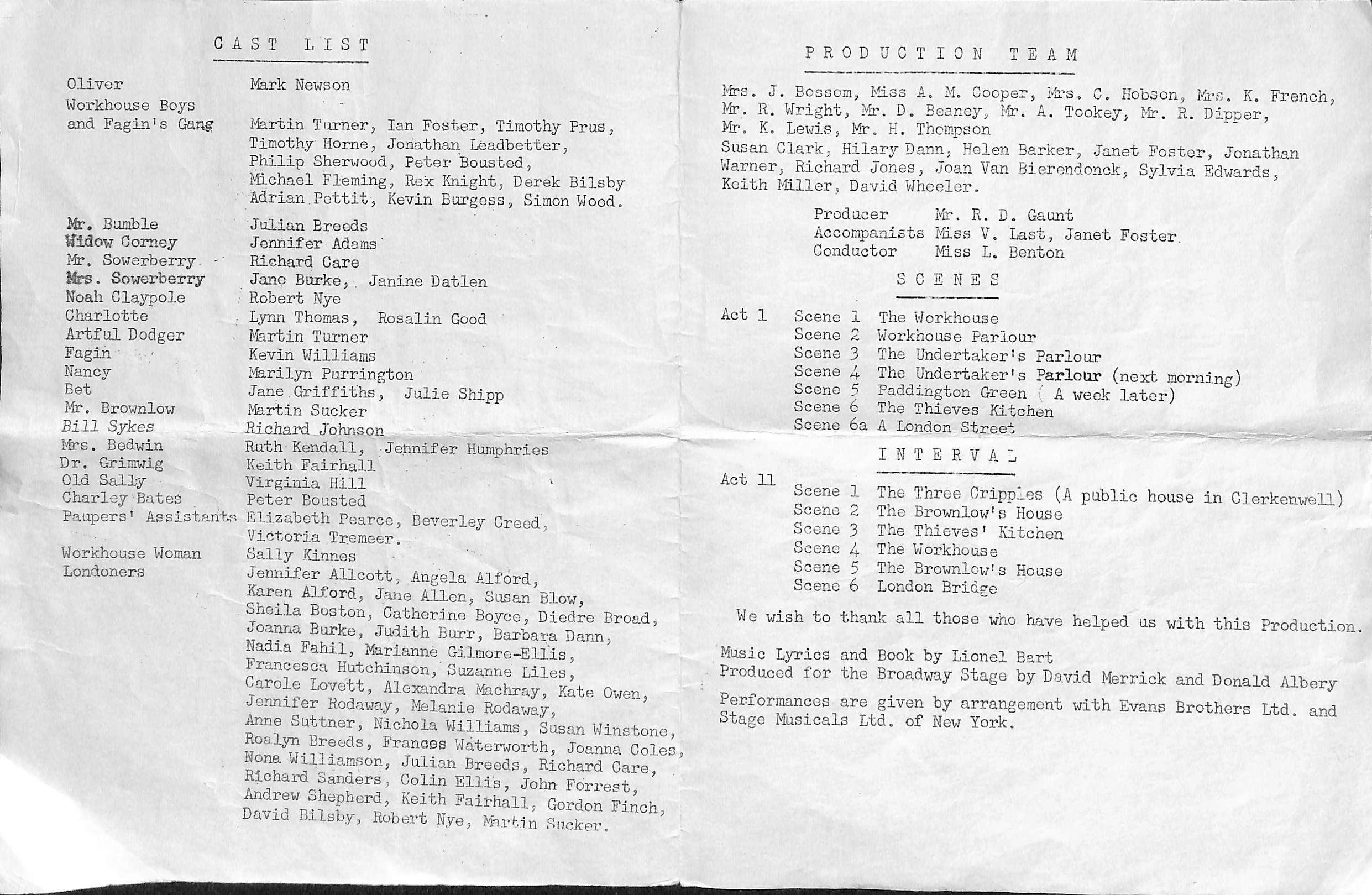 Christmas Variety Concert – 1972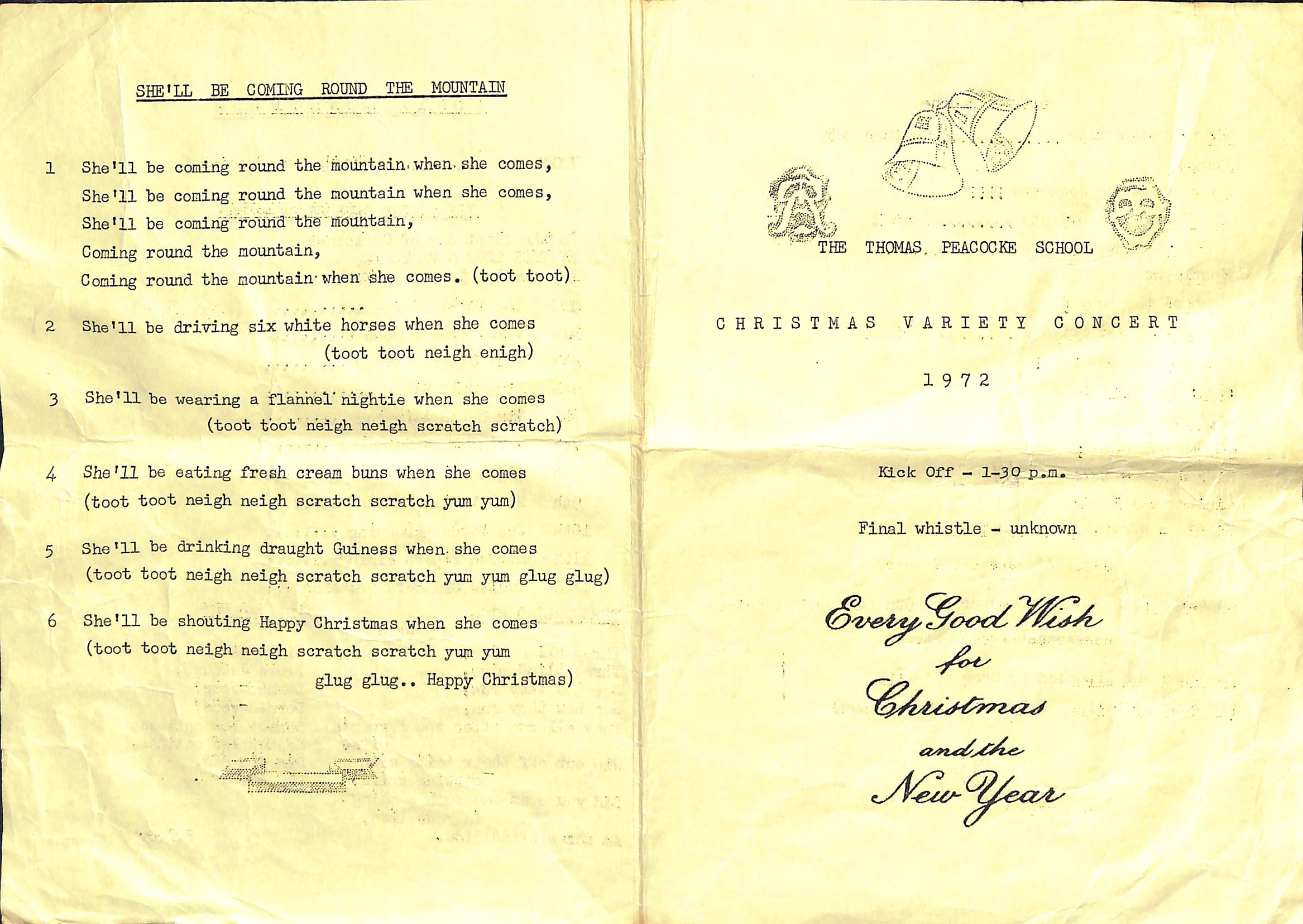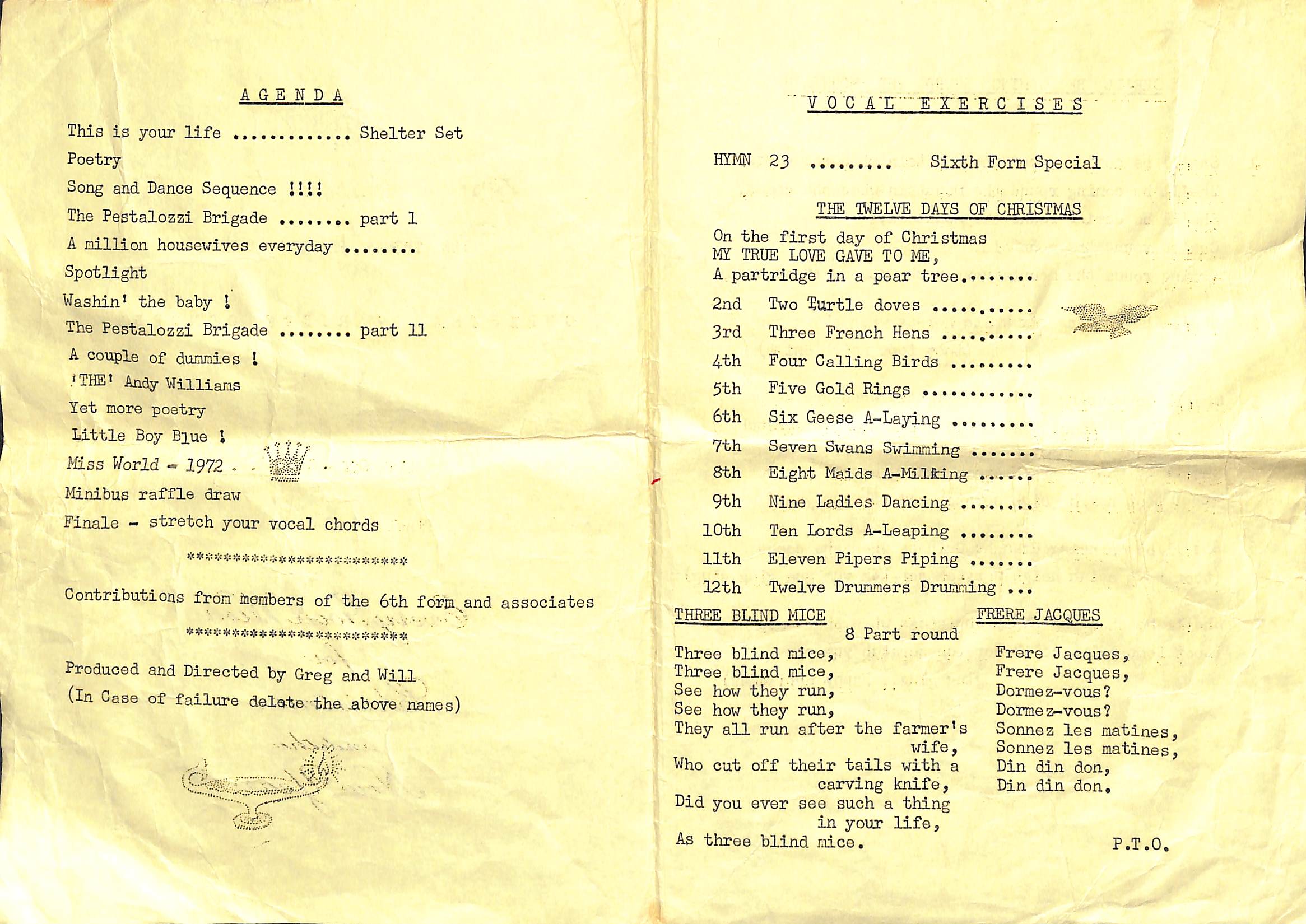 My Fair Lady – 1973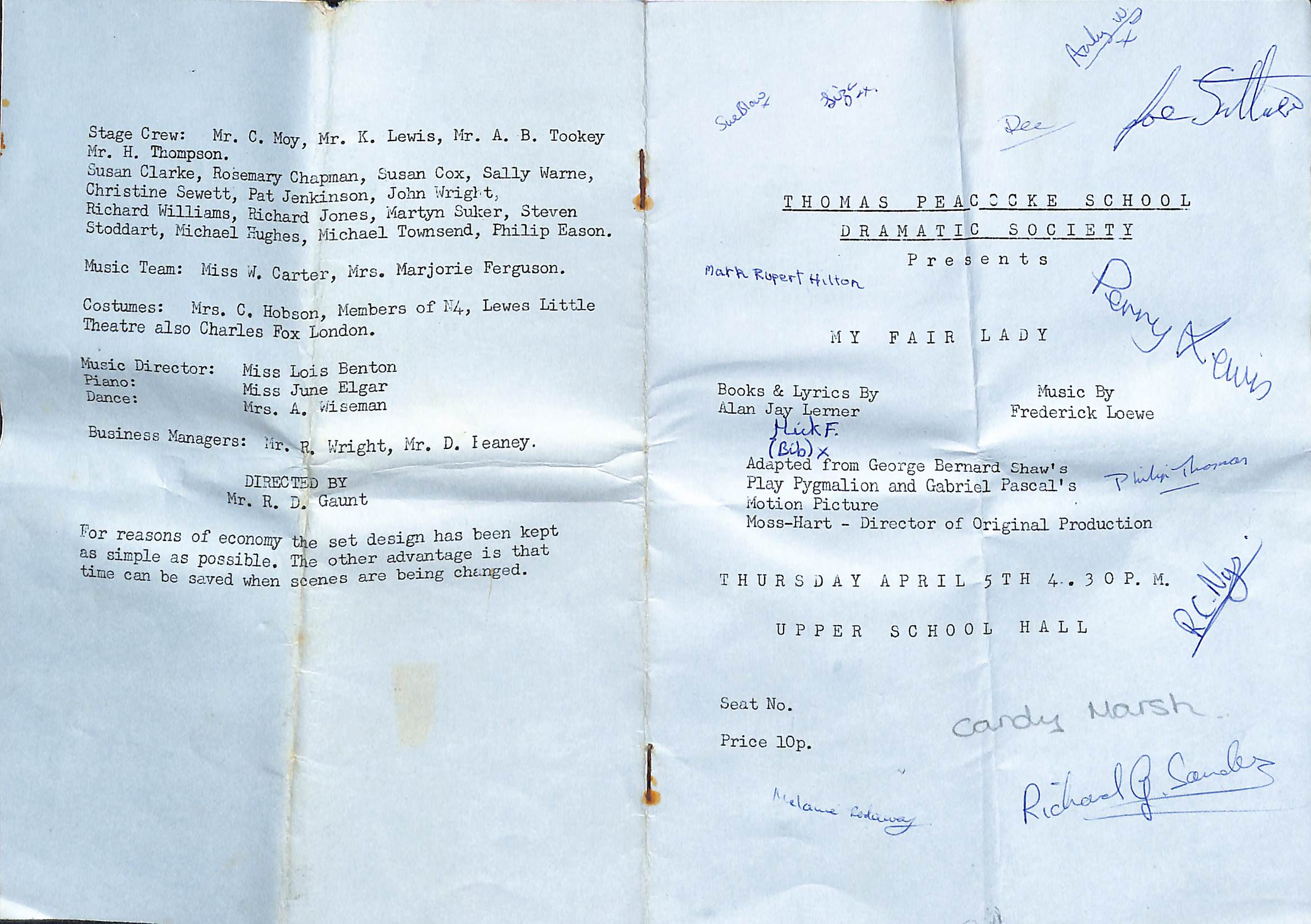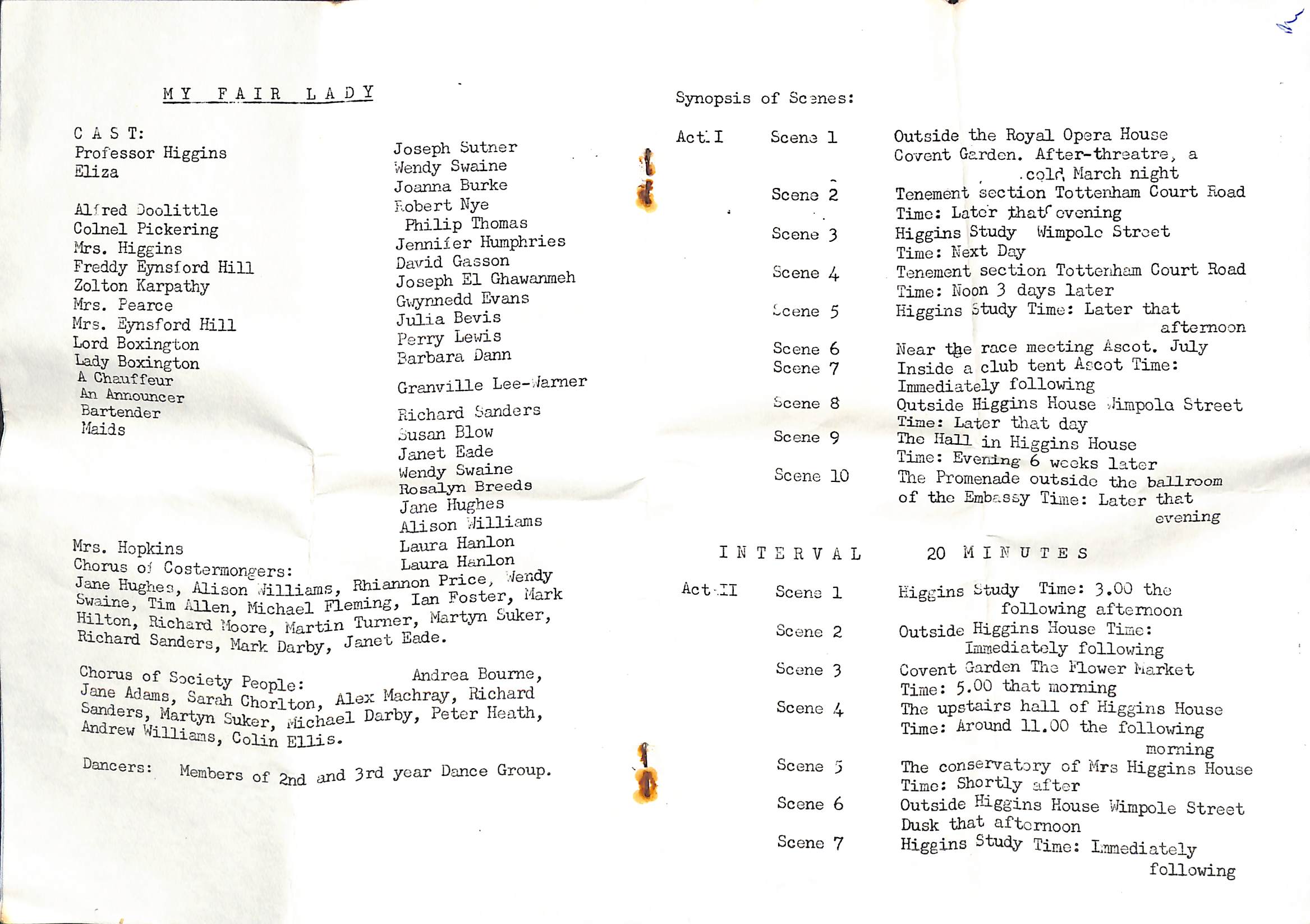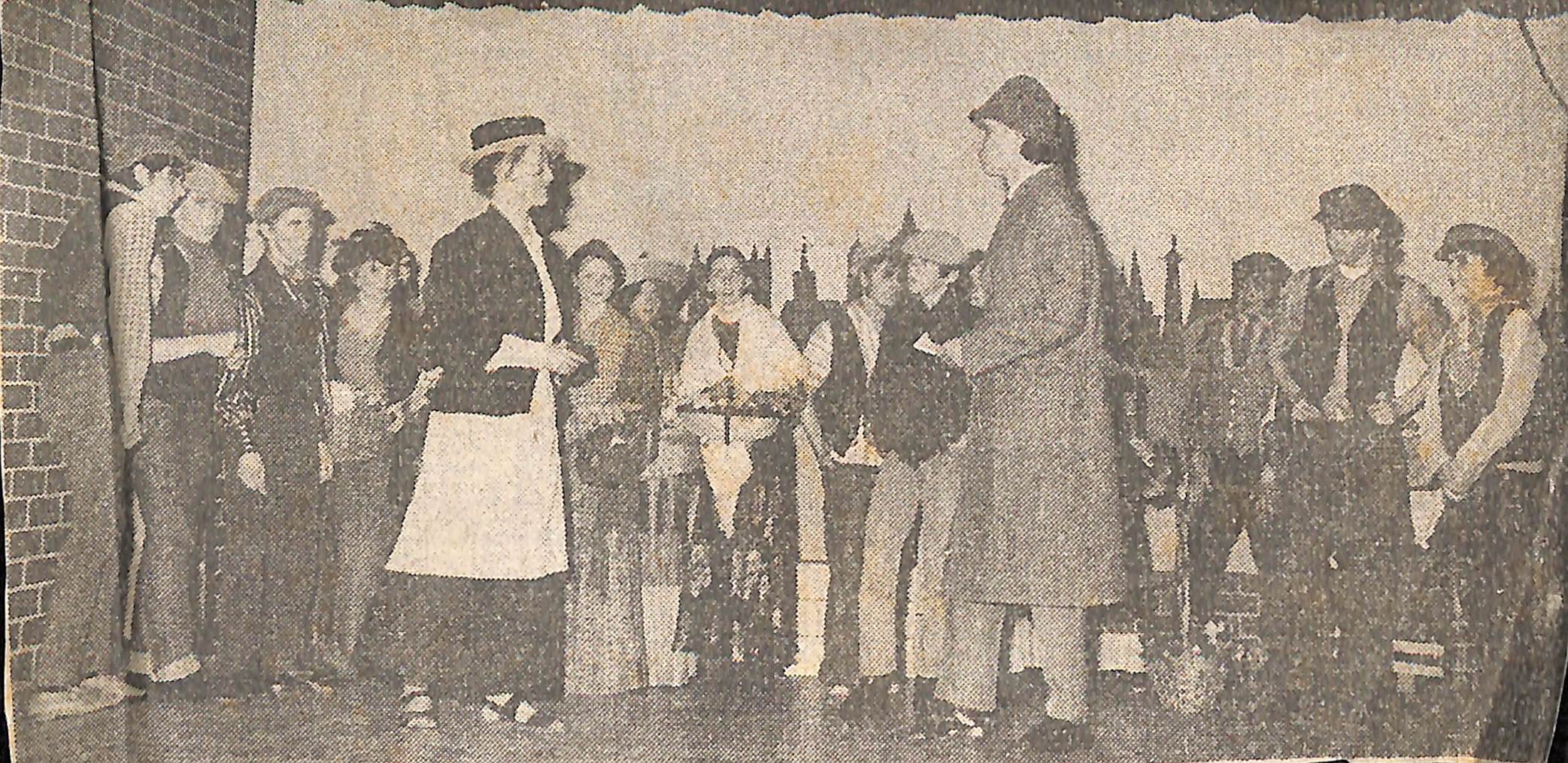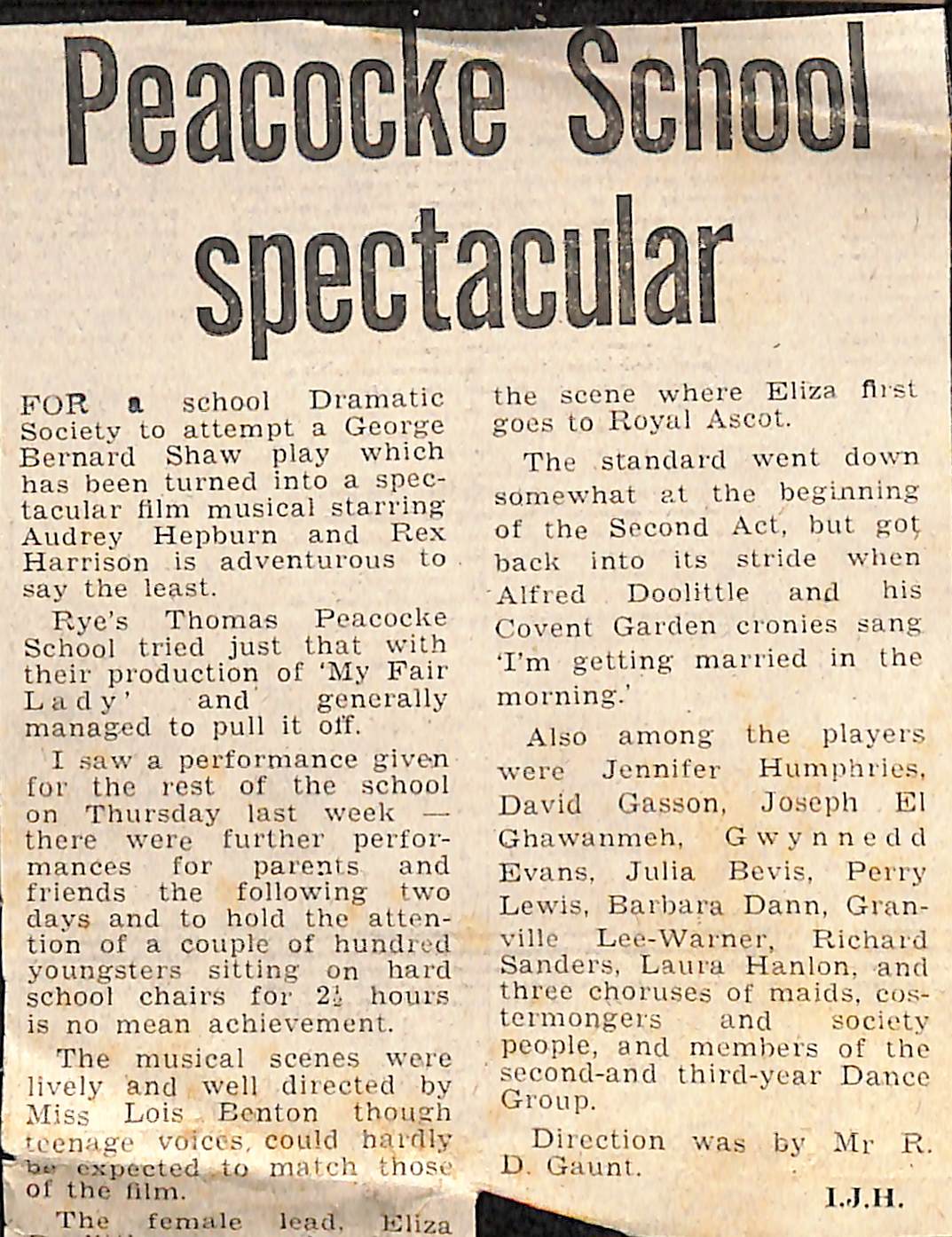 Christmas Variety Concert – 1973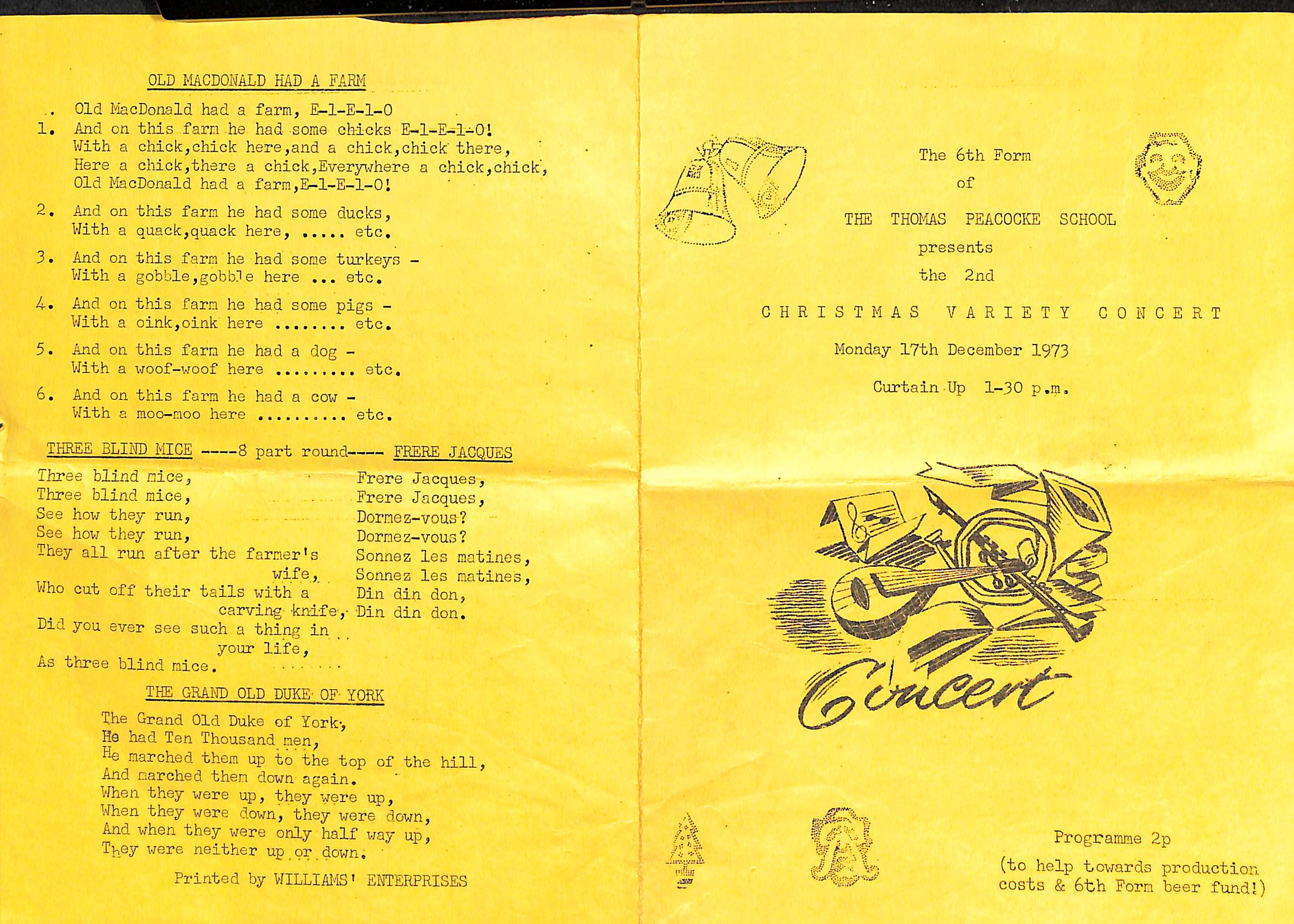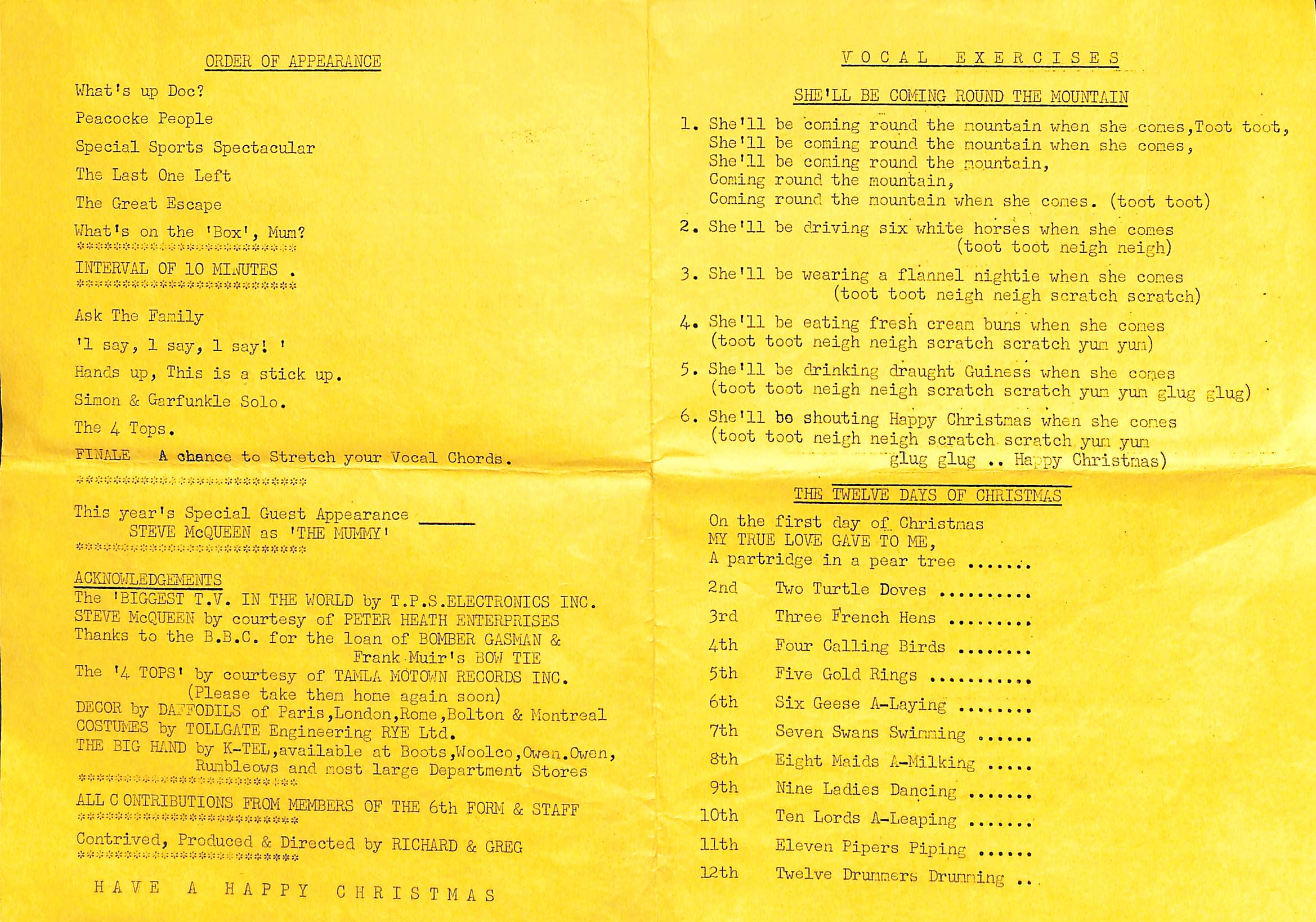 Dark of the Moon – 1974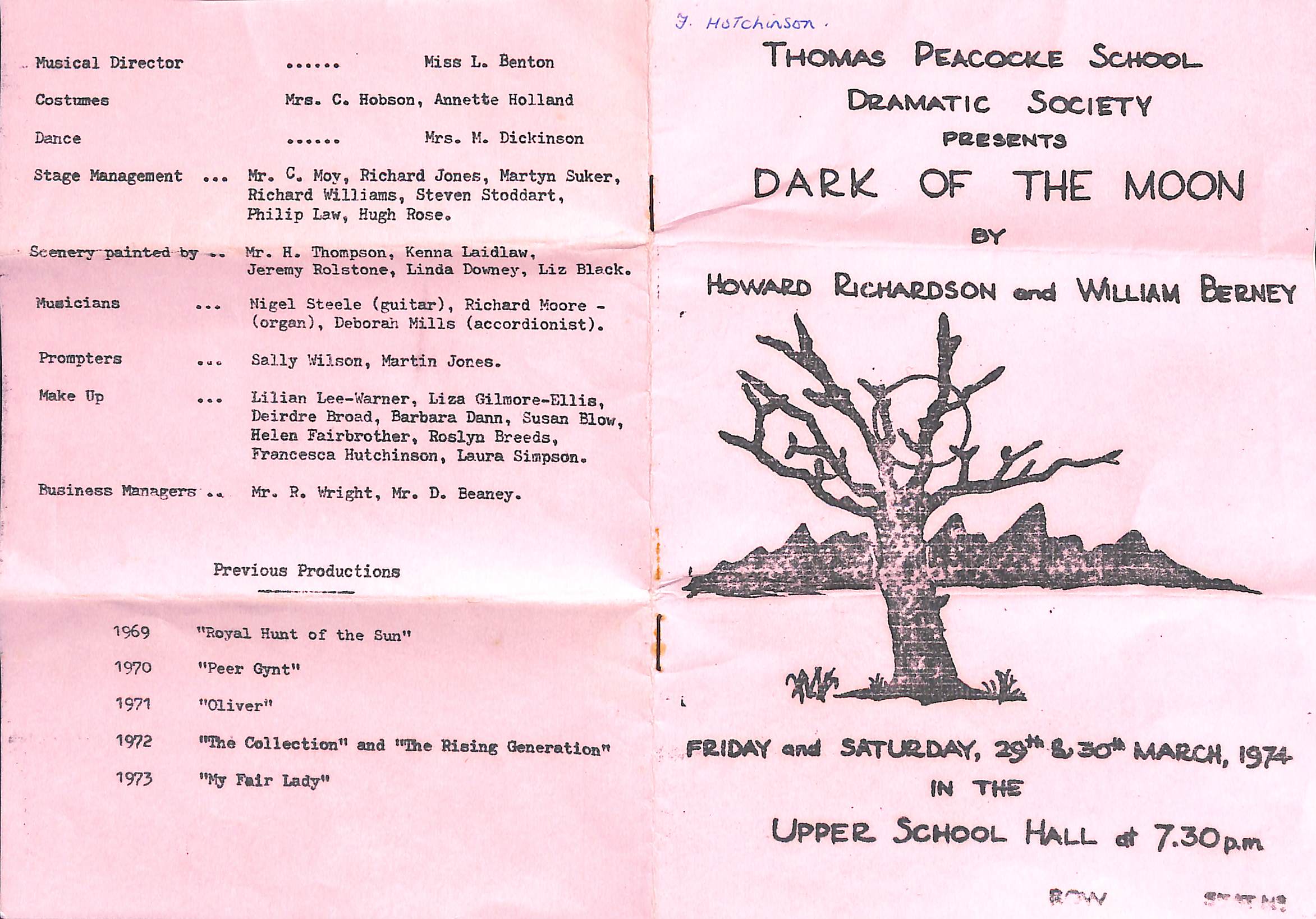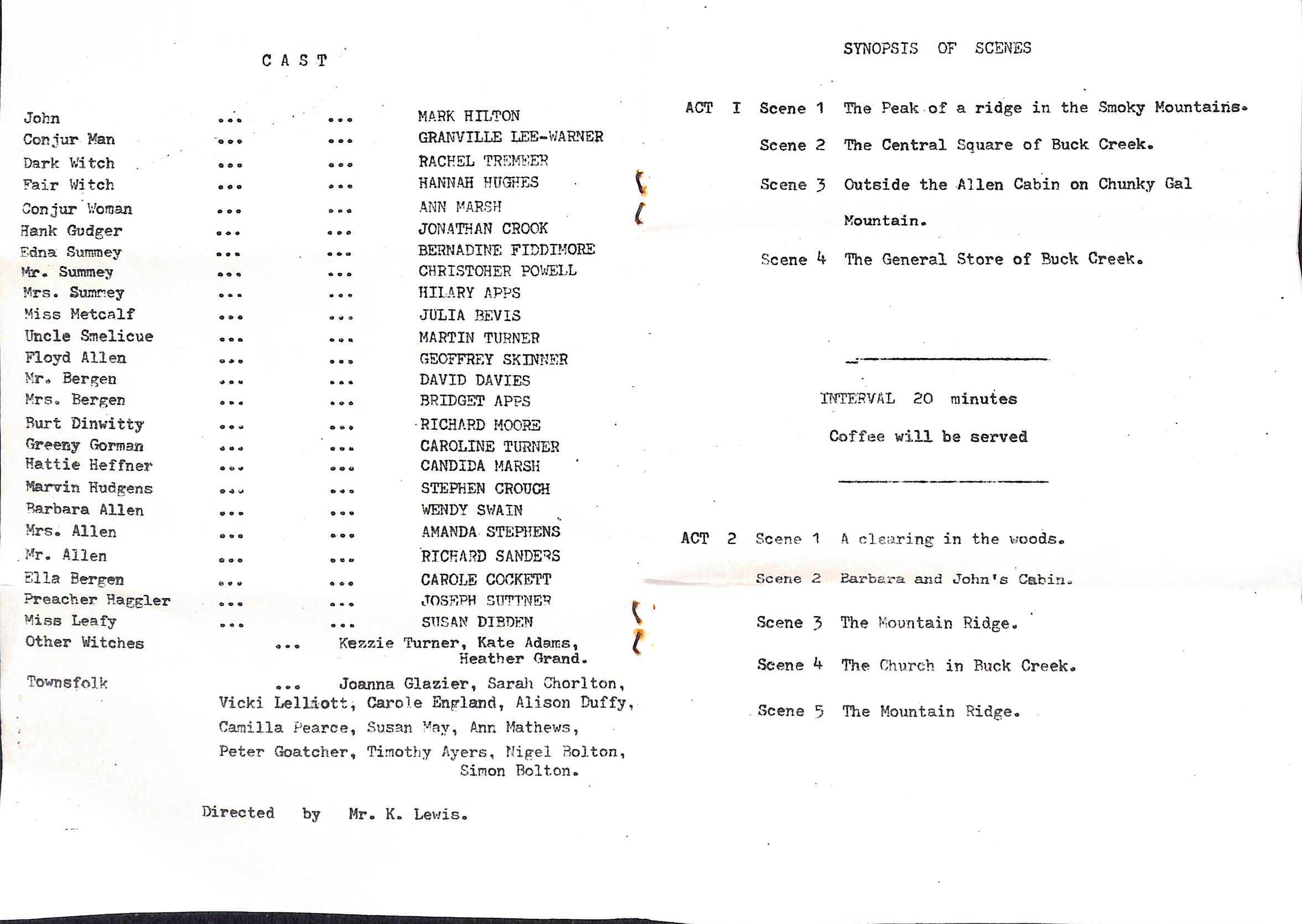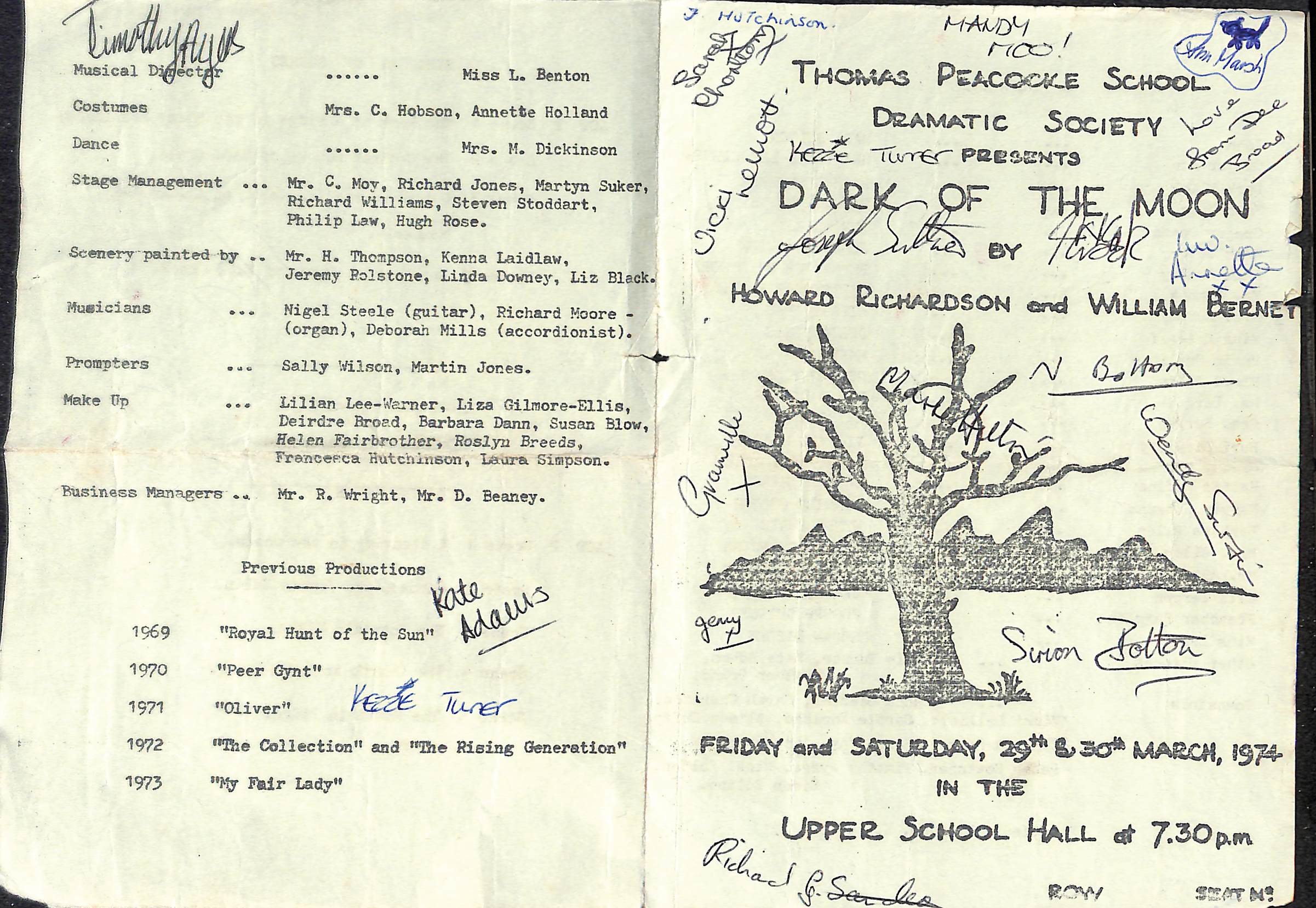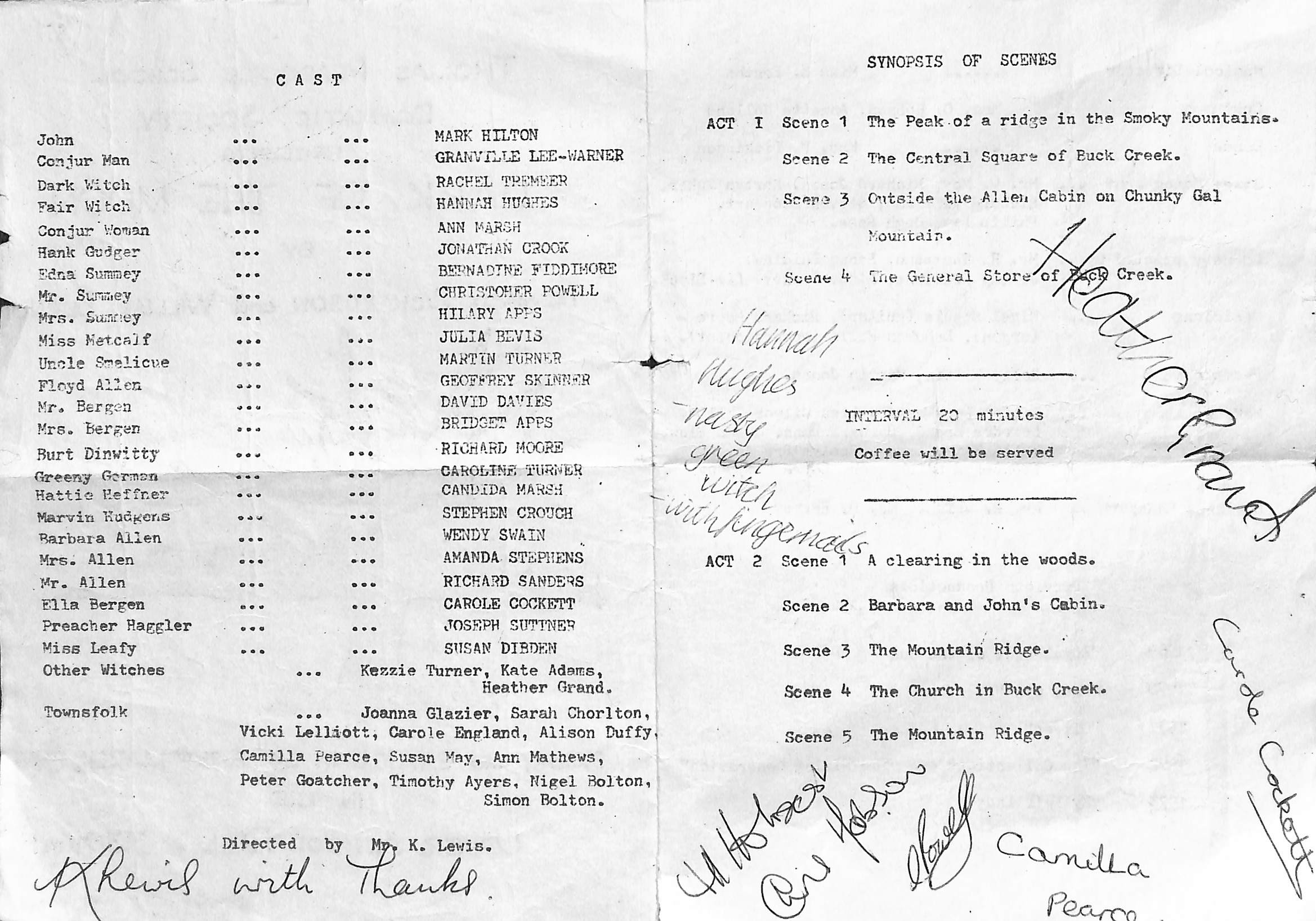 Rye Primary School Plays
Garry Blackman posted these on the Rye's Own Magazine Facebook Page https://www.facebook.com/groups/793502067374037/
Does anyone know anything about them?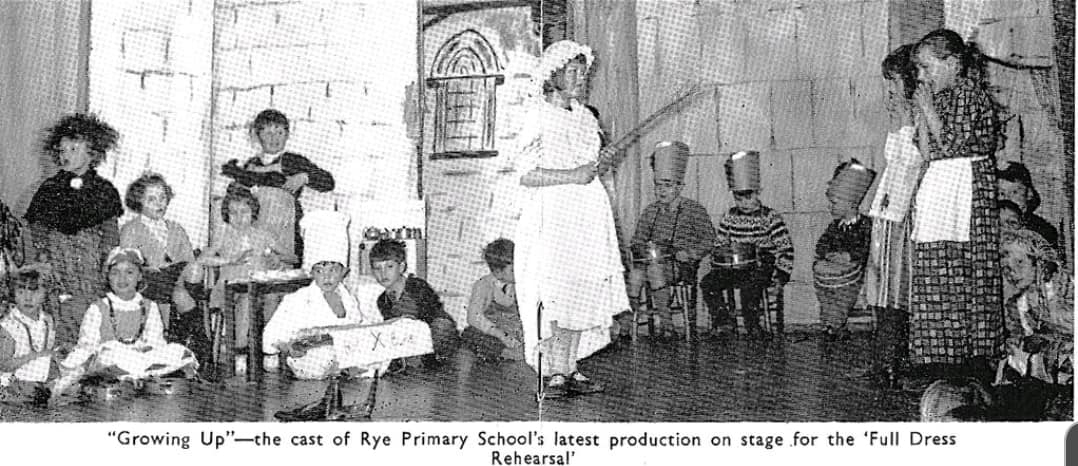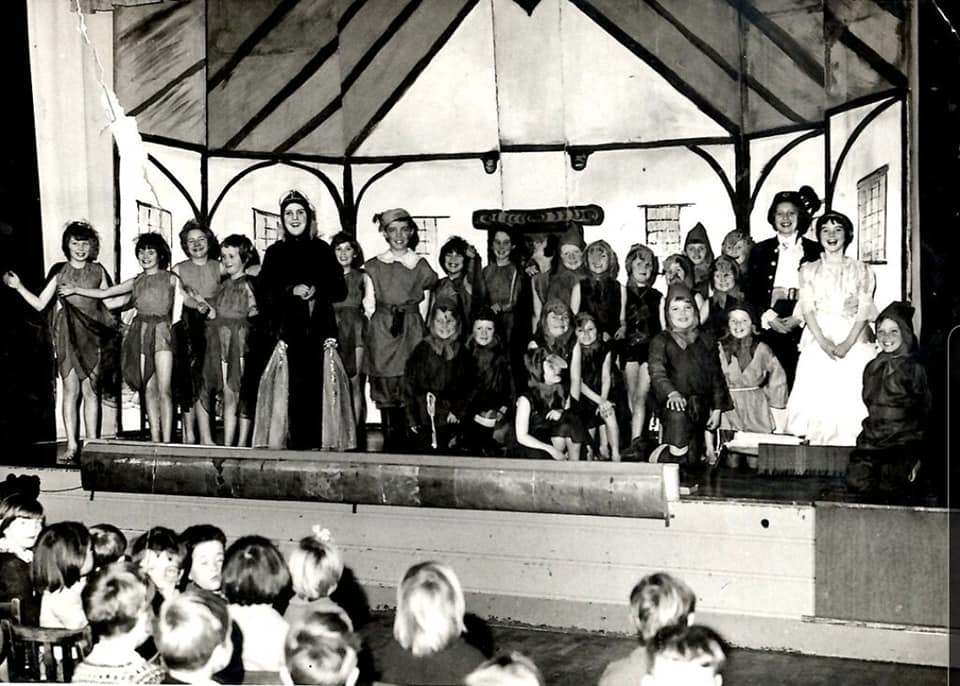 Tilling Green Infants School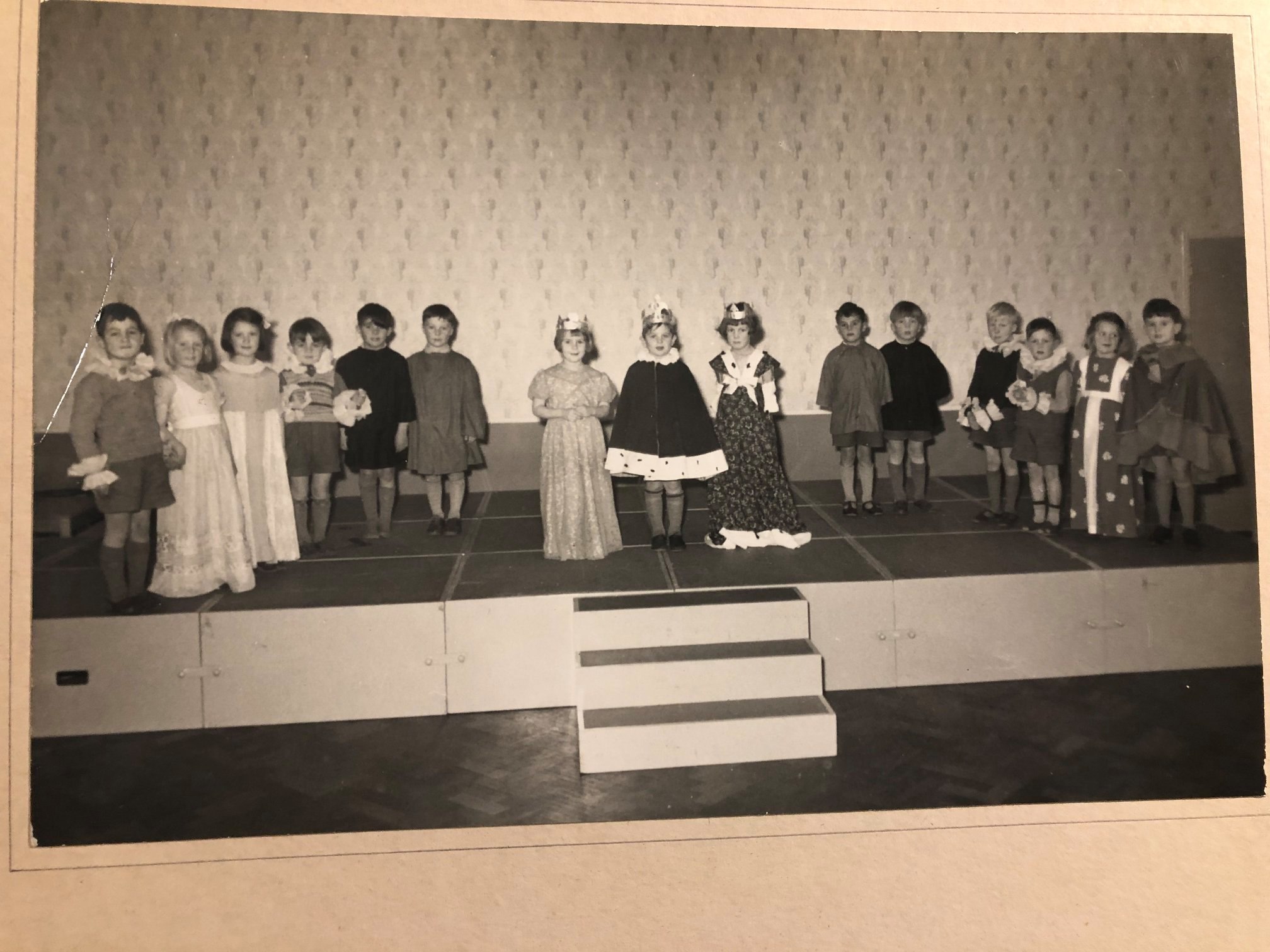 Tilling Green Infants School 1954-55? Left to right ?, ?, Pat Magrath, Nick Machin, ?, David Green, Margaret Sands, Eric Igglesden, Lillian Arkley, James Jarrett, Clifford Arkley, Donald Bennett, Alan Beeching, Beryl Read, David Smith.
Courtesy of Eric Igglesden