Rye College – GCSE Results – August 2021
Rye College students have been praised for 'incredible resilience' as they receive their GCSE grades.
You can read more about their achievements here in the Rye and Battle Observer GCE Results – Rye and Battle Observer
and in Rye News here GCSE results – Rye News
 Rye Community Primary School: Latest News – August 2021
The window in the Nationwide Building Society on the High Street in Rye is currently full of pictures produced by the children in years 1 and 2 at Rye Primary School whose fantastic efforts were based on the theme of rockpools.
You can read more about the story in Rye News here
Rye Community Primary School: Latest News – June 2021
Blooming Marvellous!
'Early bloomers' from Rye Community Primary School entering into the spirit of Rye Blooms and enjoying time in the fresh air: read the story from Rye News here:
Inspired by Sir Tom
Haiden Debley-Turner, who is nearly 11, was born with Spina bifida and underwent his first operation when he was just nine hours old – and he has had a great deal to contend with, and yet he wants to give to those less fortunate than himself.You can read more about Haiden in the Rye News article here
https://www.ryenews.org.uk/news/inspired-by-sir-tom
ITV Meridian's News Coverage of Haiden can be seen here
https://www.itv.com/news/meridian/2021-05-27/how-10-year-old-haidens-captain-tom-inspired-challenge-is-making-a-difference

The new Rye College Logo
Rye College – Very Encouraging Exam Results
Good news about the summer GCSE exam results at Rye College here
Rye College – End of Year Report
Barry Blakelock, Executive Head at Rye College, has reported on the promising progress being made at the school in Rye News, 26 July 2019 
Rye College – Looking to the Future
This week's edition of Rye News (17 May 2019) contains the following article on the latest developments in seeking to improve the academic achievements and teaching at Rye College.
http://www.ryenews.org.uk/news/new-brooms-at-the-college
Rye College Refurbished
Work is progressing well well on the refurbishment of Rye College, including the renovation of the school hall, aka The Milligan Theatre.
Details, and photos, can be found in this report in Rye News of 10 May 2019 http://www.ryenews.org.uk/news/all-change-at-the-college
Rye College has announced a new look – 12 April 2019. Details can be found here:
http://www.ryenews.org.uk/news/rye-college-unveils-new-look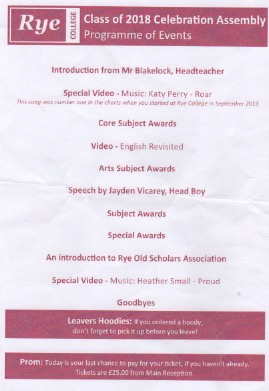 At the kind invitation of Rye College, the ROSA Chair, Tim Rothwell, attended the Rye College Year 11 final assembly on 3 July 1967 to talk about ROSA to Year 11 who are leaving school this summer. Let's hope we get a few new members from the current generation of students. A very impressive assembly – and very different from the singing of 'Lord Dismiss Us With Thy Blessing' at the last assembly Tim attended in July 1967! How times have changed – and generally for the better. Although the school hall looked pretty much the same!
This page will be updated as soon as possible with news about the future of Rye College.